The Miraculous Combination Of Ingredients In Walnut, Coffee & Coconut Face Scrub
Posted by TheBeautySailor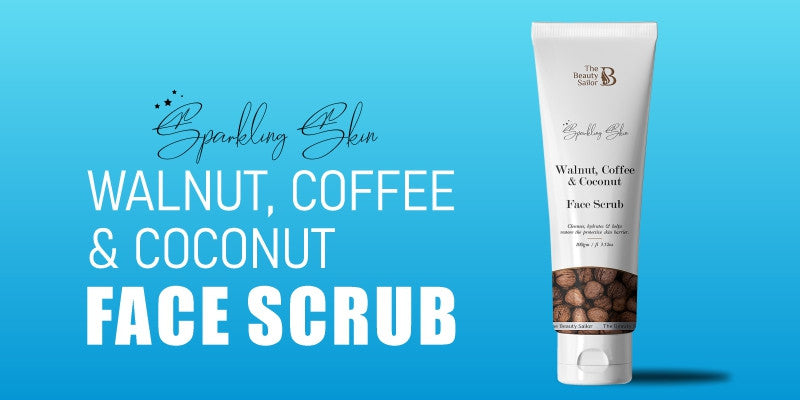 WHAT ARE FACE SCRUBS USED FOR?
The coarse particles in the face scrubs helps cleanse and exfoliate your skin. The moment you rub scrub against your skin, all your dirt and excess oil is being cleansed from your skin pores. If you scrub twice a week, you won't have any clogged pores; also you can easily get away with the dead skin cells by using face scrubs. The list of benefits of using face scrubs is endless.
You might want to know- WHY WALNUT, COFFEE & COCONUT FACE SCRUB FROM THE BEAUTY SAILOR ONLY?
The Beauty Sailor is a skincare brand that believes in formulating its products based on natural ingredients; they are all paraben and cruelty free. We are powered by science and we don't use any sulphate.
This Walnut, Coffee & Coconut face scrub has been specifically designed to meet the needs of consumers with all skin types. Yes, you read that right. This face scrub suits all skin types.
The exceptional and most wanted combination of its ingredients- 


Walnut
Walnuts prevent premature aging. They contain good fats, vitamin E and B6, this helps in diminishing scars, lightening spots and patchy skin and they also provide intense moisture. All the properties come together to make your skin appear really soft and radiant. 
Coffee
Coffee does multiple tasks. Using coffee based products will make your skin look younger, naturally glowing, removes tanning and works on pigmentation too. It is considered to be the best exfoliant because it regenerates the cells.
Benefits of coffee for your face 
Coconut oil
Generally face scrubs leave your skin dry after usage. But here we have for you a face scrub infused with coconut oil that leaves your skin very accurately and luxuriously moisturized which no other face scrub claims to do with such precision. Coconut oil helps bolster your skin's protective barrier layer, trapping moisture inside and keeping skin supple and hydrated. It works great on dark spots.
NOTE - This scrub has been prepared in natural and pure sunflower oil. It has anti inflammatory properties, treats acne and heals your skin.
Why we stand out
We saw that there are face scrubs made of Walnut and there is face scrubs made of coffee too. But we understand our consumers' needs. We did our research and got to know what consumers want the most. Instead of spending money on buying two face scrubs containing Walnut and Coffee separately, we made a face scrub with walnut and coffee; boosted with one additional ingredient i.e., Coconut oil, because we believe in saving.
We have formulated this face wash with best of naturally derived ingredients that are an absolute requirement for a face scrub.
This exceptional combination of ingredients leaves a very healed, hydrated and healthy skin that is moisturized and nourished.
Benefits of Walnut, Coffee & Coconut Face Scrub 


Scrub for sensitive skin
People with sensitive skin don't have to worry anymore. This has proved to be the best face scrub for sensitive skin that causes no itchiness and redness. It is a pimple remover face scrub. 
Tan and blackheads remover face scrub
Done with all those coffee based products out there? Don't worry; this scrub will not disappoint you. The unique formulation of coffee infused with walnut works best for de-tanning and clearing out those stubborn blackheads. The caffeine in coffee tones the skin. 
Removes dead skin
This ultimately has to be your exfoliating face scrub. It removes all dead skin cells, impurities and dirt. All the excess oil is cleared too. You get really feather-like soft and supple skin.
Moisturizes skin after usage
You don't need to apply a moisturizer after using this scrub. It leaves a very accurately moisturized skin that is totally non- greasy and non- sticky. 
Fights signs of aging
It is an anti-aging face scrub. Reduces wrinkles and makes fine lines less visible. Don't forget to apply around the neck area too because your neck skin is an extension of the face skin only and is more prone to have wrinkles even before your face. It will help you get away with dark circles. 
No more puffy eyes
The caffeine in coffee helps reduce under-eye puffiness by restricting blood flow to the area and reducing swelling. It's a common ingredient in de-puffing creams and scrubs.
Increases blood flow
Caffeine present in the coffee improves blood circulation, it leads to healthy and energized skin, effectively reducing the swelling of tissues and de-puffing areas around the face.
Bye dark spots and pigmentation
Dark spots and pigmentation makes your skin look even more dull and dusky. You start losing confidence. Using this face scrub twice a week for one month will make you see effective and real results. You never know you might say bye to pigmented skin even earlier maybe.
Collagen Booster
Coffee boosts collagen. Collagen makes up one-third of the proteins in the human body and is the key to healthy, vibrant and more youthful skin. As we age and expose our skin to UV rays, pollution; and to other environmental variants - our collagen production declines.
How to use 


Wash your face before exfoliating.
Always wash your face with lukewarm water.
Take the Walnut, Coffee & Coconut scrub in an adequate amount and rub it gently on your skin.
NOTE - Don't be harsh while scrubbing, it will clear the essential oils which your skin needs.
Rub in circular upward motion, focusing more on the sides of your nose following it up to your cheeks and upper lips.
Rinse your face after 1-2 minutes of scrubbing.
Apply moisturizer if you feel the requirement.
 For best results use twice a week -
Our face is always exposed and at times it becomes really difficult to take care of our skin but sometimes all you need is consistency in following your skincare routine. The skincare products kept in your kit alone won't give you a glowing healthy skin but using them with consistency will.
Now dive into the ocean of beauty with The Beauty Sailor and restore your bright and healthy skin. Be youthful forever.