Benefits Of Adding Coffee To Your Skincare?
Posted by TheBeautySailor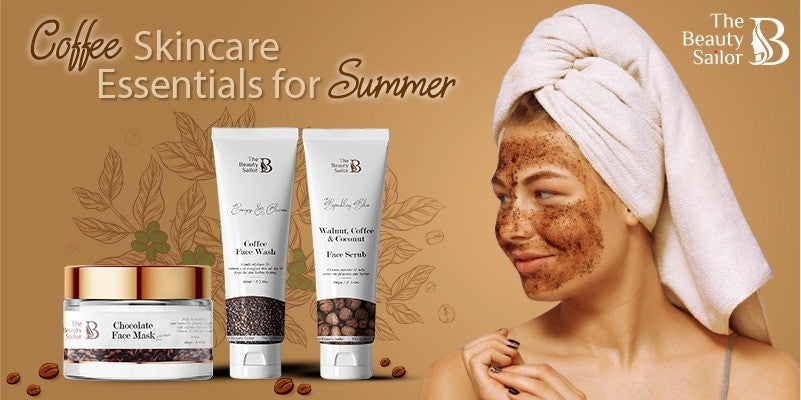 There's one argument that always calls for a tie. It's a never ending war between coffee and Tea (chai). They are equally loved by people across the world, and people even find it hard to start their day without a cup of brewing Coffee or hot Tea. But one reason why coffee stands out is, the benefits of coffee go beyond your morning energy-drink. While drinking a coffee gets you that internal boost of energy, it works exactly the same for your skin.These tiny brown beans are a powerhouse of antioxidants. Over the years caffeine benefits have given people many reasons to make it a part of their daily skincare.

Let's look at what coffee has to offer more than just a drink!
A GREAT EXFOLIATOR: Coffee contains a lot of antioxidants which preserve and strengthen the skin's natural defences. Due to its free-radical properties, coffee bean extracts are responsible for skin cell energy preservation. Therefore, coffee deep cleanses the skin and makes it look bright and clear.
BRIGHT & SMOOTH SKIN: Coffee has qualities that signal tissue repair, coffee plays a vital role in regulating cell re-growth, leading to extreme hydration and an increased skin elasticity.
REDUCE PUFFINESS & DARK CIRCLES: You should depend on coffee if you've ever struggled with stubborn dark circles under your eyes or puffiness. Instead of reaching for more concealers, try a caffeine-based product. Caffeine improves circulation while also firms and tightens the skin, which is why it's so good at minimising dark under-eye circles and puffiness.
INCREASE BLOOD FLOW: Caffeine present in the coffee improves blood circulation, it leads to healthy and energised skin, effectively reducing the swelling of tissues and de-puffing areas around the face.
REDUCES REDNESS & INFLAMMATION: Say goodbye to inflammation and redness! You can restore irritated skin to healthy glowing skin, thanks to the flavonoids in coffee. Flavonoids are antioxidants that are beneficial to skin health because they help to avoid sunburn while also treating redness that can occur as a result of overexposure to the sun or an allergic reaction.
ANTI-AGING FORMULA: The coffee granules have anti-aging benefits because of their antioxidant properties. Someone facing premature aging or wrinkles must give a shot to coffee infused products for good results.

How To Introduce Coffee In Your Summer Skincare with The Beauty Sailor-
Looking at the amazing benefits of the coffee we have accumulated a skincare range specially for you to experience the goodness and awakening of your skin. Our Coffee products will woe your heart with their amazing benefits. 

Here are three of our most loved products:


Coffee Face Wash - The goodness of exfoliating brown beans in the form of Coffee Face Wash by Beauty Sailor  to improve the texture of your skin. A great way to reduce uneven tone, and make skin supple and moisturized. Coffee is rich in antioxidants,  that help to refresh dull skin by gently removing a layer of dead cells. It is a great exfoliating agent for dry skin. This exfoliating face wash supplies extra hydration to the skin and improves texture. The Vitamin E present in the face wash provides dull skin a boost of radiance and nourishment.
Benefits-
STRONG ANTIOXIDANTS PROPERTIES:  The rich antioxidant properties of caffeine help to calm and refresh skin.
HELPS REDUCES FINE LINES AND BLEMISHES: The Coffee face wash will help you exfoliate and will remove dark spots and fine lines.
EXFOLIATES SKIN: Coffee is a great exfoliator for deep cleansing skin and brighter appearance.
REMOVES ALL IMPURITIES: The Coffee face wash helps to remove dead skin cells and impurities accumulated within our skin. 
How To Use ?
Use this coffee face wash twice daily. Morning for extra refreshing effect and evenings to get rid of impurities, dullness and pollution. 

Coffee & Walnut Scrub-
The Beauty Sailor's COFFEE scrub is ideal for getting completely rejuvenated skin. It contains skin-purifying and exfoliating agents to get rid of dead skin cells and enhance the skin's texture and appearance. It's best for removing dead skin. It's free from all harmful chemicals and toxins. This coffee face scrub is for both men and women. It gently exfoliates the skin and removes dead cells, which makes skin softer, and radiant. It's exfoliating properties make the skin baby soft and silky smooth.

Benefits:
Removes dead skin and impurities: Helps in removal of dead skin, dirt and all impurities.
Treats acne and blemishes: Richness of coffee for reducing acne and dark spots.
Removes tan: Goodness of walnut extracts for exfoliation and sun-tan removal.
Open Unclogged Pores: Unlocks clogged pores and reduces pigmentation.
How To Use It?
Coffee scrub should be used 2-3 times in a week for deep cleansing pores and removing all dead skin cells. Coffee can actually calm and soothe inflamed skin due to its antioxidant properties.

Chocolate Mask- The Beauty Sailor's chocolate face mask has a unique combination of natural ingredients that makes it perfect for skincare lovers. Get your natural, glowing radiance with this Chocolate face pack mask. With ingredients like caramel, caffeine and vitamin E, you are certain to be receiving deeply nourished and acne-free skin. The caramel ensures your skin gets all the moisture it needs to look and feel silky soft. This Chocolate Face Mask helps to energize and rejuvenate tired aging skin. It  acts as a toner and refreshes the dull skin. Vitamin E present in the mask ensures your skin obtains and restores large amounts of antioxidants, which is necessary for a perfect complexion, supple and youthful skin.

Benefits:
DEEP HYDRATION: An antioxidant asks for ultra-hydration and skin nourishment.
ANTI-TAN: An anti-tan Chocolate mask that removes impurities, tan, and dark spots.
BRIGHTENING EFFECT: Enriched with chocolate to reduce pigment production and lighten skin tone.
HEALTHY GLOW: Improves skin's appearance by reducing fine lines and wrinkles.
How To Use ?
A mask can be used twice and thrice  a week. Apply a good amount of chocolate mask around your neck, let it sit on the face for 15-20 minutes, wash it off with normal water. The chocolate mask is very easy to remove. Make sure to scrub before applying a mask to see instant results. 

CONCLUSION-
Looking at the enormous amount of benefits that coffee has, it's impossible to not add coffee into everyday skincare routine. Especially during summers it's great for protecting skin from all the pollution and scorching heat.

For more skin care tips and tricks head to our website The Beauty Sailor.