Skincare Do's And Don't In Summer
Posted by TheBeautySailor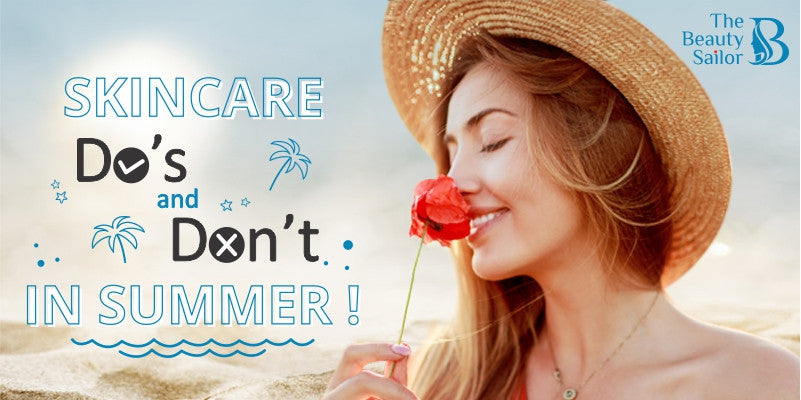 While summer is the time for pool, brunches and vacation. It's also the time when your skin needs extra care and pampering to be saved from the scorching heat and blazing sun. More than the skincare regime, it's important to know what to do or don't during summer. What is essential and what is not? What can prevent your skin from sun ?

Let's get into the Do's of Skincare in Summers Step By Step-

Exfoliate Twice A Week- The key to remove dead skin and tan during summers is exfoliation. Exfoliation helps in absorbing excess oil and brightens your skin. Our skin gets exposed to sun alot during summers and exfoliation helps to detan and prevent skin damage. Therefore, picking a good exfoliating scrub is very important for your skin. An exfoliating scrub helps to remove toxin and pollutants accumulated on the surface of your skin and makes your skin glow. Exfoliating twice a week also reduces signs of aging and the fine lines around the face.

Use A Serum Twice In A Day- A few drops of face serum during a day and night can go a long way. Using a vitamin C enriched serum is a must have in summers. A serum has a regenerating effect on skin because of its anti-aging and hydrating formula.The night and day serums are usually different as one is for skin repair and the other is for all day refreshness, and instant glow. Although there are few serums that can be used for day and night purposes. Serum gives your skin radiant glow and is great for pigmentation caused due to sun exposure and pollution.

Check Ingredients- One common mistake a lot of people  make is not checking the ingredients and their percentage present in the particular product. Before you pick up any product next time make sure to check the ingredient box on the packaging. It is very essential to use products that are paraben and sulphate free. Maximum skincare products  contain chemicals like sulphate, parabens which are really harmful to the skin. In case you're currently using any skincare products that contain chemicals, it's time to switch to more natural ingredients that are not harmful to your skin.

Moisturize Your Body- We moisturize our face twice everyday and ignore rest of the body. Often we tend to get lazy and forget to apply a moisturizing body lotion on our body. As much as our skin is getting affected by the sun in summers so is our body. Our body also needs to be protected from the sun and it can be done by applying a good amount of moisturizing lotion.
The body lotion has an amazing hydrating effect and it penetrates deep into the skin and gives the skin the hydration it craves for. Applying body lotion after shower keeps the skin hydrated for a long day. It even heals the dry and cracked skin in summers.

Don't of Skincare in Summers Step By Step-

Over Exfoliate -  Exfoliating is good for removing dead skin, but over exfoliating is very harmful to the skin. Exfoliating too much or every day removes the top layer of the skin which causes redness and irritation. Over exfoliating even strips off the natural oils present in the skin which causes breakouts.To achieve clear and bright skin exfoliating twice a week is enough. In order to get smooth skin faster over exfoliating is not the solution. It disrupts your skin balance. If you have oily skin you can exfoliate thrice a week and reduce it later to two times a week once you see improvement in your skin.

Using Oil-Based Makeup Products- In summers our skin tends to sweat and excrete excessive amounts of oil, it's better to not use oil based products especially foundation as it tends to melt down due to excessive heat. Putting too much makeup on in the summer is a big no. In case of oily skin try applying oil-free and mattifying makeup products to avoid getting your skin oily and sticky. Putting too much makeup, clogs skin pores and doesnt let the skin breathe. Let your skin feel free and go for lightweight makeup. Use a primer before applying makeup, and a setting spray once you're done with the makeup, for a long lasting makeup look without being cakey.

Don't Touch Your Face- It's hard to not touch your face especially, when you have acne. But, the fact is the more you touch your face, the more problems will arise. Breakouts happen because of unclean hands full of bacteria when you touch your face. And, this causes more acne and irritation to the skin. Try to keep your hands off your face as much as possible and drink plenty of water to avoid acne. Water even  clear out your complexion, make it  your summer best friend and you will never be disappointed.

Don't Use Hot Water- Despite the fact that hot showers are extremely calming and relaxing, they are not recommended for your skin. A hot shower not only disrupts your skin's natural moisture balance, but it also removes the natural oils and proteins that keep your skin safe. Taking a hot shower on a daily basis can cause inflammation, dryness, redness, and even scratching. Shower in lukewarm water to avoid these skin issues. Taking hot showers even makes your skin sweaty and flaky. 

Here are few products that will help your skin glow this summer-

An Exfoliating Scrub- The COFFEE scrub by the Beauty Sailor contains skin-purifying and exfoliating agents to get rid of dead skin cells and enhance the skin's texture and appearance. It's the best scrub for removing dead skin. The scrub contains coffee and  is free from  all harmful chemicals and toxins. It's exfoliating properties makes the skin baby soft and silky smooth.The coffee scrub helps to remove blackheads, and fade pigmentation, leaving behind refreshed skin. This coffee scrub  has great detoxifying benefits, like removing tan, also reduces enlarged pores and absorbs excess oil without disturbing the skin's pH value which makes it ideal for summers.

Benefits Of Using A Face Scrub-
Helps in removal of dead skin, dirt and all impurities.
Richness of coffee for reducing acne and dark spots.
Goodness of walnut extracts for exfoliation and sun-tan removal.
Unlocks clogged pores and reduces pigmentation.
A Glowing Face Serum-
The green tea serum by the beauty sailor is enriched with strong antioxidant properties that help you to revive dull and dry skin by improving collagen structure. The serum is paraben-free, sulfate-free, and does not harm any skin types. The ingredients present in this face serum individually stand out on their own for their exceptional benefits to the skin. Aloe Vera helps to heal acne-prone skin, combat dark spots, and makes the surface of your skin appear smoother and firmer. Ethyl Ascorbic is the best form of Vitamin C that boosts collagen production helps in firming the skin & reducing fine lines.Hyaluronic acid is naturally found in the human body and is a super hydrating ingredient especially around the eye area, this helps in retaining moisture, and provides instant and long-lasting glow. This face serum can be used for day and night purposes. 

Benefits Of Using A Serum -
Helps in fighting sun damage, and premature aging.
Reduces dark spots, redness, and skin irritation.
The face serum lightens blemishes and enhances collagen production.
It reduces the appearance of fine lines  to keep skin supple and soft.
An Avocado Moisturizing Lotion- The  avocado-based daily moisturizer body lotion by the Beauty Sailor is made for deep hydration to the skin. The non-greasy formula of this body lotion restores the skin's suppleness by fighting dry skin. It absorbs quickly into the skin thus giving the skin the hydration it craves. The body lotion is made from natural ingredients, and does the work of skin healing and balancing the skin's pH. Its excellent moisturizing properties repairs dryness, and prevents sun damage. Its fast-absorbing and non-greasy formula moisturizes dry skin and gives soft, smooth skin all day long during summers. It has a very mild fragrance that has a calming effect on your skin and mood.

Benefits Of Using Body Lotion-
It creates a protective layer to retain skin natural moisture and protect the skin from harsh sun.
It has a lightweight, non-greasy texture which is perfect for summers. 
Its ultra smooth texture provides moisture to dry skin and boosts skin collagen.
Infused with the goodness of aloe vera ,jojoba oil, vitamin E, and avocado oil.
Conclusion-
Skincare is not a one time thing, it needs to be followed everyday to see and feel a change in your skin. Summers is the time when you need to pay extra attention to the skin and choosing the right skincare is the biggest challenge. In this blog we have shared our most loved products by people, in case you want to try them out head to our website
The Beauty Sailor
.