Coffee Or Green Tea - Which Is Better For Skincare
Posted by TheBeautySailor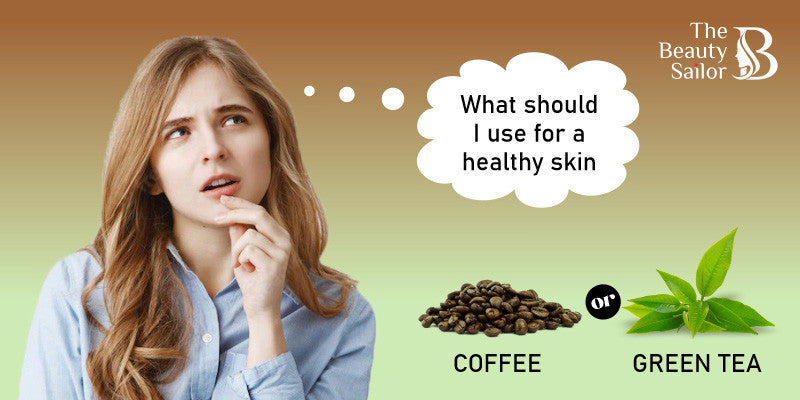 "You are what you eat" -  you must have heard these words from a lot of people in your life many times which is absolutely true. Everything we consume on a daily basis reflects in our overall health and appearance. Intake of proteins, carbohydrates, vitamins, fibers & fats are essential for the smooth metabolism & functioning of the body. The same goes for the skin, everything you consume has an impact on your skin. This is the reason why dermatologists advise you to consume certain foods and strictly avoid some. The topical application of right products on your face is equally essential as the consumption of healthy food. The reason is simple, if you apply wrong or useless skincare products on your face then all the healthy diet intake goes in vain. In this article we are going to compare the skin benefits of  skincare sensations- Coffee and Green Tea but let us study them individually first.
COFFEE FOR SKINCARE
Coffee is the first thing most of you ask for after waking up in the morning and it is a need of your skin too. Skincare industry is touting coffee based skincare products at a very fast rate due to its extraordinary results seen by people.


The Chlorogenic acids (CGAs) in coffee are experts in skin healing due to their amazing anti-inflammatory properties that provide relief from redness, swelling & irritation. On the other hand, caffeine does an amazing job in shrinking the blood vessels around the eye area that reduces the saggy appearance of eyes.
 Moreover, caffeine also aids in the discoloration of dark circles that may occur due to stress, lack of sleep, tiredness and many more reasons. That is why cleansing with a Coffee Face Wash is helpful for fighting with all the tiredness and boosting up the energy of skin.
GREEN TEA FOR SKINCARE
Weight loss is the first thing that comes to mind after hearing the word Green Tea. Well, weight is not the only thing that gets reduced by green tea. Skin problems like acne, premature aging, inflammation and dryness are also reduced by it very efficiently. This is the reason why the extracts of green tea are used in preparation of Face Wash for oily skin, Green Tea Face serum, night gels for skin renewal, face packs, anti aging cream and facial mist etc. by the renowned skincare brands.


A tree called Camellia Sinensis is the source of Green Tea. Its leaves are first harvested and then boiled immediately to preserve its purity and prevent oxidization of leaves that is why its flavors & nutrients remain intact. Moreover, an antioxidant called  Epigallocatechin Gallate (EGCG) is present in significant amounts in green tea that prevents DNA damage of skin cells by the harmful UV rays of the sun. For people with acne-prone skin, green tea is a boon because its polyphenols help in unclogging the pores and also damages the cell membranes of acne causing bacteria.
Coffee V/s Green Tea 
By now, you know all the benefits of coffee and green tea in skincare but which is the best among these two? Which would be best for skin? Well, both of these have some similar properties and also some qualities that make them different from each other.


Green Tea has Vitamin E, Tannins, caffeine and polyphenols in it that aids in the replenishment, renewal and reconstruction of skin cells which makes it a holy grail for skin nourishment. The purifying nature of green tea detoxifies the skin by killing all the acne-causing bacteria and other toxins. It has astringent properties that reduces the production of excess oil from sebaceous glands without taking away the natural moisture from skin. On the other hand coffee works best in performing the tasks of cleansing and exfoliating. Its caffeine boosts up the tired appearance of skin by accelerating the blood flow in vessels. Coffee deeply cleans all the impurities and dust from the pores of skin along with balancing its pH. It is best suited to fight dull & tired appearance of skin and its antioxidants content should be thanked for that. Physical exfoliation of skin with coffee leads to tan removal, blackhead reduction and glowing skin.
Various studies have shown that coffee is the ultimate source of antioxidants that prevents the oxidative damage of skin cells and prevents them from the damage caused by free radicals. 
HOW SHOULD COFFEE BE USED FOR SKINCARE
The easiest way to include coffee in your skincare routine is to buy coffee based skincare products. Due to its umpteen benefits, top skincare brands are selling a variety of skin care products that contain coffee.
As we already said earlier, coffee works best in cleansing by deeply penetrating inside your skin layers and taking away all the dust, pollution and dead skin cells from the skin. You can choose a Coffee Face Wash with pure coffee extracts for that purpose after doing a patch test.


The other effective way to use coffee is using a Coffee Scrub that glides on your skin to remove the layer of grime, dead skin cells and blackheads while softening it. 
Some brands sell coffee skincare products by simply adding its fragrance & nothing else, make sure to avoid those products and Never buy a skincare product that contains sulphates & parabens if you have acne prone skin.
HOW SHOULD GREEN TEA BE USED FOR SKINCARE
We know that green tea is prepared with least processing and it is a great detoxifying agent. It should stay on the face for a longer time because of the concentration of EGCG antioxidant that fights premature aging and sun damage.
Green tea supplies essential nutrients, amino acids, folic acid and 𝛃-carotene along with amazing antioxidants and vitamins to skin that aids in its nourishment and repairing.


A Green Tea Night gel can be used to nourish the skin all night so that all its nutrients sink into the skin for a fresh glow in the morning or you can use a Green Tea Face Serum before moisturizer for locking up its amazing properties inside your skin and gaining its maximum benefits. Always make sure to choose non-comedogenic products for your skin that are free from chemicals like sulphates and parabens because these can clog the pores and irritate the skin.
CONCLUSION
Green tea and coffee are widely being used in skincare and both have their own unique benefits. Sometimes, people get confused about the benefits and usage of both these ingredients. Coffee is more beneficial when used as a cleansing and exfoliating agent whereas green tea is better when used as a nourishing and hydrating agent. One has to choose products based on their skin needs and skin type. Experts suggest usage of non-comedogenic skincare products because it can clog pores of skin that may result in acne, blackheads and other skin issues.