Chocolate In Skincare : Overhyped Or New Necessity
Posted by TheBeautySailor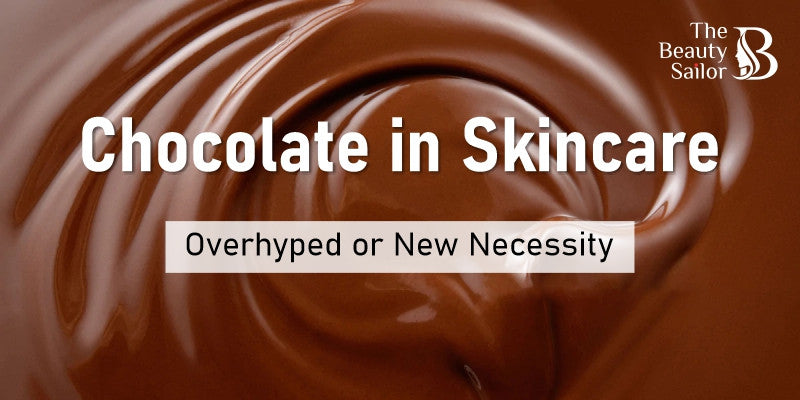 Love the feeling of chocolate melting in your mouth, right? Well, all of us do. Almost People of all age groups answer the question of their favourite sweet as chocolate. The hype for chocolate across the globe is real and not even questionable. All the credit goes to its luscious taste that is indeed a remarkable treat to your taste buds and of course it's amazing health benefits such as lowering blood pressure and LDL cholesterol levels. This is just the beginning, there is an ocean of perks that you can get from chocolate and today we are going to take you on a cruise ride in that ocean to focus on the main reasons that lie behind the hype of chocolate in the skincare world mainly in the form of Chocolate Face Mask. 


You must have seen a lady with her face covered with dark, creamy chocolate in the advertisements of beauty clinics or salons. This is because of the wonderful results that one gets by applying a Premium Chocolate Mask.


WHY SHOULD YOU USE A FACE PACK FOR YOUR SKIN CARE 
Our body needs a regular intake of essential nutrients in order to remain healthy and in the same way our skin does require them too. They say drinking lots of water, eating greens, exercising etc are important for a glowing skin but ask yourself a question- are you able to do all of these regularly without skipping even for a day? Do you remember to drink 12-14 litres of water everyday? And we know that your answer is probably no because our daily routine is so busy that it doesn't let us do all these practices on a daily basis. We sometimes lag behind and it is totally normal for everyone.


The job of a face pack is to enrich the skin with vital nutrients and trapping them inside the skin which as a result enhance the glow of skin. That is why people love to apply a face pack before any important occasion or party. 
The facial skin is mostly exposed to the outside environment and it suffers more as compared to other body parts like arms, legs, back, stomach etc. The Harmful UV rays of sun, the hot winds, pollution, dust and a lot more factors are present in the environment that damage the skin by making it rough, tanned, uneven, dull and glowless. 
Applying a nutrient rich Chocolate Facial Mask unveils the glow of the skin that gets hidden under the layers of dead skin cells. A mask stays for 15-20 minutes on the face and this time period is enough for it to absorb the excess oil that gets secreted from the sebaceous glands of skin and maintains the moisture barrier of the skin by properly hydrating it. 
By now, you have gathered enough information about the need for face masks in your collection of skincare products. Further we are going to discuss the umpteen advantages of using a Chocolate Mask for face.
ADVANTAGES OF USING CHOCOLATE FACE MASK
Before jumping on to the advantages you get from using a mask made up from your beloved chocolate, you must know how it is prepared. Let us tell you this briefly because we don't want you to wait longer for getting familiar with its amazing benefits.


Chocolate is prepared from the cocoa beans that grow on a tree called Theobroma cacao. These beans are harvested from the tree when they ripen and then they are fermented followed by drying. These dry cocoa beans are then processed in the factory and then the final product chocolate gets ready. Now let's quickly rush to benefits-
Contains truckloads of nutrients-

  The cocoa made delight i.e chocolate contains plenty of nutrients for improving the health of our skin. Vitamins like Vitamin A, B1, C, D & E to revitalise the skin, Minerals like Calcium, Sulphur, Zinc, Iron, Copper, Potassium and Magnesium for strengthening of skin cells and healthy fatty acids for deep moisturisation are present in chocolate. So, if you think your skin is lacking nutrients and it is dull then chocolate Face Mask can prove to be a boon for you.
Makes the skin smooth

- Dry skin definitely doesn't look good and it also paves the way for premature signs of ageing. Applying a soft and creamy textured mask made up of chocolate makes the skin smooth and relieves it from dryness. Thanks to its fatty acids like stearic acid, palmitic acid and oleic acid.
Prevents premature aging

-  Antioxidants like

 polyphenols, Catechins, and flavonols get infused in the pores of skin if you use chocolate packs on your face. These antioxidants protect the skin from the attack of dangerous free radicals which readily break down the skin cells and make it saggy, wrinkled and dull. 
Protects from harmful sun rays-

Along with some incredible antioxidants chocolate also contains a compound called tryptophan that has excellent power to protect the skin from harmful UV rays of sun that cause sunburn, tan and early aging.

Thus, chocolate makes the best ingredient for Tan removal Face Mask too. 
Deep cleansing action- Do you wonder why after washing away the face pack we get an instant glow? This is because the ingredients of face masks are specialised to deeply penetrate into the pores of skin and wash away all the dirt and pollution for an added glow.
Soothes the skin-

Often Vitamin E and cocoa butter are added to the formulation of face packs that have chocolate as a primary ingredient for the soothing and calming effect. These also have anti-inflammatory properties to reduce redness & irritation.
Reduces acne

- As we know chocolate masks for face deeply cleanses the pores in addition to removing excess oil from there. Experts suggest that these masks have shown tremendous improvement in the skin of people suffering from acne. You can choose this mask for acne prone skin as it has the ability to remove the excess oil and maintain a moisture barrier at the same time.
***Bonus Tip - Tea Tree oil based skincare products such as Tea Tree Face Wash, tea tree scrub and the essential itself works best in combination with chocolate packs for acne-prone skin.

Improves mood-

 The mind-blowing smell of chocolate can improve the mood and make us feel happy. When its smell hits your nose, the brain gets the signal of releasing neurotransmitters called endorphins that puts us in a happy mood.
CONCLUSION-
Chocolate other than being the favourite of our taste-buds is also loved by our skin equally. This creamy textured delight makes our skin look young, acne-free, even toned and soft because of the presence of healthy nutrients and antioxidants. For reaping its maximum benefits, Regular use of a Chocolate Face Mask is suggested and preferred by skincare enthusiasts.