All About The Face Serums - A Complete Overview
Posted by TheBeautySailor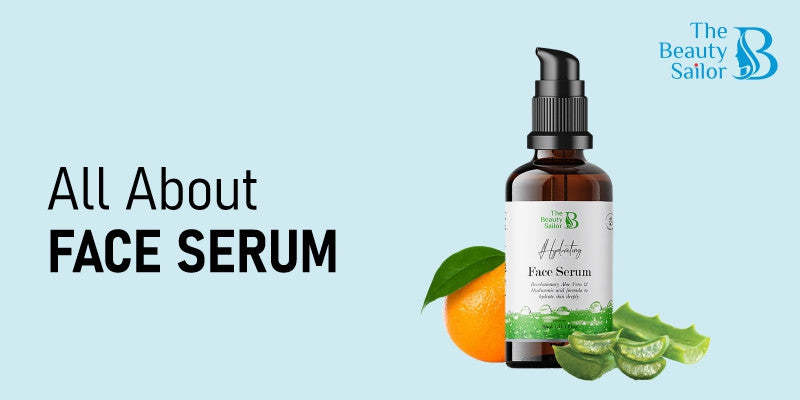 Due to this hustle culture going on these days, sometimes we don't  get enough time for our daily routine activities. Sometimes we even skip our meals to get things done timely and taking care of our skin becomes a lot more difficult during these times. So, what is the solution? Skipping skincare or doing it carelessly? No, absolutely not! Skincare should not be skipped at any cost. Rather, it should be done in such a way that all the essential ingredients are delivered to the skin fastly. Face serum is the best way you can provide your skin all the nutrients that it is worthy of.
Now what exactly a face serum is? Is it a cream or a liquid or something else? Just like a plate of balanced diet provides all the necessary elements to your body and fulfils all your basic nutrient requirements,  in the same way a Face serum provides all the skin-friendly nutrients to our skin. Serums are the formulations that are specifically aimed at delivering essential vitamins, minerals and other elements to your skin for protection, nourishment and hydration. They are usually clear in nature or maybe gel like substances of watery textures. Serums are lightweight substances that are applied before moisturiser because they capture the nutrients in the skin layers more effectively if applied prior to moisturiser. 
WHY ADDING A SERUM IN YOUR SKINCARE REGIMEN IS BENEFICIAL


Cleansing, toning and moisturising are indeed the most important steps of any skincare routine but an extra dose of nourishment is definitely necessary for coping up with the extra stress that our skin bears due to pollution, cruel sun rays, dust and of course the heatwave.
 Adding a serum intensifies the amount of nutrients in your skin that no other skincare product is capable of. They clarify your skin, strengthen it, hydrate it and reverse the signs of ageing. You must have heard about Vitamin C Face Serum and its amazing benefits like acne treatment & spot clearance , it is also claimed as the best face serum for oily skin by various scientists.
WHAT HAPPENS TO YOUR SKIN IF YOU USE FACE SERUM REGULARLY
Regular usage of face serum can lead to the excellent health of your skin. They are concentrated solutions infused with essential nutrients that  hydrate your skin, makes it firm, fades away the dark spots left behind due to acne, controls the extra oil secretion, evens skin tone, brightens the face  and also reduces pigmentation.
Using the best face wash or best scrub in the market may wipe out all the dead skin cells and impurities but they are not specialised for locking the vital nutrients in the deep layers of your skin. This job is done by serums. 
They make a way for a glowing and spot-free skin.
ELIXIRS- THE NEW COMERS IN THE WORLD OF SKINCARE 



It is quite sure that you may not have heard about the Skin Elixirs. These are basically the superior version of face serums. Elixirs are made with concoction of various herbal extracts, essential oils and other highly nourishing substances which lead towards a healthy skin. These have a consistency thicker than a serum and of course, provide an ultra deep nourishment to skin.
If your skin is extra dull and dry then it is definitely asking for the Best skin Elixir that is rich in ingredients like Vitamin E, Vitamin C, Green tea, Argan oil,  Aloe Vera, lemon extract, orange etc. which can provide it deep hydration along with nourishment.
INGREDIENTS WHICH YOU SHOULD LOOK FOR IN A FACE SERUM
Before using any skincare product on your skin, checking the list of ingredients & the benefits provided by them is extremely necessary. Here is a list of ingredients which you should look for in Face Serum or Skin Elixir -
Green Tea- Green tea is the trendiest and least processed ingredient in the world of skincare. It is loaded with antioxidants that fight the free radicals to prevent the signs of ageing. Adding Green Tea serum in your skincare products also prevents the occurrence of acne. Its soothing action controls the production of excess oil in the sebaceous gland of the skin.
Green Tea Skin Serum has polyphenols and catechins in abundant amounts that protects our skin from the harmful UV rays of the skin. It also provides moisture to the skin and keeps it hydrated for a long time.
Vitamin C-  A Vitamin C face serum is probably the most known and solid serum in the market. This is because it quickly gets absorbed in the skin and reduces the appearance of fine lines. Vitamin C, also called Ascorbic acid is mainly found in lemon, orange and other citrus fruits in abundant amounts.
Vitamin C when used in the form of serum shows amazing results as compared to other products like face creams,gels and sprays.
Hyaluronic Acid- Hyaluronic acid does a killer job in making the skin hydrated and plump. It reduces the signs of ageing and makes skin younger-looking. It is present in between the cells of skin tissues and binds the moisture in the skin and thus, becomes the key ingredient of Best face serum for dry skin.
Hyaluronic Acid face serum supplies the required quantity of hyaluronic acid to skin tissues that gets decreased due to ageing  or sun exposure.
Argan Oil

-

It is present in face serums and skin elixirs for its high Vitamin E  content. Vitamin E is the superhero ingredient that brightens the skin and also decreases hyperpigmentation. Its anti-inflammatory properties reduce the redness and swelling on the face due to acne or rashes. Argan oil is added in the formulations of various Vitamin C face serums, Hyaluronic acid face serum , Hydrating serums etc for its ultra nourishment ,hydration and sun protection qualities.
Aloe vera-

Aloe vera is the ultimate  potion for softening and smoothening of skin. It moisturises the skin deeply and makes it firm.
HOW TO USE A FACE SERUM


Wash your face thoroughly with a cleanser containing natural ingredients.

After that, exfoliate the face with a coffee scrub or coconut scrub for deep cleansing & hydration.

Pat dry the face with clean cotton cloth or towel.

Apply a few drops of Face serum or skin elixir on your face and spread it evenly. Make sure, it covers all the parts of your facial skin and doesn't reach your eyes.

Lastly, apply a non-comedogenic moisturiser on your face and slay the day with a radiant face.
CONCLUSION
You can provide extra nourishment to your dull skin in a smart way by adding a Face serum in your skincare routine. Face serum adds nutrients and moisture to your skin more effectively than any other skincare products. Skin Elixirs are superior versions of face serums that have a thicker consistency than the latter, they are made up of herbal extracts and essential oils to make your skin extra healthy and radiant. 
Green tea, Hyaluronic acid, Vitamin C, Argan oil and Aloe Vera are those ingredients that should be considered while choosing a face serum or skin elixir for a simply flawless skin.