Chocolate For Skincare | Chocolate Face Mask
Posted by TheBeautySailor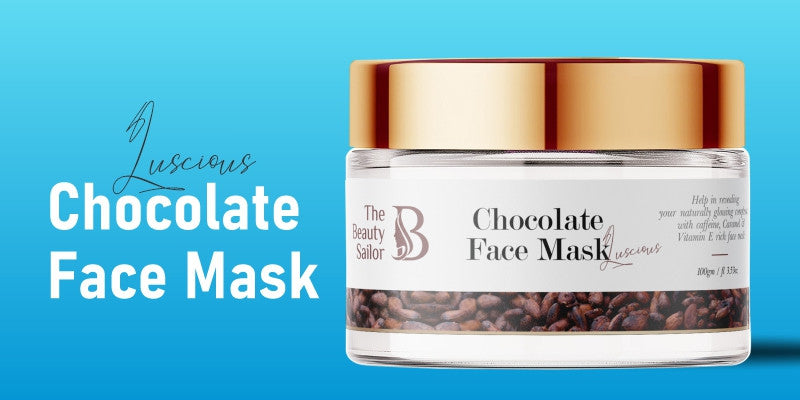 Do you know who can make you fall in love with your skin?
 - Chocolate it is.
The ingredient is not only tasteful to the tongue but for the skin too. Fasten your seatbelt for a chocolaty skincare ride for your face. After all, we all deserve healthy and glowing skin. The very first question that comes in mind is - Why Chocolate to be an ingredient used in the formulation of Face Mask/Pack?
Chocolate as an ingredient has nourishing, hydrating and healing skin qualities in ample. Let's go through them one by one to the voyage of skin benefits by chocolate -
Full of Flavonoids - Flavonoids are multi-active components that protect the skin from a variety of sun damage; accompanying which flavonoids also repair the damage caused by the sun on the skin. Flavonoids themselves are a good source of antioxidants; hence it soothes inflammation that is temporary in nature and another kind of damage done by sun. Your skin will always be protected against harmful UV Rays and painful sunburns, if you do a regular topical application of chocolate-based products
Nourishment of Minerals - This tasty ingredient is enriched with the nourishment of minerals like copper, iron and zinc. This nourishment helps in detoxification of skin and sloughing off of dead skin cells. Minerals are known for their treatment property, as they speed up the healing process of skin cells. After such cleansing and treatment, what is lefts behind is a fresh and radiant-looking skin tone. It helps in lightening skin scars and blemishes.
Boosts Collagen - Chocolate is powerful in the prevention of growing signs of aging; as it helps in prevention of premature breakage of cells plus it does promotes the growth of new cells. Hence, slowing down the signs of aging by increasing collagen production. The increment of collagen helps in delaying the appearance of wrinkles and fine lines, in order to bring a youthful glow. Magnesium present in the chocolate suppresses the stress hormone cortisol. When stress is relieved or suppressed than a person himself glows naturally with a vibrant smile. 

These are the scientific properties of chocolate that are boosting the glow and making skin vibrant. Secondly, the pleasant aroma of cocoa powder, takes all hearts. Moving on towards why a chocolate face mask is needed in the completion of your regular skincare regime.
The Beauty Sailor's Chocolate Face Mask is comprised of key ingredients - Caramel, Caffeine, and Vitamin E; with the obvious inclusion of Chocolate or Cocoa Powder.
Caramel being the natural and best skin softener -
Skin Softener - Caramel has the natural property to soften the tone of the skin, in order to make it plump, supple, smooth and glowing. Even the presence of calcium in caramel is just an additional benefit.
Exfoliates - The primary reason to add caramel in the chocolate face mask is that it is a real good exfoliator for the skin. The cleansing property of caramel is widely known that's why it comprised a good part to this face pack. It helps in clearing layers of dull skin.
Lasts Longer - Caramel tends to hold the property of making product last longer than usual. The longer the product lasts on your skin, the longer it manages to shoot its wholesome goodness and benefits to improve the skin tone, yes of course with its amusing aroma.
Aesthetically Pleasing - Caramel is one of the aesthetically pleasing ingredients used in skincare products. The aroma, color and texture that caramel provides to the product is magnificently splendid.
Who knows how to heal? - Caffeine -
Chlorogenic Acid - Also known as CGA's are enriched in property of anti-inflammation that basically heals the inflammation of temporary nature. Apart from CGA's, caffeine has polyphenols and antioxidants. The presence of antioxidants helps protect the skin from environmental stressors, such as harmful UV rays of the sun and pollution.
Bye-Bye Cellulite - Caffeine is infused with the property of cellulite reduction by improving the blood flow by the mechanism of dilating blood vessels. That helps in decreasing cellulite on the skin; while making skin smooth and even.
Healing Benefits - Housed with healing benefits; caffeine helps with acne reduction, dark circles reduction, and provides sun protection factor. Calming effects are delivered by caffeine too, but only in topical application because of its anti-oxidant richness. Antioxidants too make the skin radiant, healthy and glowing.
Anti Aging Benefits - Caffeine helps in reducing signs of aging, such as the appearance of sunspots, redness, and fine lines. It even eases away wrinkles and helps in decreasing photo-aging effects. These ailments of caffeine make it the perfect ingredient to be used in face pack.
Radiance Provider - Primary and basic ingredient for making skin glowingly radiant is Caffeine. The ingredient carries this as its base quality. While providing other impressive benefits to the skin caffeine does make skin glowing and charming-
 Skin's Bestie Vitamin E -
Easy Absorbent - Being a good absorbent vitamin E is quickly absorbed by the skin; that is the ground reason to add Vitamin E into the formulation of chocolate face masks. As it too takes other benefits provided by the mask into the skin, in order for proper nourishment and deep hydration.
Photo-Protection - Vitamin E protects from any kind of skin damage in topical application as it helps in forming a delicate layer on skin, allowing it to breathe while the skin cells are being protected against photo-damage.
Anti Inflammation - Vitamin E is considered an anti-inflammatory agent to the skin because of its sun protection quality. It helps in the reduction of skin swelling, skin thickness, and other varieties of skin inflammation.
Skin Tone Lightener - It helps in infusing nutrition into the skin cells because of its easy absorbent quality. That nutritious quality helps in healing stretch marks; lightens scar marks and brown spots.
Bringing above mentioned ingredients together in a formulation of a face mask helps in achieving deep cleansing, gentle exfoliation; and hydrated & purified skin tone. The major question that arises here is why to opt only for The Beauty Sailor's Chocolate Face Mask and not for any other brand. We do not have one reason, we have ample of them. So let's sail our boat to those -
Luxury in a Box - First and foremost about our chocolate face mask is - it is luxury in a box; packed with goodness and wealth of nature-derived ingredients. The mask is cruelty-free and paraben-free, while being completely powered by science. It helps in revealing the naturally glowing complexion with chocolate, caffeine, caramel, and vitamin E.
Tan Removal -The base property of Chocolate Face Mask is its tan removal property. Its magical gel formulation helps in tan removal and blackheads removal; all thanks to caramel and cocoa powder. It even lowers pigmentation production in order to give a light and bright complexion; because of its anti-oxidant richness. Hence, this chocolate mask for skin lightening.
Moisturizer & Hydrates Skin - Cocoa powder and Vitamin E, both being powerful and natural antioxidants keep skin hydrated. The hydration keep skin moisturized while keeping moisture intact in skin cells. So, if you have a dry, dull, or dehydrated skin tone - your go-to companion should be none other than The Beauty Sailor's chocolate face mask.
Cleanses Skin - A face pack or mask cleanses properly; that has to be its primary functionality. It helps in the removal of dead and dull skin cells by boost of hydration. It tends to remove all the impurities lying on the skin. Its caffeine property detoxifies skin while allowing new skin cells to regenerate and breathe properly. This brings a youthful glow to the skin. Chocolate too helps in killing acne-producing bacteria.
Fights Aging - Aging being a natural process can't be completely hindered but it can be slowed down by using skincare products that suit your skin type. The best skincare product is that which suits all skin types - like our chocolate face mask. It prevents premature breakage of skin cells, eases growing wrinkles, fine lines, hyperpigmentation, acne scars, and other types of signs of aging.
Outside Stressors - Antioxidants are powerful and work wonders in multiple forms one of which is that they protect skin against environmental stressors such as harmful UV rays of the sun, bad weather, and pollution. It does help in the reduction of wrinkles and fine lines.
Gentle Exfoliation - The mask is not at all harsh on the skin, it does gentle but powerful exfoliation of dead skin cells. The thorough cleansing helps in sloughing off of dead cells while making space to regenerate new skin cells. Even the rejuvenating quality of the chocolate face mask makes the skin look fresh and bright.
Skin Tightening - Another function of a face mask is to tighten the skin effectively. It tightens the open pores after their good cleansing; which leads to tightened, cleansed and softened tone of skin. It improves skin condition and its elasticity. This better and tightened skin looks more youthful and charming.
Softens Skin - Caramel being the natural skin softener; softens the tone of skin; and makes skin soft, smooth, plump, and supple. Plus it tends to give a shiny bright tone to the skin. Not only caramel softens the skin but vitamin E and chocolate softens the skin too; because of their anti-oxidant richness, as anti oxidants bring ample hydration. Hydration means no more dull damaged skin but only soft skin.
Infuses Nutrition - The formula of chocolate face mask is infused with the nutritious value of vitamins, antioxidants, minerals, flavonoids, and collagen. Along with that, the key ingredients of this mask put plenty of nutrition into the skin cells, while vitamin E makes sure that the skin absorbs it deeply.
Gentle on Skin - The mask is gentle on skin plus this formula suits all skin types. Even its exfoliation is gentle because we know that harshness causes skin damage. Here we make our products mild and gentle; so your skin enjoys the luxurious journey of cleansing. A proper cleansing tends to reveal better and brighter skin tone.
Pleasing Aroma - The fragrance of this de-tan face mask is pleasing and lovely. That even later your face scents so mild, aromatic, and chocolaty for a good amount of time. You yourself will enjoy its pleasurable fragrance.
Not at all Messy -Top-notch quality is that the face mask is not at all messy. The convenient packaging makes the application easy. Secondly, when you are using it - it is only a 15 to 20 minutes routine. You easily get free without all the mess. So enjoy your exfoliating and rejuvenating skin.
The question is How to Use this pleasing face pack on your face in order to make it smooth and glowing?
Step 1 - Cleanse the face properly with water.
Step 2 - Apply tan removal chocolate face mask evenly on the face. Let it dry for 10 - 15 minutes.
Step 3 - Wash it off with lukewarm water.
Enjoy your face mask for dull skin to make your skin charming and glowing.

Restore your bright and healthy skin with The Beauty Sailor's Chocolate Face Mask. BE YOUTHFUL