Benefits Of Walnut For Skincare
Posted by TheBeautySailor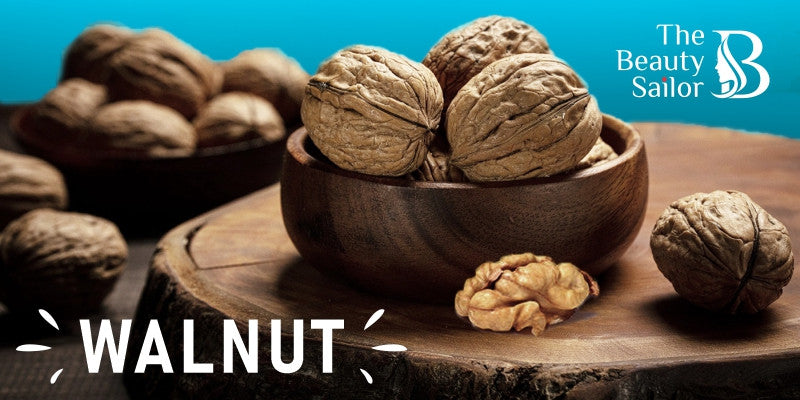 Walnuts may be slightly bitter in flavor, but they are known to give really sweet and fruitful results on your skin. They have anti-inflammatory properties, thanks to Omega-3 fatty acids. This nut can boost vitamin B levels that are particularly responsible for boosting your skin health by keeping age-related fine lines and wrinkles at bay. This isn't just it. Know more benefits of walnuts for your skin.
Benefits of walnut for skincare


1. Brightens complexion

Walnuts have vitamin B5 and vitamin E that helps in skin brightening and pore tightening. Vitamin B5 clears dark spots and tans; for making your skin glow. Vitamin E at the same time repairs your skin. You get clear, soft, and hydrated skin with an even skin tone and bright complexion. Using a walnut face scrub infused with coffee works best for exfoliation and removing tan and if you find a scrub boosted with coconut oil too alongside walnut and coffee that makes the best combination of ingredients to keep your skin hydrated, tan free, blackheads free, and the most important moisturized.
2. Protects skin from sun
Walnuts are rich in antioxidants and their nourishing fats soothe dry skin. It is also known to reduce skin inflammation and breakouts; and also plays a vital role in protecting the skin against the harmful rays of the sun.

Note: A handful of walnuts in your skincare products is all you need for glowing skin
3. Fights signs of aging
We see today, skin aging is accelerated due to exposure to a polluted environment. Many big brands are trying to come up with anti-aging products, but the natural answer to ensure youthful skin may be using walnut-based products. Vitamins and minerals present in walnuts can help fight and stall the skin-aging process. For people who want flawless and younger-looking skin, walnut oil is highly recommended in recent studies.
4. Remedy for Infection

I am sure each one of us has experienced one or the other type of fungal infection. Using walnut-based oil heals the infection and provides relief. It fights fungal infections like ringworm or candidiasis. You can massage walnut oil directly to the affected area for almost instant results. Another method for usage is to mix a few drops of tea tree oil with walnut oil and then apply it to the infected area for better results. Regular usage of your preferred method will reduce the risk of recurrence of the problem.
5. Helps Treat Psoriasis
Though there has not been any permanent cure for psoriasis, walnut oil beautifully helps you control it and get some relief. You may either apply it topically or simply add it to your bath.
Not just for your skin but walnuts are great for your body too. Including walnuts in your diet will open doorways for good health. Though some walnut users on their skin believe that walnuts are harsh on the skin, I would say only if you choose the right products for your skin and do a patch test then it would give the desired results. Walnut makes a great exfoliant which we all require. Try this Walnut, Coffee & Coconut Face Scrub specially formulated to keep your skin hydrated, de-tanned, and blackheads-free and moisturized.
Restore your bright and healthy skin. Be youthful forever!