Coffee For Skin ?? Here Are Your Answers
Posted by TheBeautySailor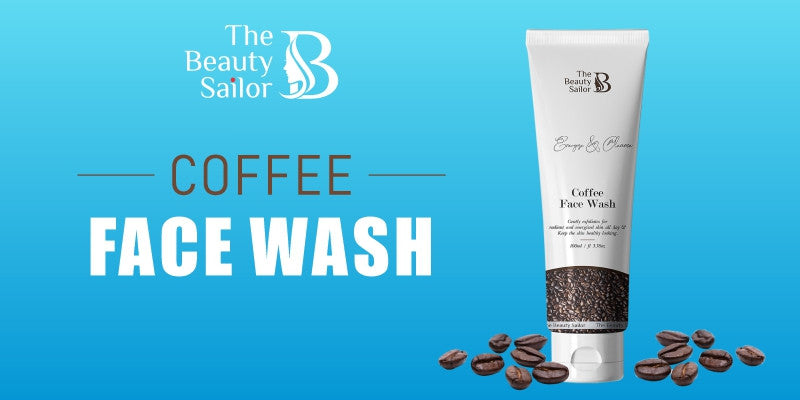 It's time to wakey-wakey with our Coffee Face Wash. Make sure your skin too wakes up in the morning. If it doesn't then we know what you need. Guess what it is?
- Coffee Face Wash
A good wash is always required while forging a skincare regime; because it all depends upon what you are feeding to your skin; right in the morning, though a face wash is used twice a day. So it becomes of utmost importance to know what nutrients you are actually feeding to your skin; as you do to your body. Skin needs a balanced diet too, in order to restore your charming and youthful skin tone. Hence, you are going to need a coffee face wash in your skincare regime. Our reason for opting only coffee as a base ingredient in this face wash lies below as per its scientific nutritional value-
Riboflavin - Riboflavin is basically Vitamin B2; it does all the acts as vitamin B2. It helps in improving skin tone by treating discoloration; in addition to which makes skin radiant and bright. One of the important tasks riboflavin does is balancing the secretion of natural oils of the skin. It helps to control the excess origination of breakouts, pimples, and acne. It is best for all skin types but especially for dry skin. Riboflavin makes up to 11% of coffee's nutritional value.
Pantothenic Acid - This acid is essential for the maintenance of the natural health of the skin while comprising 6% of coffee's nutritional element. Secondly, Pantothenic Acid is required to make the healing process fast. It is infused with Vitamin B5 that moisturizes the skin and makes skin healthy; it is one of the nutritional values of coffee that even helps in the management and reduction of acne and blemishes. It's an elixir element for people with acne-prone skin.
Manganese and Potassium - For beginning Manganese does boost the production of collagen; as it itself is a type of anti-oxidant that contains detoxifier free radicals and has proline enzyme for wound healing. Potassium on other hand smoothes the wrinkly skin and age spots. It hydrates and moisturizes the skin cells that help in growth of new skin cells and; healing of scars and blemishes. Coffee contains 3% of manganese and potassium.
Nutritional value of Magnesium - Minerals are significant for your skin health as they have a good nutritional value. Magnesium does its magic too to make skin moisturized and nourished. Magnesium helps protect the skin from external damage; it helps with regulating the regeneration and repairing process of cells. All skin types can take advantage of magnesium but it's a skincare miracle for oily skin types.
Niacin for Skin - Coffee has the tiniest parts of niacin but they are strengthened parts; niacin's basic task is to protect the skin cells from sun damage; which makes it a Sun Protection Factor or say SPF when applied topically. Niacin does not lighten the skin tone but it does make the tone of skin even; hence it can be called spot remover if used consistently over time. It helps in the enhancement of the appearance of dry skin.  
Improves Physical Performance - Releasing ample energy into human cells is one thing that coffee does, in addition to which it improves physical performance. When consumed it burns fat and is applied topically its caffeine quality helps in clearing cellulite by increasing the flow of blood and by making free fatty acids to use as body fuel. It also increases epinephrine levels in the blood - so yes the ingredient helps in improving physical performance.
The nutritional value of coffee for skincare is high; it not only wakes up your skin but it does so much more than that. There are fewer ingredients in skin care recipes or formulas that are empowered to make your skin balance its own natural oil secretion - and coffee does that; which convinced us to formulate a skincare product based on only one major ingredient. Coffee itself is the best face wash and best skin exfoliator.


What more we have added into our Coffee Face Wash is Glycerin. The query is why glycerin is being used in a coffee face wash? What skincare qualities this ingredient infuses into this luxury face wash? So they are mentioned below -
Acts as Humectant - Humectant is a substance that helps in retaining moisture or says preserving the moisture into the skin cells. They are basically water molecules bonded with hydrogen. Moisture is essential for skin because lack of moisturization causes dehydration and no one wants dry skin.
Fights Environmental Stressors - Glycerin manages to work as a shielding agent for the skin against a number of environmental stressors such as harmful UV rays of the sun and pollution. Alongside fighting environmental stressors, glycerin soothes temporary skin irritation in order to calm it down.
Enriched with Emollient - Emollients impart smoothness and softness into the skin, so to make it soft and plump. Emollients are basically natural butter or oils extracted from natural ingredients. So they have natural properties to even calm the skin down from tons of irritating elements.
Creates Moisture Barrier - Glycerin creates a moisture barrier, so to fortify and strengthen the skin against a number of stressors and irritation causing factors. The creation of such barricading layer makes the skin cells keep moisture trapped inside.
Enhances Penetration - Glycerin helps in enhancing the penetrating quality of skincare products into the layers of skin. That is why products with glycerin in it are way more effective than those formulated with no glycerin. This even helps other nutritional values of the skincare product to achieve easy infusion into the skin. This in turn helps in improving skin's resilience; plus it helps in giving skin a more youthful look.
For Oily Skin - This magical ingredient helps in lessening the size of skin pores if they are open widely. Glycerin is also significant for people with oily skin types; as it tones their skin and even improves the reappearance of acne and other types of breakouts.
Why choose The Beauty Sailor's Coffee Face Wash and not any other coffee-based face wash from the market. We have our luxurious reasons that will benefit your skin to be happy, healthy, and bright -


Energizes - The Coffee Face Wash tends to energize the skin cells, after all, it is coffee so it has to energize. The factor to look upon is that it even re-energizes when applied topically not only when it is for internal consumption. Hence, you'll be staying happy, cleansed, and energized the whole day after using our amazing coffee face wash.  
Tan Removal - One of the base properties of this face wash is to do the removal of tan. Being coffee or say caffeine quality present in this face wash makes it a good cleanser and exfoliator. So, it helps in removing tan by the presence of riboflavin and niacin in the coffee compound. Both scientific properties help in evening the skin tone, so you can keep restoring your youthful skin.
Acne Control - The must-have property in every face wash is that it has to be anti-acne. Pantothenic acid is helping us to cure that problem of yours. The presence of this acid in the coffee face wash helps controlling blemishes, acne, pimples, and several other types of breakouts. It is even considered an elixir for acne-prone skin.
Oil Control - Coffee has an 11% concentration of riboflavin; this is plant-based vitamin B2 that is strengthened to manage the secretion of natural skin oils by the face. That is why we can say that our coffee face wash helps in oil control. It is a happy-happy tube of joy for people with oily skin.
Dark Circles - So it's high time to say goodbye to those stubborn dark circles and dark spots on your face, as ample riboflavin and niacinamide are present in the face wash to even skin tone and then even brighten the complexion, respectively.
Smooth Exfoliation - The exfoliation done by this face wash is not at all harsh or hard; it is smooth and gentle on your skin. How can it be not- we specially formulated it to meet your skin needs. We know well that all skin types deserve a good and gentle treatment; even when it comes to exfoliation. That dull, damaged and dead skin cells will be gone when this face wash comes as a regular skincare product in your skincare regime.
Fights Ageing - What really fights aging? That has to be the main question - 

The answer to this question is ample of hydration and restored moisture in your skin cells. When your skin cells are moisturized and hydrated properly they stay young; and when they are not they get aged, dull and dry. This leads to ageing, so make sure to pick such face wash that has hydrating property and that is why this coffee face wash stands first on such properties.
Mild Fragrance - The Face Wash does not have any kind of heavy fragrance to make your headache, but it has a mild fragrance to make your day scented with smooth feeling fresh coffee. One of the most received reviews about the product is its mild fragrance. Nothing compares the mild fragrance of coffee.
Daily Dose of Hydration- Coffee has ample of hydrating elements plus its scientific properties are breathtakingly superb because of the presence of manganese and potassium in it. While manganese boosts the level of collagen in the skin cells; on the other hand, potassium is hydrating and moisturizing the skin cells. Glycerin helps in managing to keep the moisture intact in the skin cells. So, not only your skin gets cleansed - it even stays hydrated with the goodness of coffee.
Suitable for All - The Coffee Face Wash suits all skin types; be it oily, dry, combination, sensitive skin, or normal skin type. We feel proud of our skincare formula because most face washes are suitable for either oily skin or sensitive skin, but our revolutionary formula has been capable to serve skin care needs of all skin types. That's why we even consider it one of the best facewash to take care of your skin.
We hope your doubts have been cleared why you only opt for our energizing and cleansing coffee face wash; because The Beauty Sailor believes in bringing the best to you for your skin. That smile of yours gets noticed along with the health of your skin and we know how to keep your skin healthy, bright, and glowing. Restore your bright and healthy skin with The Beauty Sailor.
BE YOUTHFUL