The Only Face Wash With A Unique Blend Of Tea Tree Oil, Avocado Oil And Aloe Vera
Posted by TheBeautySailor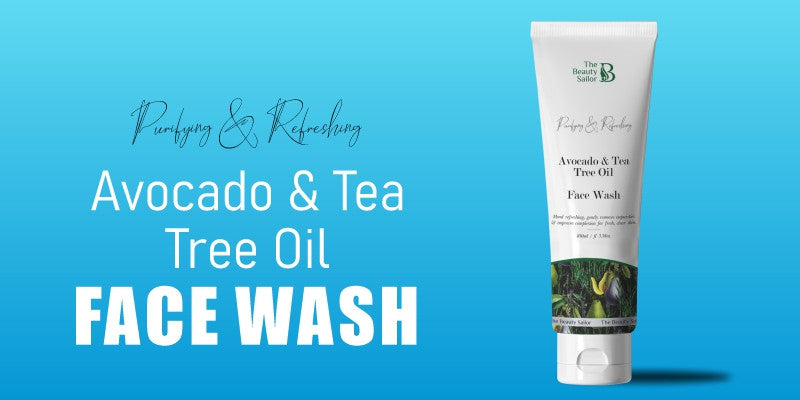 Do you know who always manages to give your skin that refreshing feeling?
Avocado & Tea Tree Oil Face Wash – this skincare product has its own unique blend of formula and works accordingly on all skin types, and works gently. Your skin needs a face wash just for you; that satisfies your skincare needs. That is why The Beauty Sailor formulated a mild and refreshing face wash for all with natural greens such as Avocado, Tea Tree and Aloe Vera; plus many more other ingredients. Restore your bright and healthy skin with our Avocado & Tea Tree Oil Face Wash. There is a number of reasons why we formulated this face wash with a special focus on Avocado Oil and Tea Tree Oil. So, let's sail your boat with The Beauty Sailor to know why we used specific ingredients for our face wash formula -


First of all, let's talk about reasons related to Avocado Oil - 
Enriched with Anti-oxidants - Avocados are known for being rich in anti-oxidants; the anti-oxidants in avocado helps to protect the skin from oxidative damage and environmental stressors. Antioxidants help in keeping skin young and hydrated. These anti-oxidants of avocado oil help in keeping moisture intact too, which is the prime reason of avocado oil being one of the best moisturizers for face. They help with dehydrated, flaky, irritated and dry skin in order to nourish and moisturize it.
Oleic Acid - Oleic acids are basically monounsaturated fatty acids. This good fatty acid is known for making skin calm, nourishes and moisturized. Oleic acid being an excellent moisturizer keeps your skin hydrated and happy. It deals with dry up, irritation, sensitivity etc. It helps in fighting free radicals that accelerate the aging process; such damage provokes complexion change, breakage of blood vessels etc. Keeping oleic acid in regular usage literally helps in delaying the aging process. Avocado Oil has 47.2 percentage of oleic acid.
Palmitic Acid - It is a fatty acid act as an emollient, it is an alkali salt and acts as an emulsifier too. It helps in retaining moisture into the skin by forming an oily, water-blocking layer that helps in stopping the loss of water through the skin. That is why it helps in improving dull, flaky and dry skin. It is even used in products o give them a clearer and opaque texture; it does make the skincare products water-resistant. Palmitic Acid comprises 23.6% of avocado oil.
High in Lutein - It is a supportive anti-oxidant; which helps to protect the skin from sun damage and does help improve the skin tone to keep it youthful and charming. Skin cells themselves produce lutein, but using extra or nature-derived lutein on skin gives it an extra layer of protection. It improves skin health and attributes when used in skincare regime continuously, and it effectively whitens the tone of the skin. Lutein is basically cartenoid filled with anti-inflammatory properties.
Vitamins - Vitamin A, E, K and D; avocado oil has both Vitamins E and D that support healing and soothing of the skin. It does promote collagen synthesis that helps in the formation of new connective tissues. Avocado oil is too loaded with omega-3 fatty acids, in order to benefit the skin membrane health. Some even suggest putting avocado oil directly on wounds to improve the healing process. These vitamins are also fat-soluble in nature and they absorb natural oils secreted by the skin easily. 
Lecithin - Lecithin makes skin feel smooth and soft by restoring hydration into the skin cells. The kind of lecithin used in skincare products is Hydrogenated Lecithin. It enhances the overall appearance of the skin. It is advised to use in adequate amount, not in ample amount. Cause it can make skin porous. This emulsifier is also found in human body tissues.
Our next major ingredient is Tea Tree Oil in our Face wash; just as tea tree oil is filled with nutritional properties, it is also filled with ample of history in it. The ingredient is native of Queensland and South Wales, Australia. It comes from Tea Tree Melaleuca Alternifolia and was scientifically found in 1922. Moving on towards its nutritional properties -    
Terpinen-4-ol - Terpinen-4-ol has anti-inflammatory effects as its nutritional value. It helps in increasing white blood cells that fight off the outside invaders such as germs etc. Fighting off germs is a property that infuses infection prevention and healing properties into the tea tree oil. It is not only an anti-inflammatory agent but it is also an anti-oxidant agent.
Anti Acne - All the anti-inflammatory properties shot by terpinen-4-ol into the tea tree oil make it anti-acne in nature. Even its direct topical application has numerous benefits, but when mixed into the right formulation - it has the caliber to do miracles on your skin. Never make mistake to apply 100% oil form of tea tree oil because in that form it causes irritation wherever applied.
Anti Fungal - Tea Tree Oil is one of the best anti-fungal remedies. It is not to be used near or in eyes and neither to be put directly in the mouth. Hence, it is just for topical use and in small quantities. Being it anti-fungal in nature makes it one of the best ingredients to be used in our luxurious face wash.
Soothes - Tea Tree oil soothes the skin when mixed with the correct ingredient, alongside that it helps in the reduction of scar marks. It is effective but it does not remove them all in total. It though soothes the pain and aids in the healing process. Its internal consumption might be harmful but its topical application has a number of benefits.
The other key ingredients used in this purifying and refreshing face wash are Aloe Vera Extract and Basil Extract. Why these key ingredients used in this face wash lies under this line. First of all, let's talk about classic Aloe Vera, which has more than plenty of potentially dynamic nutritional values -
Vitamins - Aloe Vera has Vitamin A, C, E and B12; these vitamins are anti-oxidative in nature. They help in the neutralization of free radicals, so that skin remains youthful and glowing over the years. They even help protect the skin from outside variants such as - harmful UV rays of the sun, pollution and oxidative stressors. When these vitamins work together they work magically to provide bright and healthy skin.
Enzymes - Enzymes helps in breaking the keratin layer of skin that keeps the dead skin cells stuck together. Enzymes basically do a gentle exfoliation of skin in order to tone it, make it look healthy and smooth. It also helps in the reduction of pigmentation and blemishes. It does manage to reduce excessive inflammation when applied topically to the skin. The human body secretes enzymes too, but extra supplements make enzymes more active and skin healthier. The amalgamation of Enzymes with Vitamins A, C and E make the skin more radiant and healthy. Just another reason why Aloe Vera is in the blend of this revolutionary Face Wash.
Minerals - Minerals that exist in Aloe Vera are calcium, chromium, copper, selenium, magnesium, manganese, potassium, zinc and sodium. Firstly minerals are needed to make enzymes work better; secondly they support immunity, slow down aging and help prevent skin from numerous of issues.
Glycoprotein and Laxatives - Aloe Vera has glycoprotein in it that fills this ingredient with two of its base properties; one is anti-allergic and the second is anti-inflammatory. Laxatives or say Anthraquinones are infused with anti-bacterial and anti-viral properties. That is why Aloe Vera is used in home remedies, secondly, it is easy to grow and easy to bring in use. Moreover, the plant has essential amino acids well for human health that too possess anti-inflammatory and anti-bacterial properties.
The last key ingredient to this Avocado and Tea Tree Oil Face Wash is Basil; the herb is used in food, used on the skin from centuries ago. It was found to be used even in some of the earliest civilizations - like Roman, Greek and classic Indus Valley Civilization. With ample of history, the herb has tons of skincare benefits too -
Terpenes - Terpenes is one of the base elements in basil that constituent to its base skincare quality that is basil being detoxifying, anti-inflammatory and management of sebum levels of the skin. It provides potent therapeutic and calming benefits to the skin, in order to keep the skin calm and irritation-free.
Phenylpropanoids - Phenylpropanoids are anti-inflammatory in nature known by a number of researches, it does improve the flow of blood, popularly known as PG Synthesis or Prostaglandin Synthesis. This reduces the chances of blood clotting.
Anti-oxidants - Basil  has anti-oxidants such as Lutein, Zeaxanthin, Beta-Carotene and Beta-Cryptoxanthin; in addition to this basil too has a number of essential oils, minerals and vitamins to make skin glow and even for medicinal purposes. They help fight free radicals in order to make skin glow and keep it young. That is why this herb is mostly used for medicinal purposes. Its phytochemicals even protect cells from types of cancer.
Nutrient Powerhouse - Basil is infused with Vitamin K, A, C and Manganese. Plus to this basil is a good source of copper, calcium, iron, magnesium and omega-3 fatty acids. That is why basil is nicknamed a nutrient powerhouse.
The Avocado and Tea Tree Face Wash is imparted with the qualities of these key ingredients and their combination birthed this Face Wash filled with skincare benefits of nutritional ingredients. The question arises now is why only The Beauty Sailor's Avocado and Tea Tree Oil Face Wash?
Hence the answer lies beneath this line -
Anti Acne - The base quality of the face wash is anti-acne; as it fights off acne, pimple, blemishes and a variety of bacterial breakouts. This quality is infused with Tea Tree Oil, Aloe Vera and Basil in this Face Wash. All these ingredients are loaded with anti-bacterial and anti-viral properties. Plus glycerin is in mix too that helps to keep all the outsider harmful elements away, while locking the benefits on the skin.
Refreshing - The face wash has this refreshing aura and it does freshen up the facial skin properly with its hydrating. It not only refreshes the tone of skin but it purifies it too, in order to make skin fresh and clear. This property of this foaming face wash makes it one of the best facewash for refreshed and bright skin. Stay happy with a refreshed mood.
Removes Impurities - Avocado and Tea Tree Oil face wash does oil control; removes impurities, dead skin cells, reduces dull & damaged upper layer of skin. Removal of impurities is not always through exfoliation but sometimes via infusion of nutrition too, because when ample nutrients are being fed to your skin then impurities slough away with a simple washing of the face too.
Gentle on Skin - The face wash is gentle on skin, as it sloughs away dirt, not the smoothness of your skin. The face wash does not remove all the oil from your skin, but it has the caliber to balance the oil on the skin; so the skin stays smooth, plump and healthy. It makes sure that neither there is an excess of oil nor the skin stays dry. So you know now what face wash to really pick.
Improves Complexion - The face wash tends to improve the color of skin by helping in the reduction of dark spots and dark circles. Secondly, it helps in lessening discoloration. However, Lutein in avocado oil does help in whitening skin tone. Even the enzymes present in Aloe Vera manage to make skin radiant.
Protects Skin Damage - The type of damage from which this face wash safeguards are environmental stressors such as pollution, harmful UV rays of the sun etc. Even phenylpropanoids help in the reduction of blood clotting and manage to keep the smooth flow of blood - all thanks to basil extract present in the face wash.
House of Anti-oxidation - We are calling it a house of anti-oxidants because the face wash is rich in anti-oxidants and because almost each and every key ingredient is used in the formulation of this purifying and refreshing face wash. Avocado Oil is rich in anti-oxidants while Tea Tree Oil makes sure to heal skin too.  
Moisturizes and Hydrates - Obviously, when there are ample of antioxidants then for sure there will be tons of moisture being fed to your skin. Almost every key ingredient is shooting moisture into the skin. This moisture keeps the skin hydrated; which leads in treating skin from dehydration, flakiness, dullness, and variety of dehydrated damage. Ample moisturization and hydration keep the skin soft, plump, and supple.
Nourishes - Avocado and Tea Tree Oil Face Wash is a complete package of nourishment because of all its key ingredients and the way it is formulated. Ingredients are important but what is more important - is in what quantity the particular ingredient is being used. At The Beauty Sailor we make sure that proper nourishment should be infused into your skin by every product we formulate.
Calming - This refreshing face wash has calming effects too because or terpenes as it is detoxifying; antioxidants of basil because those anti-oxidants help fighting free radicals in order to calm the skin tone. It helps in the reduction of irritation that soothes the skin tone and protects through a variety of damage.
Mild Fragrance - The Face Wash has a mild fragrance, this fragrance is not at all heavy or hard enough to give you headache; but it's soothing and mild in nature. So, to make you and your skin happy.
Suit all Skin Types - Best of all it suits all skin types; be it oily, dry, normal, combination, or sensitive. We have got you all covered. Most face washes are not for sensitive skin but it is for sensitive skin too. This face wash is not only mild in fragrance but it is mild with your skin too. So, there is no harm being done to your skin, only nourishment being shot into your skin.
These are base ingredients and their properties, which they infuse into this Avocado and Tea Tree Oil Face Wash. That is why it refreshes the mood, removes impurities in a gentle way, improves the tone of complexion and makes skin fresh and clear.
So forget all those impurities with The Beauty Sailor's Purifying and Refreshing Avocado and Tea Tree Oil Face Wash. Restore your bright, smooth, soft and healthy skin with us. Keep your skin happy and healthy with The Beauty Sailor Skin care products.
BE YOUTHFUL