Get Rid Of Old & Dead Skin Cells With The Unique Combination Of Walnut, Coconut & Coffee Scrub
Posted by TheBeautySailor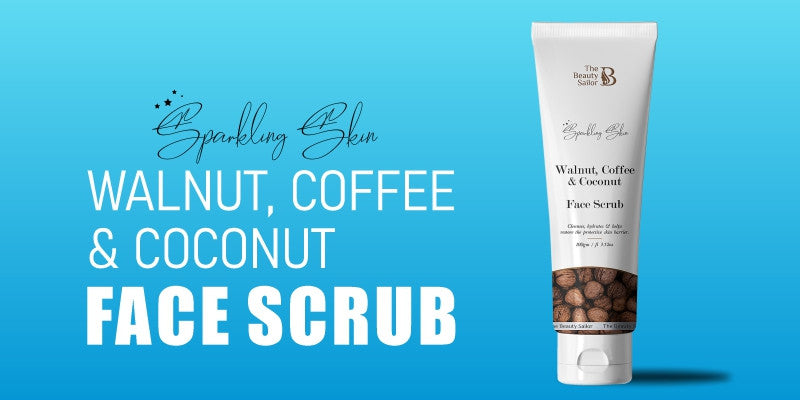 Walnut, Coffee and Coconut Face Scrub is to hydrate your skin; and to make it healthy and happy. So, cleanse and
hydrate
your skin with The Beauty Sailor's  Face Scrub and get a healthy shine now. This skincare product does gentle exfoliation while removing dead and damaged skin cells. It smoothens the skin while infusing ample nutrition and radiance. This formula is a unique blend to revolutionize the cleansing of the face by using the scrub.  The amazing formula is to provide gentle yet proper cleansing and shine to the facial skin. The key ingredients used in this Face Scrub are Walnut, Coffee, Coconut, Beeswax and Sunflower Oil.

Let's go through them one by one starting from Walnut. Walnut has a history of centuries; it had its first appearance during Byzantine Empire, where it was called Royal Nut too. Let's see it through its properties -
Enriched with Anti-oxidants - Walnut has higher anti-oxidative quality as compared to any other nut. They help in fighting oxidative damage. Due to antioxidants and other nutrient richness in walnuts have gained the stature of superfood. Walnuts are literally ranked above all other nuts when it comes to infusing anti-oxidants.

Phytochemical - Phytochemicals in walnuts are basically for calming the skin down from irritation or any other issues. That means they fight off the outside radicals or environmental variants affecting the skin, in order to calm it down and make it happy. The phytochemical walnut contains are polyphenol.

Vitamins - Walnuts have numerous skin beneficial qualities; one among them is - its richness of vitamins. It has Vitamin A, B12, C, E, and K. It has vitamins in form of Riboflavin and Pantothenic acid. Riboflavin is basically Vitamin B2 that helps with the treatment of discoloration, in order to make skin radiant. Pantothenic Acid moisturizes the skin and makes it healthy.

Proteins - This royal nut is a good source of protein that makes skin healthy by boosting collagen. It helps in boosting elastin protein that helps in bringing elasticity to the skin while keeping the skin youthful.

Minerals -Walnuts are filled with ample minerals such as calcium, sodium, zinc, potassium, phosphorus, iron, magnesium, and manganese. Minerals are essential for skin cells; they help in fast healing especially zinc; while potassium controls the excess of oil. A good amalgamation of minerals keeps the skin healthy and bright.

Omega-3s - Omega 3s in walnuts are houses of anti-oxidants and are known to reduce inflammation. It does protect against sun damage, which makes this luxury scrub a good SPF agent. It helps in the reduction of acne while being anti-inflammatory in nature - so to guard dry, itchy, red, and irritated skin.
If you want to know more about the skincare benefits of Walnut, check this
The next key ingredient is Coffee - Coffee brings humongous benefits to the skin on the table. Let's go through them one by one -


Riboflavin - Riboflavin is basically Vitamin B2; it does all the acts as vitamin B2. It helps in improving skin tone by treating discoloration; in addition to which makes skin radiant and bright. Riboflavin makes up to 11% of coffee's nutritional value. One of the important tasks riboflavin does is balancing the secretion of natural oils of the skin. It helps to control the excess origination of breakouts, pimples, and acne. It is best for all skin types but especially for dry skin.

Pantothenic Acid - This acid is essential for the maintenance of the natural health of the skin while comprising 6% of coffee's nutritional element. Secondly, Pantothenic Acid is required to make the healing process fast. It is infused with Vitamin B5 that moisturizes the skin and makes skin healthy; it is one of the nutritional values of coffee that even helps in the management and reduction of acne and blemishes.

Manganese and Potassium - Coffee contains 3% of manganese and potassium. For beginning Manganese does boost the production of collagen; like it, itself is a type of anti-oxidant that contains detoxifier free radicals and has proline enzyme for wound healing. Potassium on other hand smoothes the wrinkly skin and age spots. It hydrates and moisturizes the skin cells that help in the growth of new skin cells and; healing of scars and blemishes.

Magnesium - Minerals are significant for your skin health as they have a good nutritional value. Magnesium does its magic too to make skin moisturized and nourished. Magnesium helps protect the skin from external damage; it helps with regulating the regeneration and repairing process of cells. All skin types can take advantage of magnesium but it's a skincare miracle for oily skin types.

Niacinamide - Coffee has the tiniest parts of niacin but they are strengthened parts; niacin's basic task is to protect the skin cells from sun damage; which makes it a Sun Protection Factor or say SPF when applied topically. Niacinamide does not lighten the skin tone but it does make the tone of skin even; hence it can be called spot remover if used consistently over time. It helps in the enhancement of the appearance of dry skin.

Boosts Physical Performance - Releasing ample energy into human cells is one thing that coffee does, in addition to which it improves physical performance. When consumed it burns fat and is applied topically its caffeine quality helps in clearing cellulite by increasing the flow of blood and by making free fatty acids to use as body fuel. It also increases epinephrine levels in the blood.
Another unique key ingredient is Coconut Oil and how it is benefitting the skin and why The Beauty Sailor added it in the formula of this Luxury Face Scrub -
Vitamins - Vitamin E and K are the major vitamins present in Coconut Oil. Vitamin E being housed with anti-oxidants while protecting the skin cells from harmful UV rays of the sun. This vitamin helps nourish the skin while fighting off free radicals, in order to keep skin young and beautiful. On the other hand, Vitamin K infuses its own multiple benefits into the skin in form of coconut K. Vitamin K helps to treat discoloration or skin and fights growing signs of aging. Majorly it helps in aiding the body's process of blood clotting.

Caprylic Acid - Caprylic acid in coconut oil has the tendency to make skin smooth, soft, and plump. It works as an anti-oxidant, in addition to which the presence of this acid makes the skincare products last longer and effectively on the skin. It is beneficial in a number of skin conditions; plus it is anti-bacterial, anti-fungal, and anti-microbial in nature. Hence, caprylic acid not only softens your skin but also keeps it safe from types of acne and pimples. Its topical application is beneficial.

Anti Acne - Lauric Acid infuses the quality that makes the coconut oil anti-acne in nature. It treats the most common acne bacteria propionibacterium, in order to make the skin acne-free and clear. It also manages the reduction of inflammation. Lauric acid does the ultimate moisturization of the skin. Lauric acid even treats abnormally dry skin.

Palmitic Acid - It is a fatty acid act as an emollient, it is an alkali salt and acts as an emulsifier too. It helps in retaining moisture into the skin by forming an oily, water-blocking layer that helps in stopping the loss of water through the skin. That is why it helps in improving dull, dry, and flaky skin. It is even used in products that give them a clearer and opaque texture; it does make the skincare products water-resistant.

Oleic Acid - Oleic acids are basically monounsaturated fatty acids. This good fatty acid is known for making skin calm, nourishes, and moisturized. Oleic acid is an excellent moisturizer that keeps your skin hydrated and happy. It deals with dry up, irritation, sensitivity, etc. It helps in fighting free radicals that accelerate the aging process; such damage provokes complexion change, breakage of blood vessels, etc.
Moving towards other major ingredients in the making of our luxurious face scrub, these are Beeswax and Sunflower Oil. Both are only included in the recipe of this Face Scrub because of the unique properties that it infuses into the Face Scrub to make your skin glowing and healthy. Dig deep into the skincare benefits of Beeswax
Protects and Cleanses - Beeswax is known for creating a protective layer on the skin to protect skin from outside radicals. It is a natural exfoliator that cleanses or sloughs off the dead skin cells naturally. Its protective layer keeps the hydration intact; hence the skin cells stay moisturized too.

Sensitive Skincare - This wax is considered one of the best ingredients used for making skin care products for sensitive skin. It gently moisturizes and hydrates sensitive skin while keeping it healthy. Beeswax makes sure to keep the skin smooth, so to keep skin calm. It even soothes certain skin conditions. It keeps the skin hydrated too, plus it is completely packed with humectants too.

Heals Your Skin - The tendency to heal the skin by being anti-bacterial and anti-inflammatory makes beeswax fight off conditions such as pimples, acne, blemishes, eczema, etc. It does not treat them but for sure helps in minimizing those skin conditions. The best part is - beeswax does not clog the pores while healing or cleaning the skin. It does form a protective layer but never clogs those pores. Its healing quality makes the ingredient best for dry skin too, as it heals and keeps the nourishment and hydration intact.

Treats and Calms Your Skin - Filled with anti-bacterial properties, beeswax helps in treating burns and wounds; plus it helps in minimization of skin irritation. It reduces inflammation, redness, itchiness, and minute rashes. This beeswax is beneficial for treating and calming the burning sensation.
The last major ingredient used in this Face Scrub is Sunflower Oil, as we all know oils are essential to keep skin smooth. After a perfect exfoliation skin pores shall not be left open, that is why coconut oil and sunflower oil are included in the scrub to keep skin smoothened after use. About the properties of Sunflower Oil lays below -
Enriched with Vitamins - Vitamins A and E are powerful antioxidants that fight growing signs of aging and free radicals. This too stops premature aging of skin cells, in addition to which the oil helps in preventing skin from adverse effects of the sun.

Therapeutic - Sunflower oil is therapeutic in nature, which is why it is considered a blessing for dry and sensitive skin. The oil repairs the damaged skin cells and is therapeutic on eczema. So, say bye-bye to dull and damaged skin. With our face scrub, it all will slough off after regular usage.

Brightens Skin - Sunflower oil has a skin brightening quality as it evens the skin tone. In addition, it also decreases the effect of direct sunlight - this also facilitates the lightening of an unwanted tan. Lesser unwanted tan means a more glowing and healthy tone of skin, which also evens the coloration.
Now the all-important question is why anyone should opt for The Beauty Sailor's Walnut, Coffee and Coconut Face Scrub only and not any other Face Scrub. So, we have a number of reasons for it; let us walk you through them -


Tan Removal - This walnut, coffee, and coconut scrub is one solution to your tan. Coffee and Walnut being amazing ingredients for exfoliation infuses these properties into The Beauty Sailor's luxury face scrub. Tan removal means the removal of dirt, pollution, dead and damaged skin. The product basically sloughs off dead and damaged skin after a regular usage.

Removes Blackheads & Whiteheads - Coffee does help in cleansing of pores but the removal of blackheads and whiteheads is majorly done by walnuts. Such perfect exfoliation also delays the growing signs of aging. After such removal walnut helps in improving skin texture too.

Gentle Exfoliation - Our Face Scrub does gentle exfoliation of the skin, it has its own way because there are tiny beads present in the scrub to do smooth exfoliation. Its creamy formula supports a gentle exfoliation that your skin loves. Most scrubs are harsh; they sometimes leave the skin open and harmed but this face scrub does nothing of that sort. Its coconut-y goodness makes sure to provide a good layer of nourishment after proper exfoliation.

Deep Cleansing - People purchase scrubs because of deep cleansing because no face wash or mask manages to cleanse as deep and effective as a scrub. The ingredients and their formulation are done in such way to give an in-depth cleansing to your face. Along with the removal of dead and damaged skin, the face scrub manages to unclog the pores perfectly.

Hydrates & Restores - So, mostly face scrubs only cleanse but this scrub makes sure to keep your skin hydrated and restores that moisture. Both coconut and coffee are filled with antioxidants. These antioxidants help in infusing hydration and later locking it into the skin cells. Hence, the scrub is an amazing way to keep your skin hydrated.



Mild Aroma - The scrub has a mild and aroma; it is so light in nature that you will end up liking its aroma more than its properties. This mild fragrance keeps you happy, hence our scrub not only makes your skin happy but also energizes your mood.

Softens the Skin - Get ready to own a softened tone of the skin with the walnut, coffee and coconut face scrub. It not only softens it but also keeps the skin smooth and plump. After all these all factors go hand in hand and together. Even a single usage will make you realize how soft your skin has gone.

Sparkling Shine - Your face experiences a sparkling shine because of walnuts and coconut. Walnut and coconut, both ingredients help the skin to restore a glow while coffee helps in de-tanning. A good, healthy and natural shine is received after the usage of this luxury face scrub. So glow loud and clear.

Protection of Coconut - Coconut works as a protection agent in this face scrub because it has amazing nutritious value in comparison to any other ingredient being used in skincare products. Coconut makes sure that all the cleansing and exfoliation that is done, must stay unharmed, which is why it forms a protective skin barrier to keep all that healthiness inside.

Restores Elasticity - Coffee helps in restoring the elasticity of skin by increasing the elastin protein. Walnuts manage to improve skin texture, while helpful in making the complexion brighter and youthful. So, not only the elasticity is being improved but the growing signs of aging are being delayed by the help of this face scrub.

No Mess - The face scrub is easy to use and completely mess-free, unlike other face scrubs it is neither in gel form nor in irritating powdered form. It is creamy, easy and handy to use. So, that the user shall have no issue in the application of the Face Scrub.
These are the pointers why The Beauty Sailor's Walnut, Coffee and Coconut Face Scrub is better than anyone else's. Why one should opt for this face scrub?
We hope you achieve a bright, glowing, and healthy tone of the skin. Restore your bright and healthy skin; stay young and BE YOUTHFUL.