The Best Body Lotion For Ultimate Skincare
Posted by TheBeautySailor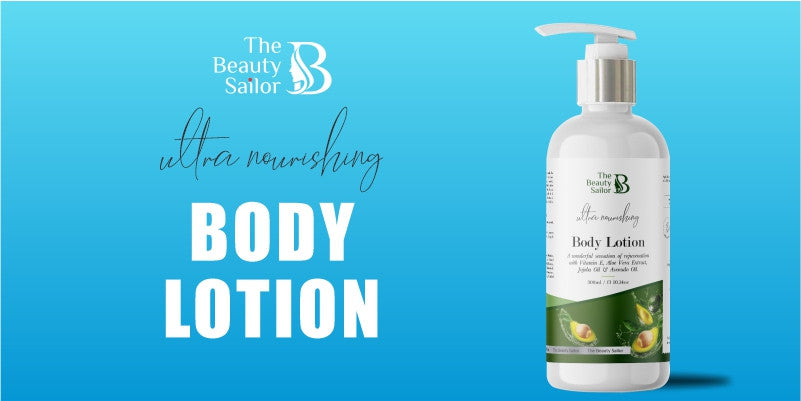 The Body Lotion rejuvenates and moisturizes the tone of your skin, deeply. This exclusive Avocado Body Lotion for men and women has skin-soothing properties. The Body Butter helps get skin soft, fresh, plump and it makes sure to deliver that velvet-like texture. The recipe formulation of this Lotion is full of nourishment, in order to keep skin healthy too. Most of the lotions give that protection layer only but this luxury lotion has the caliber to infuse nutrition into the skin, so as to treat dull and damaged skin cells.
The core of any skincare product is its key ingredients because those ingredients are infusing major properties in the revolutionary formula of that particular product. That is why, moving towards the key ingredients of The Beauty Sailor's Premium Ultra Nourishing Body Lotion, those are - Avocado Oil, Jojoba Oil, Vitamin E, Aloe Vera.
Come on let's sail our ship in the ocean of skincare with the first key ingredient of this Body Lotion that is Avocado Oil -
Factory of Anti-oxidants - Avocados are known for being rich in antioxidants; these antioxidants in avocado helps shield the skin from oxidative damage and environmental irritants. Antioxidants help in keeping the skin young and hydrated while keeping moisture intact too. This tropical American fruit help in treating dehydrated, flaky, irritated, and dry skin in order to rejuvenate, nourish and moisturize it.

Oleic Acid - Oleic acid is a monounsaturated fatty acid. This is a good fatty acid, which is known for keeping skin calm, nourished and moisturized. Avocado Oil has 47.2 percentage of oleic acid.
This is an excellent body moisturizer that keeps skin hydrated, moisturized and happy while dealing with dryness, irritation, sensitivity, etc. It helps in fighting free radicals known for accelerating the aging process of skin cells; such damage provokes complexion change, breakage of blood vessels etc. Keeping oleic acid in regular usage literally helps in delaying the aging process.
Palmitic Acid - Palmitic Acid comprises 23.6% of avocado oil. It is a fatty acid act that works as an emollient; it is an alkali salt and acts as an emulsifier too. It manages to retain moisture into the skin by forming an oily, water-blocking layer helping to obstruct the loss of water through the skin. That is why it helps in improving dull, dry and flaky skin. It is even used in products o give them a clearer and opaque texture; it does make the skincare products water-resistant.

High in Lutein - Lutein being a supportive anti-oxidant; which helps to protect the skin from sun damage and it does help in improving the skin tone to keep for a youthful and charming glow. Skin cells themselves produce lutein, but using extra or nature-derived lutein on skin gives an extra layer of protection. It improves skin health and attributes, when used in skincare regime continuously; and it effectively whitens the tone of the skin. Lutein is the store of anti-inflammatory properties.
Tons of Vitamins - Vitamin A, E, K and D; avocado oil has both Vitamins E and D that support healing and soothing of the skin. It does promote collagen synthesis that helps in the formation of new connective tissues. Avocado oil is too loaded with omega-3 fatty acids, in order to benefit the skin membrane health. Some even suggest putting avocado oil directly on wounds to improve the healing process. These vitamins are also fat-soluble in nature and they absorb natural oils secreted by the skin easily. 

Lecithin - Lecithin makes skin feel smooth and soft by restoring hydration into the skin cells. The kind of lecithin used in skincare products is Hydrogenated Lecithin. It enhances the overall appearance of the skin. It is advised to be used in adequate amount, not in ample amount. As it can make skin porous. This emulsifier is also found in human body tissues.
The next key ingredient used in the making of this luxurious body lotion is Aloe Vera. It has more than plenty of potentially dynamic nutritional values that make the skin not only nourished but also rejuvenated and moisturized. We all know that skincare products for face without Aloe vera are incomplete. Hence, moving forward to the properties of Aloe Vera-


Vitamins - Enriched with Vitamin A, C, E and B12; they made Aloe Vera anti-oxidative in nature. They help in the neutralization of free radicals, so that skin remains youthful and glowing over the years. They even help protect the skin from outside variants such as - harmful UV rays of the sun, pollution and oxidative stressors. When these vitamins are amalgamated in a skincare recipe then they work magically to provide bright, healthy and happy skin.

Enzymes - Enzymes helps in breaking the keratin layer of skin that keeps the dead skin cells stuck together. Enzymes basically do a gentle exfoliation of skin in order to tone it, make it look healthy and smooth. It also helps in the reduction of pigmentation and blemishes. It does manage to reduce excessive inflammation when applied topically to the skin. The human body secretes enzymes too, but extra supplements make enzymes more active and skin healthier. The amalgamation of Enzymes with Vitamins A, C and E make the skin more radiant and healthy.
Minerals - Calcium, chromium, copper, selenium, magnesium, manganese, potassium, zinc and sodium - are the minerals that are found in the chemical formation of Aloe Vera. For Beginning minerals are needed to make enzymes work better; secondly, they support immunity, slow down aging and help prevent skin from numerous of issues. That means Aloe Vera is powered up with the capability of anti-aging.

Glycoprotein and Laxatives - Aloe Vera has glycoprotein in it that fills this ingredient with two of its base properties; one is anti-allergic and second is anti-inflammatory. Laxatives or say Anthraquinones are infused with anti-bacterial and anti-viral properties. That is why Aloe Vera is used in home remedies, secondly, it is easy to grow and easy to bring in use. Moreover, the plant has essential amino acids well for human health that too possess anti-inflammatory and anti-bacterial properties.
Walking towards the Goatnut oil or as most of the people are saying - Jojoba Oil. The shrub is native from southwestern America, its domestication started in the early 1970s. The plant of Goatnut is used to make both, wax and oil. Here talking about Goatnut Oil and the reasons why The Beauty Sailor used Jojoba Oil in the formulation of its Ultra Nourishing Body Lotion -
Humectants - The oil is bashed up with humectants. Humectants are known as hydrating elements, which is why Jojoba Oil is one of the best ingredients in the skincare industry to shoot ample hydration into the skin. This hydrated skin is neither dull nor damaged or flaky; but it is hydrated, properly moisturized, gives an amazing shine and is healthy in all terms.

Antibacterial - The oil is pumped up with anti-bacterial qualities, inclusive of antimicrobial and anti-fungal properties. Though jojoba oil does not kill all kind of bacteria and fungi but is successful in eliminating many of both from your skin. This helps to protect skin from acne, pimples and other bacterial infections. The reason to use this antibacterial property infused ingredient in the mix was big - lotions do provide nourishment but that nutrition shall be protected against bacteria and fungi.
Anti oxidative - Being enriched with Vitamin E, Jojoba oil has anti-oxidative qualities. It makes sure to keep your skin youthful and healthy. The oil helps fight oxidative stressors, pollutants, irritants and the other variables present in the environment that is affecting the health of your skin.

Controls Sebum - The oil is Noncomedogenic in nature, as the oil is capable of managing the secretion of excessive sebum or saying facial oil produced by glands. These glands make the pimples or acne to re-appear. The oil does help to close excessive opened pores, which tends to limit the origination and appearance or reappearance of acne or pimples.
Vitamin E is the last key ingredient in the list of ingredients of this body lotion. Vitamin E is well known to everyone with its super skincare quality -
Easy Absorbent - Being a good absorbent vitamin E is quickly absorbed by the skin; that is the ground reason to add Vitamin E into the formulation of chocolate face masks. As it too takes other benefits provided by the mask into the skin, in order for proper nourishment and deep hydration.

Photo-Protection - Vitamin E protects from any kind of skin damage in the topical application as it helps in forming a delicate layer on the skin, allowing it to breathe while the skin cells are being protected against photo damage.
Anti Inflammation - Vitamin E is considered an anti-inflammatory agent to the skin because of its sun protection quality. It helps in the reduction of skin swelling, skin thickness and other varieties of skin inflammation.

Skin Tone Lightener - It helps in infusing nutrition into the skin cells because of its easy absorbent quality. That nutritious quality helps in healing stretch marks; lightens scar marks and brown spots.
The Beauty Sailor bright the above-mentioned ingredients together in a formulation of body cream to help in achieving deep nourishment, rejuvenation and moisturization of skin tone. The major question that arises here is why to opt only The Beauty Sailor's Body Lotion when there are many other skincare products brands in the market. We do not have one reason, we have ample of them. So let's sail our boat in that ocean now -
Ultra Nourishing - The ultimate mix of ingredients used in the formulation of this luxurious body lotion is filled with the elements that shoot ample nutrition in the skin. Whether it is Jojoba Oil or Aloe Vera both ingredients are filled with vitamins, anti-oxidants, humectants, anti-inflammatory properties, enzymes, minerals, good mono-saturated acids etc. All work in favor of skincare.

Moisturizes at its Best - Avocado Oil shoots plentiful moisture into the skin via this premium skincare product, so does Jojoba Oil. When moisture is staying intact that means there is enough hydration being fed to the skin. Hydration is only helpful when it is being preserved too. Otherwise no matter how hydrated the skin is - it will for sure start getting dehydrated, dull and damaged.
Keeps Skin Youthful - The major reason anyone uses a body lotion, is only to keep skin youthful and healthy. This body lotion helps keep skin young, by infusing an incredible amount of nutrition into the skin, by keeping the skin moisturized, by fighting off free radicals and environmental irritants. Lastly, Vitamin E helps in keeping skin vibrant, so that nutrition not only keeps skin young but makes it radiant too.

Protects against Environment Irritants - This Vitamin E body lotion helps to calm and soothe the skin against a variety of environmental stressors & irritants such as harmful UV rays of the sun, pollutants, dirt, etc. As the body lotion is capable of creating a layer on the skin that keeps moisture intact and irritants outside.
Not at all harmful - There is no paraben, no sulphate and no nasties in this body lotion. Hence, it is not at all harmful and completely skin-friendly in nature. Still, we recommend a patch test before direct usage. Sometimes any ingredient can bring old allergies back. So do a patch test before direct and heavy application.

Mild Fragrance - The lotion has a mild fragrance, not at all heavy and will for sure light your mood; it is so light in nature that you will end up liking its aroma more than its properties. This mild fragrance keeps you happy; hence our lotion not only makes your skin happy but also makes your mood happy.
Creamy but non-sticky - The formula is creamy and not at all sticky. As you apply the lotion, it won't block those pores but if there are open pores it closes them by healing, if there are blocked pores then the lotion helps in opening them. It let your skin breathe properly because skin breathing is as important as keeping hydration intact.

Easy to Use - It is easy to use as it comes in a handy bottle, so your hands won't feel any kind of a mess. Always an adequate amount of lotion is released when pressed. So, Yayy you can even take this bottle of nourishment on vacations easily.
We hope your doubts have been cleared why you only opt for our Ultra nourishing body lotion; because The Beauty Sailor believes in bringing the best to you for your skin. That smile of yours gets noticed along with the health of your skin and we know how to keep your skin healthy, bright and glowing. Restore your bright and healthy skin with The Beauty Sailor.