5 Diy Face Masks For Healthy, Flawless, And Radiant Skin.
Posted by TheBeautySailor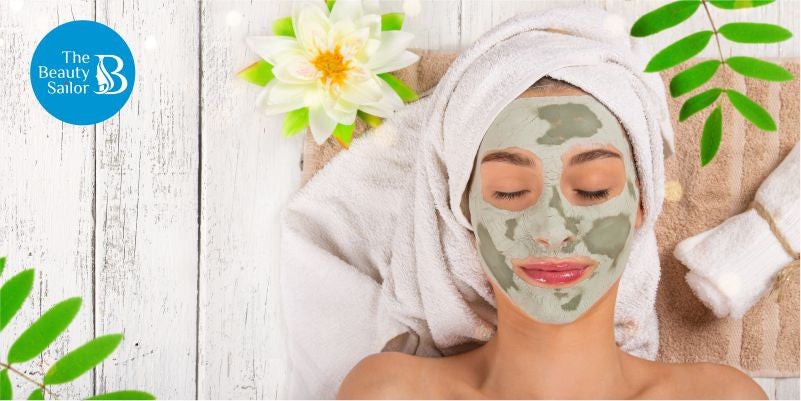 After telling what food you should eat for bright skin, we have come with interesting DIY face mask recipes that you can make at home using your favorite fruits and vegetables. We know the skin covers a large part of our body, and as much important, it is to feed the skin from the inside, it is from outside. The contact of skin with various chemical infused cosmetics and sunscreens et al. leave it urging for a much-needed rest day, and what better than the goodness of organic and fresh fruits and vegetables for it. It can be an exclusively detoxifying, refreshing, and, oh yes, a NATURAL spa day for your skin, with no chemicals and only love of nature. 
So Ladies and Gentlemen, hold on to your bowls, fruits, and vegetables, and gear up to make and try these fun, colorful, and fruity facemasks..!!
1.CUCUMBER:
Number 1, we have cucumber, The Official Salad of India. No matter in which part of the country you are in, you are likely to find it in at least one of your salads. But do you this green friend of your food can also become a friend that your skin needs? Well, yes, it can. Cucumber is rich in antioxidants, Vitamin C, and folic acid hence an excellent ingredient for skin. It calms your skin because of the anti-inflammatory properties and also helps in protecting skin against acne breakouts.
Let us see a few DIY cucumber masks that we can try at home.
JUST THE CUCUMBER FACE MASK- The name itself makes it clear what this mask is all about. To make this 100% pure and extremely fresh face mask, all you need is a cucumber.
Blend an unpeeled cucumber in a blender and make a puree.
Strain the liquid and solid part of it. 
Now apply this freshly obtained liquid to your cleansed face and let it dry for 15 minutes.
Wash it off with lukewarm water.
CUCUMBER FACE MASK WITH THE GOODNESS OF OATMEAL AND HONEY FOR ACNE- Cucumber and oatmeal mixed can help exfoliate the skin and remove the dead skin cells that layer the surface of the skin. And honey being the icing on the cake, fights the bacteria on our skin. Let us see how we can make this amazing mask.
Make a cucumber puree using a blender.
Strain the juice from the paste, mix it with oatmeal.
Mix juice and oatmeal until they are mixed uniformly. 
To this paste, add a little amount of honey.
Massage this paste on your neck and face for some time, and then let it settle for 15-20 minutes.
Wash it off with lukewarm water.
2. MANGO
All of us love the king of fruits, " MANGO," don't we?. Just like we have the privilege to choose amongst various types of mangoes for eating, we can choose which mango mask our skin needs from an array of options available. Mango is enriched with vitamins A, C and minerals like magnesium, potassium, and copper. It can help in exfoliating the skin and lead to radiant and glowing skin. In summers, we get tanned in the blink of the eye; gladly, we have a companion like a mango in the same season, which helps our tanned skin regain its original tone and texture. 
So wait no more, let us know how we can benefit from this already beneficial fruit.
Mango Anti- Tan Face Mask-
 Getting an
Anti Tan Face Mask
that actually works is still a dream of many. Worry no more; try this mango face mask that is effective and natural. 
You will need 2 tablespoons of besan, 1 teaspoon of honey, and 2 teaspoons of grounded almonds along with 2 tablespoons of mango pulp.
Mix all of them to make a uniform paste.
Apply this mask on a cleansed face and wait until dry.
Rinse it with cold water.
Use it twice or thrice a week for best results.
Mango Glowing Skin Mask- Achieve a visible glow with this DIY mango mask that you can make in 1 minute.
Take 2 tablespoons of mango pulp and mix them with 2 teaspoons of wheat flour and a teaspoon of fresh honey.
Mix them to make a consistent paste.
Apply it on the face and leave till dry.
Wash it with normal water.
3.Pumpkin
If you need skin that is as radiant as it is healthy, you have to switch and start using pumpkin ASAP. Shocked? No, don't be; pumpkin is that secret skin food your skin has been looking for, for a long time. Pumpkin surprisingly contains retinoic acid, beta-carotene, antioxidants, vitamins A, C, and E that you are likely to find in various expensive
skincare products
. 
What are you waiting for now? See these amazing face masks that you can make using pumpkin right now. 
Rejuvenating Pumpkin latte Face Mask-
For instantaneous exfoliating, de-puffing, and
rejuvenation of skin
, you have got to give this mask a try.
You will need 1 tablespoon of grounded coffee, 3 tablespoons of greek yogurt(unflavored), 1/2 tablespoon of honey, and 1 tablespoon of pureed pumpkin.
Firstly, mix the ground coffee with pureed pumpkin.
Then add honey and yogurt to this mixture and blend properly.
Massage this mask for a little time, then leave for 10-15 minutes.
Wash the mask off.
Skin Detoxifying Pumpkin Mask- You have got to try this magical pumpkin mask that detoxifies your skin and protects it from sun damage.
Take a small slice of pumpkin, 1/2 teaspoon honey, 1 raw egg, 1/2 teaspoon apple cider vinegar
Puree the slice of pumpkin in a food processor
To this paste, add egg, honey, apple cider vinegar and blend well
Apply this paste on the cleansed face and leave it until dry.
Then wash it off.
4.Tomato
The edible berry of plant Solanum lycopersicum, Tomato is a vitamin and nutrient-rich food that decorates not only your food plates but also your skin. It contains lycopene that is a natural sunscreen; hence, Tomato helps protect skin against the scorching sun. Tomato also contributes to enhancing the skin's natural glow by shrinking the pores, removing dead skin cells and extra oil that lies on your skin's surface. 
Read about these homemade tomato masks and give them a chance to be a part of your
skincare regime
.
Tomato and Lemon Anti-tan Face Mask- If you are tired of tanned skin and want to get rid of it without using chemicals on your face, a lemon and tomato mask is a go for you. Here is how you can DIY at home.
Grind a ripe tomato and make a puree.
To this puree and 2 tablespoons of lemon juice that is freshly squeezed.
Mix them thoroughly. 
Apply on your face and neck, then leave till it dries.
Wash with cold water.
Exfoliating Tomato Mask for Sensitive Skin- When you have sensitive skin, you are extra careful about what to put on your skin. Considering this, we suggest you try the coconut and tomato face mask for gentle exfoliation. (However, we do recommend a patch test for people with sensitive skin)
To make this mask, you need to blend 1 tomato with 2 tablespoons of milk.
Add half a cup of grated coconut to this paste.
Massage this on your face in an upward motion for some time.
Then leave it until dry.
Wash it off after 10-15 minutes.
5.KALE
The goodness of green vegetables has not been hidden from anyone, and among them, all 'KALE' is the king. The cabbage family member, Kale, has found its way not just to be a portion of healthy food but also in cosmetics and skincare. From kale smoothies to kale being a part of even nail colors, it has come a long way. Kale helps reduce wrinkles, detoxify skin, and brightens. 
Let us see a few kale based masks that we should try.
Healthy and Glowing Skin Kale Mask-  You can try this simple and effective kale mask for healthy and glowing skin. It will replenish your skin and prep it for a rejuvenated radiance. 
To make this mask, take kale, 1 tablespoon of honey and fresh lemon juice, and 1/2 tablespoon of coconut milk.
After thoroughly cleansing kale, mix all the ingredients in a bowl. 
Blend this mixture in a blender.
Apply this mask to your face and leave it until dry.
Wash it off.
(You can also store the remaining mask in a jar and put the same in the refrigerator)
Kale Mask for Dry/Aging Skin- For skin that is aging and dry, this kale mask can be of great help. It is a straightforward and handy mask that you can prepare in a few minutes.
You will need 3-4 big kale leaves, 1 tablespoon of lemon juice, and olive oil each.
Blend all these ingredients to form a thick paste.
Apply it to the cleansed face and leave until it dries.
Wash it off with warm water.
Kudos! You have finally reached the end. Everything but one last step is done. All you have to do now is, make these masks, and put them on. 
We look forward to seeing a happy, healthy, refreshing glow on your already beautiful faces.
The Beauty Sailor