How To Get Rid Of Open Pores
Posted by TheBeautySailor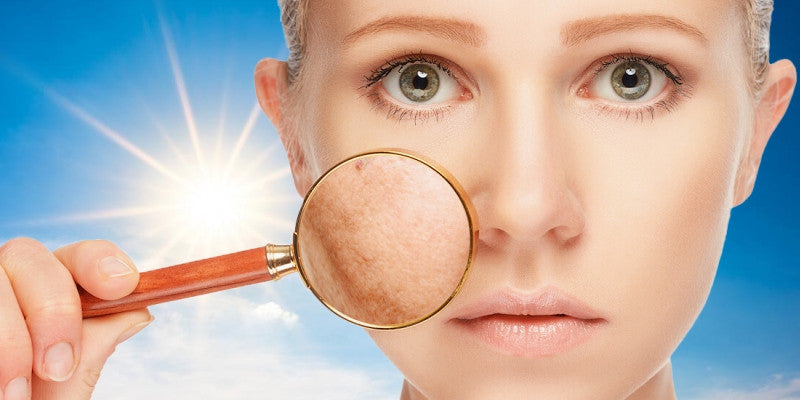 What actually are open pores?      
Your skin breathes through the plenty of pores present on it. When these pores become enlarged, they are visible to the naked eye and oftentimes we end up choosing skincare products that make fake claims. It is really important to know what pores are - their origin and solution.
An aware mind will lead to an awakened skin.
See if you possess naturally oily skin, it's highly likely that you will have enlarged pores, because when there's excess production of oil, dead skin cells and dirt gets trapped in your skin, which causes pores to grow in size.
But to everyone's disappointment, enlarged pores are pretty common and can make your skin look dull and unhealthy. It may even make you look older than you are! In certain cases, it could also trigger severe acne.


Do you want to know why? Read below -
Reasons for open pores on your face:
1. Your genes might take a toll on your skin
Your genes carry the past, present and future. They play a vital role in determining pore size, so if your parents have enlarged pores, there's a high chance you will have them too. Genes can cause your skin pores to grow in size, and open up around your cheeks, forehead, and nose.
And on top of it, if you don't take proper care of your skin, it can cause dead skin build-up and stretch out your pores.
2. Increased sebum production
Each pore contains a sebaceous (oil) gland that secretes sebum. When sebaceous glands produce excess oil, it leads to oily skin. Although sebum acts as a natural moisturizer for the skin; excess production is a big problem. Now you know the reason behind enlarged pores!
3. Sun damage
Humid climate and increased sun exposure can reduce collagen in your skin, causing wrinkles and large pores. Collagen production is important, because it keeps your skin firm and healthy. Further, sun damage can trigger sagging around the edges, thereby reducing the water levels in the skin.
4. While you are aging, your skin is losing elasticity
As you grow older, your skin loses its elasticity, which can cause your pores to look bigger than usual. Your skin becomes stretched and saggy. Enlarged pores are a natural part of the ageing process, as collagen production in the skin starts reducing, making skin less firm.
Tip: Vitamin C is an antioxidant that can boost collagen production, in order to prevent enlarged pores. Using face serum with vitamin C will work wonders for you.
5. Large hair follicles
Every hair has a follicle, and every hair follicle is positioned under a pore. Pores are basically the opening of hair follicles. When hair follicles are large, your pores will also be large!
It may not be possible to get rid of large open pores, but there are ways to make them look smaller, including keeping the skin supple and stopping the pores from becoming clogged.
Here are eight effective ways to reduce the appearance of large pores:
1. Always choose water-based products
People generally end up choosing moisturizers that are sticky and greasy and have oils. It is better to opt for a hydrating body lotion that is based on aloe vera or green tea that does not leave your skin oily and greasy.
People with oily skin will benefit from products that are high in humectants rather than oils.
Honey and urea are examples of humectants in skin care products.
Oil-based products contain petroleum, coconut oil, and other kinds of oil.
They effectively moisturize the skin but may not be suitable for people with oily skin and large pores. The excess oil that collects on the skin can make pores appear larger.
2. Wash your face when you wake up and go to bed
You know what, washing the face is basic skin care. It is like having meals only.
Wash your face up to twice a day, or more after sweating a lot or workouts.
use lukewarm water and gently apply a cleanser with clean fingers
choose a gentle cleanser that is nonabrasive and does not contain alcohol
avoid scraping or rubbing the skin
pat the face dry with a clean towel
Washing the face every morning and evening - helps wash away oil and dirt from the pores. This can help make them less visible.
3. Choose gel based products that have greens
Gel-based products are suitable for people with oily skin who want to make their pores less visible. It is best to avoid oil-based or alcohol-based products, as these can irritate the skin.

Products that have aloe vera or green tea keeps your skin cool and fresh and lifts off excess oil and leaves your skin correctly moisturized. A green tea night gel cream works best for that.
4. Exfoliating
A person with oily skin should exfoliate once or twice a week to remove matter that can clog the pores, such as:
dirt
dead skin cells
excess oil
It is important not to exfoliate more than twice a week, as this can dry out the skin. Although exfoliation helps keep pores unclogged, pores can look bigger if the skin becomes too dry. But make sure while you exfoliate you don't do it harshly and with a product that leaves your skin dry. Use a coffee face scrub that is infused with coconut oil. It surely works as the best exfoliator and moisturizer.
5. Applying a clay mask
Using a clay face mask for glowing skin that is oil free skinonce or twice a week can help remove additional oil from the pores. This is because clay absorbs sebum.


To remove that excess oil will definitely prevent pores from becoming enlarged.
Note - Don't over treat your skin. It is advisable to do this on a different day than exfoliating.
6. Moisturizing daily
The idea of moisturizing oily skin may be counterintuitive. However, an oil-free moisturizer can help reduce pore enlargement.
A person should first wash and pat the skin dry, then gently apply a moisturizer to help hydrate and soften the skin. That allows the oil from the sebaceous glands to penetrate more deeply into the skin, rather than staying in the pores on the surface.
In this way, moisturizing prevents pores from becoming clogged with oil, reducing their appearance. Choose the best moisturizing body lotion for you because your skin deserves absolute love.
 7. Remove those layers of makeup at night
It is essential to always remove makeup before going to sleep.
Sleeping in makeup overnight can cause the pores to become blocked due to a buildup of makeup, oil, and bacteria.
Cleansing wipes are useful for removing makeup in a hurry.
8. Wear sunscreen
Know it once and for all. Your skin needs sunscreen for a complete 365 days a year. Sun exposure can dry the skin, making pores appear larger. Many moisturizers contain sunscreen. People should choose one with an SPF of 30 or over.
Keeping the skin protected from the sun keeps it supple. The best ways to do this are:
wearing a wide-brimmed hat
wearing sunscreen every day
staying in the shade when the sun is strongest
Stay no more worried about enlarged pores. Go love your skin and embrace its beauty.
BE YOUTFUL AND BE(YOU)TIFUL.