Vitamin C Face Serum With Hyaluronic Acid For Hydrating & Nourished Skin
Posted by TheBeautySailor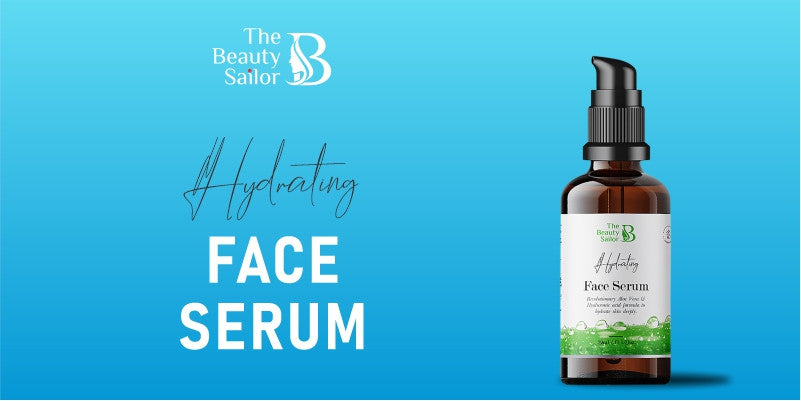 Face Serums are taking a good shoot over the whole face-care, as serums are basically heavy oils infused with ample nutrition that focuses upon specific skincare concerns. The Beauty Sailor has come up with a revolutionary face serum infused with hydrating Aloe Vera and Hyaluronic Acid that hydrates deep into the skin. We know your skin deserves a redefined glow. The formula heals, protects, hydrates and energizes the tone of skin; in order to make it clear, healthy and radiant.
The key ingredients in this hydrating face serum are Glycerin, Aloe Vera, Hyaluronic Acid; Ethyl Ascorbic Acid or Vitamin C. Let's get on the ride, why anyone should only opt for The Beauty Sailor's Face Serum. Every skincare product is made of its ingredients, what is being poured in the formulation comes out as in skincare benefits of the product.
So, the first major ingredient is Vitamin C or says Ethyl Ascorbic Acid and reasons why we used this acid as primary one of the primary ingredients -   
 
Anti Oxidative - Vitamin C present in Ethyl Ascorbic acid is one of the best ways to feed the skin antioxidants, top-notch part is Ethyl ascorbic acid is a water-soluble antioxidant. This ingredient helps protect skin cells against the effect of free radicals; such as pollutants, smoke particles, environmental irritants, light radiations and harmful UV rays of the sun, etc.
Synthesize Collagen - This acid boosts collagen, as collagen is a protein that is naturally present in the skin. Collagen helps in keeping skin youthful and healthy, which is why ethyl ascorbic acid is used in the formulation of our luxurious Face Serum. Not only does it keep the skin healthy but it does make sure to heal the dull and damaged skin tone.
Lightens Skin - The dark spots, dark patches are managed by Vitamin C. The vitamin does not make them disappear but it does make sure to lighten them. But it only lightens dark patches, treats discoloration when brought in regular usage. This acid in form of vitamin C also manages to lighten up hyperpigmentation of the skin.
Smoothen Wrinkles - This Vitamin holds an anti-aging factor as one of its properties. So, to be honest, Vitamin C helps in slowing down the effects of the aging factors and it does make sure that premature breakage of cells happens less. Hence, ethyl ascorbic acid makes your skin both healthy and youthful.
The next key ingredient is Hyaluronic Acid, one of the ingredients widely used in every face serum. It is also known as Hyaluronan. Following are the reasons why Hyaluronic Acid is used in the formulation of this revolutionary face serum -


Skin Healing Element - The major property possessed by Hyaluronic Acid is it is able to heal the skin from dull, damaged and dead skin cells. It heals in the case of dull and damaged skin cells; and washes off in case of dead skin cells. Along with that the acid is capable in promoting the regeneration of new skin cells. It works on the epidermal layer of skin by also protecting the cells from free radicals.
Hydrates and Supple - The acid tends to hydrate the skin tone and supple it up; by even keeping environmental stressors away. The amount of hydration Hyaluronic acid shoots into the skin tone is ample. When such amount is present in the skin tone then obviously the skin will go supple, plump and smooth.
Soluble - Hyaluronic Acid easily perches in the skin as easily as water because in chemical composition the acid is water-soluble. The benefit of Hyaluronic acid being water-soluble is that the serum too perches quickly into the skin and works instantly when brought in continuous usage. When it seeps easily then it makes the skin heal fast from the dull, damaged and dehydrated skin cells. Makes sure to repair cells or promote the regeneration of new and healthy skin cells.
Environmental Variants - There are a number of environmental variants or say environmental irritants from which the acid protects such as - pollutants, harmful rays of sun, smoke, dirt and many other factors. But majorly the acid works against the sun. So, your skin will be protected from exposure to the sun.
Moving towards the third basic ingredient used in the recipe of this revolutionary face serum is Aloe Vera. The classic Indian home remedy for both skin and body care is Aloe Vera, which is why our research team made sure to use Aloe Vera in the mix. How can we leave it out when it's about your skin health -


Vitamins - Aloe Vera has Vitamin A, C, E and B12; these vitamins are anti-oxidative in nature. They help in the neutralization of free radicals, so that skin remains youthful and glowing over the years. They even help protect the skin from outside variants such as - harmful UV rays of the sun, pollution and oxidative stressors. When these vitamins work together they work magically to provide bright and healthy skin.
Enzymes - Enzymes helps in breaking the keratin layer of skin that keeps the dead skin cells stuck together. Enzymes basically do a gentle exfoliation of skin in order to tone it, make it look healthy and smooth. It also helps in the reduction of pigmentation and blemishes. It does manage to reduce excessive inflammation when applied topically to the skin. The human body secretes enzymes too, but extra supplements make enzymes more active and skin healthier. An amalgamation of Enzymes with Vitamins A, C and E make the skin more radiant and healthy. Just another reason why Aloe Vera is in the blend of this revolutionary Face Serum.
Minerals - Minerals that exist in Aloe Vera are calcium, chromium, copper, selenium, magnesium, manganese, potassium, zinc and sodium. Firstly minerals are needed to make enzymes work better; secondly, they support immunity, slow down aging and help prevent skin from numerous of issues.
Glycoprotein and Laxatives - Aloe Vera has glycoprotein in it that fills this ingredient with two of its base properties; one is anti-allergic and the second is anti-inflammatory. Laxatives or say Anthraquinones are infused with anti-bacterial and anti-viral properties. That is why Aloe Vera is used in home remedies, secondly, it is easy to grow and easy to bring in use. Moreover, the plant has essential amino acids well for human health that too possess anti-inflammatory and anti-bacterial properties.
What more we have added into our Face Serum is Glycerin. The query is why glycerin is being used in a face serum? What skincare qualities this ingredient infuses into this luxury face serum? So they are mentioned below -


Acts as Humectant - Humectant is a substance that helps in retaining moisture or says preserving the moisture into the skin cells. They are basically water molecules bonded with hydrogen. Moisture is essential for skin because lack of moisturization causes dehydration and no one wants dry skin.
Fights Environmental Stressors - Glycerin manages to work as a shielding agent for the skin against a number of environmental stressors such as harmful UV rays of the sun and pollution. Alongside fighting environmental stressors, glycerin soothes temporary skin irritation in order to calm it down.
Enriched with Emollient - Emollients impart smoothness and softness into the skin, so to make it soft and plump. Emollients are basically natural butter or oils extracted from natural ingredients. So they have natural properties to even calm the skin down from tons of irritating elements.
Creates Moisture Barrier - Glycerin creates a moisture barrier, so to fortify and strengthen the skin against a number of stressors and irritation causing factors. The creation of such barricading layer makes the skin cells keep moisture trapped inside.
Enhances Penetration - Glycerin helps in enhancing the penetrating quality of skincare products into the layers of skin. That is why products with glycerin in it are way more effective than those formulated with no glycerin. This even helps other nutritional values of the skincare product to achieve easy infusion into the skin. This in turn helps in improving skin's resilience; plus it helps in giving skin a more youthful look.
For Oily Skin - This magical ingredient helps in lessening the size of skin pores if they are open widely. Glycerin is also significant for people with oily skin types; as it tones their skin and even improves the reappearance of acne and other types of breakouts.
Now leading towards the reason why anyone shall only opt for The Beauty Sailor Face Serum and not just any other available in the market. Obviously, we made this product and we made sure that the user shall take benefits from this luxurious and authentic Face Serum with revolutionary Aloe Vera, Hyaluronic Acid, Ethyl Ascorbic Acid and Glycerin. Come with us, walk through the steps -


Hydrates - The Face serum tends to hydrate the skin tone by infusing ample amount of hydration in form of Ethyl Ascorbic Acid, Aloe Vera and Glycerin. The top-notch reason to add glycerin in the making is that; it not only hydrates the skin but it makes sure to keep the hydration intact so the skin stays moisturized. Ample moisture makes your skin soft, supple, plump, bouncy and healthy.
Comforts Skin - The reason why a serum is required to be included in the skincare regime is that they provide much-needed comfort to the skin; in addition to which they do heal and protect the skin. Serums are basically heavy and active oils that make sure to keep your skin healthy and glowing; serums give a natural glow and comfort to the skin.
Anti Aging - When they are infused with an abundant amount of nourishment, hydration, moisturization - it is clear to the head; when skincare imparts these benefits into the skin tone, the skin obviously glows and heals; In the process of healing skin starts to renew its cells that mean a youthful and charming skin will be at your doorsteps.
Lightens Skin Tone - Hyaluronic acid means an even or lightened up skin tone because that's the second property of this revolutionary acid. By the addition of Aloe Vera in the face serum, enough enzymes are added too, which deals with pigmentation, discoloration and blemishes. This makes sure to keep your skin radiant and healthy. This face serum makes sure to keep your skin radiant.
Energizes Skin - Abundant hydration and moisturization keep your skin energized, as an ample amount of nutrition is being imparted into the skin tone so it has to be happy and healthy. Just another reason why Aloe Vera and Hyaluronic Acid is in the blend of this revolutionary Face Serum.
Compact - This bottle of skin nutrition is compact in size, so handy even for your trips. The bottle is so handy you can just keep it anywhere; in your suitcase, in your purse, in your backpack - Off you go for any adventure or for any luxury trip in the outskirts of Armenia. Your skin will remain healthy. The serum is even easy to use. Just take a drop or two and massage it on your face properly. There you go - all healthy and vibrant.
Mild - The serum is mild in nature as it is oil and aqua-based. Apart from being mild on the skin, the serum penetrates easily into the skin and makes it charming and healthy; even you can feel the radiance and plumpness after regular usage.
Skin Friendly - The serum is not at all Harmful for the skin; as the product is completely paraben-free, sulphate-free, nasties free and powered by science. All the major ingredients are nature-derived so no harm there. Still, The Beauty Sailor recommends you to do a patch test before direct and heavy application of all of its face care products, because sometimes old allergies just pop up out of nowhere and we do not want to harm that beautiful skin of yours. It suits all skin types.
 These are reasons why anyone should opt for The Beauty Sailor Face Serum. We are confident about our product and we can confidently say that it will rock your skin with health and hydration. So, restore that bright and healthy skin.
BE YOUTHFUL