Why Should Men Have Clear Skin ?
Posted by TheBeautySailor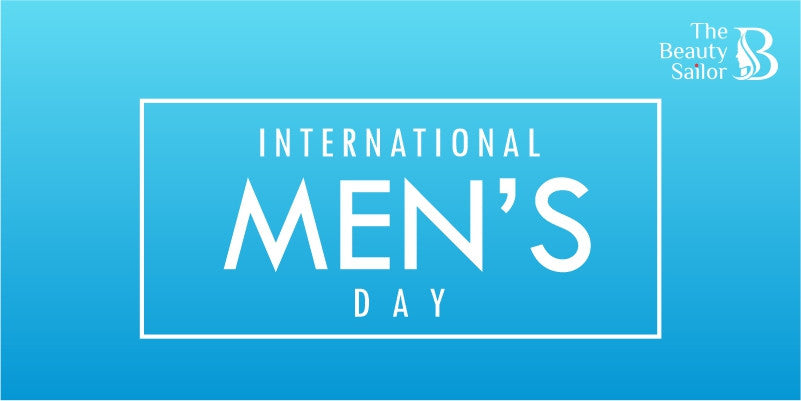 19th November - International Men's Day
Let's dig into its history - International Men's Day was the ideation of Dr. Jerome Teelucksingh to honor his father's birthday. The day aimed to take off the conventional negative stigma related to men in society. Hence, in short, 19th November is celebrated in the essence of International civil awareness day for the abolishment of the negative stigma associated with men.


The Beauty Sailor believes in bringing equal rights and also firmly considers abolishing any taboo or stigma related to any gender. After all, we are all equal; we are all assigned equal rights and duties. That is why The Beauty Sailor has brought a range of skincare products that are gender-neutral and even skin type neutral. Yes, we have got you covered in 360 degrees.
The Beauty Sailor's Agenda - We Care For You
 Our agenda is super clear here, everyone should have clear, healthy and glowing skin. Skincare is just not limited to women, it is for everyone. See the King James Charles;
"Every man should have a magnifying mirror. If you look good magnified you are set to go.'
As Director Michael Coulombe said -
"Glowing skin is a result of proper skin care. It means you can wear less makeup and let skin shine through."
The famous Dr. Howard Murad quoted -
"Healthy Skin is a reflection of overall wellness"
There are still people questioning and being afraid of men skincare - even after such awareness. All the skin needs skincare, just like taking care of a proper diet - your skin needs a proper diet too. There are reasons why men should have clear, glowing and healthy skin. The answer is listed below; we hope we solve your query -
To Keep Your Skin Young - Everyone should have youthful and nourished skin tone. Not all type of nutrition can be fed by consumption; there are nutrients that need a topical application. There are types of acids and oils such as Hyaluronic Acid, Macadamia Nut Oil, etc. these things can't be fed by direct consumption; there is a need for topical application.
To avoid risky Skin Problems - There are a number of minor skin care problems such as redness, irritation, itchiness, dehydrated skin cracks, dark circles, pigmentation, sun patches etc. that harm the skin badly. Then there are big issues such as psoriasis, eczema, skin bleeding etc. These issues can be prevented with a good skincare regime.
It's actually Economical - Skincare routines are not supposed to be expensive; you can opt for coconut oil, basic home remedies and even check for offers, because yes there are always some skincare product discounts and offers running around the corner. Keep your skincare easy and less messy. Keep it simple and glow amazingly.



Boosts Confidence - Healthy skin is obviously a confidence booster. If you feel happy in your skin, you can knock the socks off of others. Confidence not only makes your day amazing but it makes your life amazing and unapologetic.
Healthy Body needs Healthy Skin - Last but not least, as they say, a healthy body needs healthy skin. If the skin ain't healthy then your body obviously isn't healthy. Focusing on skincare is as important as focusing on body care. To look and feel the luxury of skincare.
A sincere request to all men, take care of your skin as much as you take care of your physic. That heaven on your bones needs to be taken care of. Another question is how to take care of that precious skin. That is why we have listed these pointers below -
Know Your Skin - Basic step for everyone is to know their skin type and skin concerns. When a person knows their skin type and what skincare issues they are facing; then the step of skincare comes. Before that, it is all about knowing your skin type, skin concerns and what your skincare goals really are. Be gentle to your skin as you are gentle to your diet.
Know The Ingredients - After knowing your skin type know the skincare ingredients that can help you sort your skincare problems. Make sure you are not allergic to any of those key ingredients. It is especially for the men with sensitive skin; but you all should take care of this. Sometimes some ingredients bring back old allergies. Try not to opt for any product that is harmful or full of chemicals because chemicals are never good for that beautiful skin of yours. Opt for paraben-free, nasties-free, sulphate free products.



Keep Skin Clean - Use a face wash or homemade recipes whatever you prefer. Wash your face and take bath daily - do not ditch this. Inclusive of face wash; do make sure to formulate a regime to use face scrub twice a week and face mask at least once a week to keep that skin hydrated and well exfoliated.
Use Moisturizer - Keep your skin moisturized that is the second basic rule after skin cleansing. Skin needs a proper amount of moisturization to stay supple, soft, hydrated and healthy. Half of the skin issues are sorted when it is moisturized properly. Moisturized skin means no dryness, itchiness, dark circles, dark patches, fewer acne issues. A well-moisturized skin is a toned skin. It's the same as drinking water, which is why we also recommend you to have enough consumption of water. Proper and regular moisturization and hydration help to manage signs of aging.
Keep Your Skin Nourished - The skin needs nutrients in abundance same as your body. Minerals, Essential Fatty Acids, Vitamin A, B, C and E, Essential Oils, etc are some basic nutrients that skin really craves for. Sir, kindly feed those nutrients to your skin. We want to see your skin glow.
Never Forget to Sunscreen - Sunscreen is utmost required no matter if it is winters, sunscreen is a necessity because there are always harmful rays of skin peering through your skin. Sunscreen is your personal shield. Keep a handy sunscreen or you can even keep a moisturizer with SPF in it with you. You will have two queries solved in one.
Skincare means whole Body - Skincare does not only mean your face, it covers your whole body. So, get that body lotion for you; one lip balm because lips are easily affected; and for those feet either opt for a foot cream or coconut oil. Coconut oil seems a better idea here because its least processed and has nutrition in abundance.
Eat properly and Exercise Daily - Obviously, skincare comes with a combo of proper diet and regular exercising. So, make sure you are eating timely with balanced nourishment. Exercise daily even if it is for half an hour or one hour. Do this for your skin and for your body.
A note to fellows with Beards - A sincere note to our fellows who love their beard, we love it too. So, keep it clean and proper; trim it timely. If your razor irritates your skin make sure to change the razor. After a clean shave apply a proper moisturizer on your skin; so no harsh and red bumps irritate your facial skin in any way. If not a moisturizer, here again, you can go for Coconut oil.
We strongly advise you to take of your skin properly and follow the skincare routine rigorously and choose your skincare products wisely. These are tips and reasons why all you loving men should make their skin bright and lovelier. So, go hurry now The Beauty Sailor has a Special Offer going on for you - Buy 1 Get 1 Free.
Coupon Code - B1G1
Happy International Men's Day to you all.