How To Prevent Skin Tanning In Summer
Posted by TheBeautySailor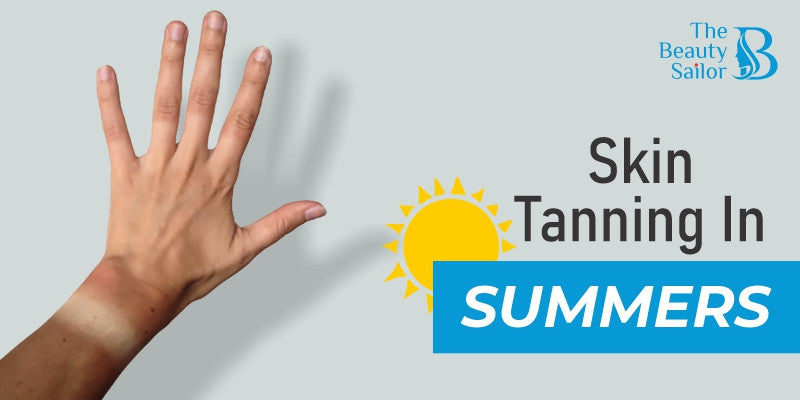 Summer means cute dresses, cool drinks but also skin tanning. Sun tan occurs when UV rays from the sun alter the pigment in the skin, causing it to darken. It's not easy to get rid of a tan, and it doesn't happen immediately. Some treatments, on the other hand, might make a tan fade faster.
Without assistance, a suntan will fade in a few weeks and tan lines will become less evident until they are no longer visible. This is due to the body's natural process of shedding old skin cells and replacing them with new ones. As the skin renews itself, a tan from tanning products fades with time.


The majority of treatments for removing a tan, whether from a bottle, a tanning booth, or the sun, are based on exfoliation and skin care suggestions. Although there hasn't been much clinical study on how to get rid of a tan, many common treatments are safe and have little negative effects.
There are several skin types and application methods. The optimal approach may differ according to a person's skin tone, chosen skin care products, and methods of application. Here are some skincare tips to prevent skin tanning
Tips To Prevent Skin Tanning 
Exfoliation
Exfoliating the skin gently will aid in the removal of pigmented dead skin cells from the epidermis. This might help to lessen the look of a tan.
A Coffee Face Scrub is loaded with antioxidant qualities that can help with UV damage recovery as well as fine line and wrinkle reduction. If you have irritated, sensitive, or uneven skin tone, a coffee scrub will help you relax while the antioxidants work to maintain your skin balanced and healthy. Whether you have sun spots or hyperpigmentation, a coffee scrub can help you achieve beautiful skin over time.
Another great skincare product to remove sun tanning is a walnut face scrub. Acne scars and dark spots can also be faded using a walnut scrub. They don't completely vanish, but they do get lighter making your skin look brighter. Scrubbing encourages natural resurfacing of the skin. Scrubbing your face removes dead and damaged skin cells, allowing your skin to regenerate. As a result, dark spots, tanning and scars become lighter in colour. Coffee and walnut face scrubs are considered to have superior results since they include natural skin lightening ingredients.
Skin Lightening Products
Skin brightening creams contain a variety of skin-brightening natural ingredients like chamomile, alpha arbutin and bearberry that help to even out skin tone by eliminating dark patches, pigmentation, and skin tanning. Hyperpigmentation, sun spots, black spots, and other sun related issues are all treated with skin brightening creams as well. Ingredients in skin lightening creams work to stop your body from producing melanin. Melanin is the pigment that gives your skin its colour and is produced by cells called melanocytes. 
In the heat, air conditioners may quickly dry up your skin. Normal skincare products, such as hand cream, foot cream, or a face moisturiser, are limited to certain areas of the body and tackle specific ailments. As we all know, many people have sensitive skin which is more prone to sun tanning. Apply a body lotion after each shower or bath to help trap moisture and keep your skin nourished and smooth. If you have dry or sensitive skin, it's a good idea to keep a bottle of your favourite scented body lotion on hand for after-bath application. This will make your skin less prone to tanning and other skin issues as well.
The OG Besan & Turmeric Face Pack
A highly recommended skincare remedy from all the grannies, this face pack is ideal for gently exfoliating dead skin cells and removing sun damage. Combine two tablespoons gram flour, a sprinkle of turmeric, milk, and one tablespoon rose water in a mixing bowl. Apply this pack to your tanned skin and let it on for 20 minutes before washing it off with cold water. You may also use little water on the dry face pack to gently massage your skin.
Aloe Vera: The Sun Tan Healer


Aloe Vera is high in anti-inflammatory characteristics, which help to alleviate the symptoms of sunburn. An Aloe vera face wash can cleanse the deep seated impurities while also lightening sun tan. Top it up with an aloe vera body lotion for your arms and legs and aloe vera night gel for your face to speed up your tan lightening journey. 
Lemon Juice & Rose Water
Although saturated lemon juice is effective in removing tan, it is not for everyone. As a result, a face pack containing lemon juice is usually recommended. Combine one tablespoon of lemon juice and rose water into a face pack. Apply the face pack to the tanned areas and let it on for 10-15 minutes, or until it dries. Rinse with cold water. Lemon juice can help to prevent tanning, while rose water will help to relieve skin irritation.
If you have sensitive skin, you can use gentle Vitamin C skin care products instead of using raw ingredients. 
Green Tea: For A Tan Free Skin


Green tea is well-known for its antioxidants, which aid in the treatment of tanned skin and the reduction of skin imperfections. Green Tea Skin Elixirs are one such skincare product which can boost your skin's overall wellbeing and accelerate skin cell turnover. Another face care product is Green Tea Night Gel which can soothe skin tanning overnight while you sleep.