An Ultimate Guide To Men Skincare
Posted by TheBeautySailor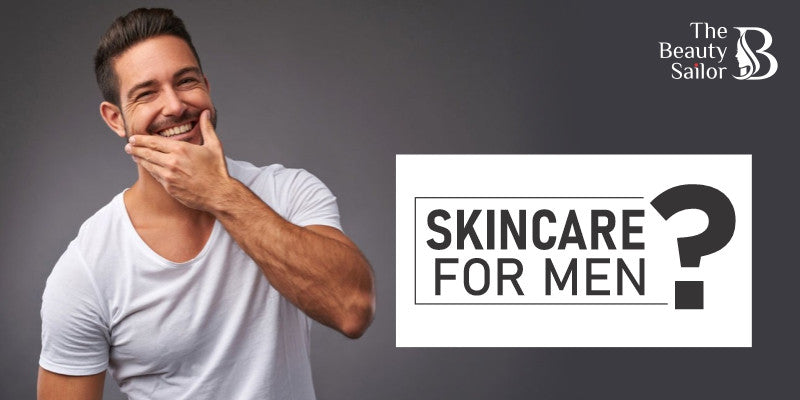 Dear men, have you ever wondered if you need to start a skincare routine? We understand that with so many skincare products in the market, it can be difficult to know where to begin. Building an effective skincare routine, on the other hand, may appear difficult, but it has a surprising number of advantages. Sun damage and environmental contaminants can wreak havoc on the skin barrier, resulting in a slew of skin issues over time. Men's skincare was once overlooked, but that is no longer the case. We're here to simplify things for all the guys out there, making skincare simple, effective, and uncomplicated.


Important Features Of Men's Skin
There are a few notable features that make your skin unique which also calls for special ways to pamper it.
1. Thickness
A man's skin is 25 per cent thicker than women's skin. 
Women on the other hand maintain the level of thickness till their 40s after which the thinning rate increases at a fast pace. We can say genetically men have thicker skin throughout their life.


2. Oil Production
Along with larger muscles and strength come larger pores. Men's skin produces four times more oil than women's. They may have more blackheads and congested pores, which can contribute to outbreaks. Oil production does not slow down as people get older, which can lead to acne that lasts well into their mid-thirties. A clay face mask can be your best bet in such a situation. However on the plus side, this keeps the skin moisturised and prevents the protective barrier from deteriorating.
3. PH Balance
The skin's pH level should be between 4.7 and 5.75. Despite the fact that both men and women have acidic skin, men's pH levels are somewhat lower than women's due to the large degree of Lactic acid found in their sweat. Using a coffee face wash can help you balance out things. 
4. Collagen

After the age of 30, both men and women lose about 1% of their collagen each year. The presence of high levels of testosterone in the skin promotes collagen production, which slows down the ageing process in males. Women, on the other hand, produce less collagen after menopause and lose roughly 30% of their remaining collagen in the first five years. 

5. Skin Hydration
Due to their thicker skin barrier, males do not lose a lot of water until they are 50 years old. Oil production increases, which works as a natural moisturiser. Their skin does not get as dry as women's skin does as they age, which generates less oil and makes dryness a serious worry. Using a vitamin c face serum can lessen this worry so you can focus on being the gentleman you are. 


6. Shaving
In his lifetime, the average guy shaves 16,000 times. It's a two-sided coin when it comes to this widespread behaviour. While the intensive exfoliation benefits them, it can also make the skin more sensitive, causing discomfort owing to the exposure of the skin's fragile top layer. According to studies, 40% of men experience shaving-related skin disorders such as hyperpigmentation as a result of direct sunlight exposure without applying sunscreen.
Due to these factors, it's easy to see why men need a little bit of skincare too (along with the well-deserved pampering it offers). 
WHY IS SKINCARE IMPORTANT FOR MEN?

Men's skincare has always been shrouded in secrecy for a variety of reasons, including its feminine overtone, which creates preconceptions, a paucity of products designed particularly for men on the market, and a generation of society that is oblivious of its value. 
In the current climate, it is still an undervalued issue, but times are changing, and it is critical to discuss men's skincare for the following reasons:
Our skin is exposed to harsh and destructive environmental agitators on a regular basis, from extreme weather to air pollution. All of these external stimuli are blocked by your skin. Proper skincare aids in the preservation of our skin's outermost layer. This layer keeps our skin hydrated and acts as our first line of defence against the elements.
Your skin will look better, fresher, and younger for a longer period of time if you use skincare products that suit your needs. As a stitch in time saves nine, the more you look after your skin today, the less treatments you'll need later.
The state of your skin has a significant impact on your emotional and mental well-being. Internally and outwardly, having nice skin can make you feel confident and happier. All that it takes is gentle skincare products and some love.
SOME BASIC SKINCARE TIPS MEN MUST FOLLOW
We realise that when it comes to their regular skin routine, men want it to be quick. The good news is that you do not need to take too many actions to improve your skin either. Making tiny changes and remembering these simple skincare suggestions will significantly improve your appearance.
Skincare involves more than just what you apply on your skin; it also includes what you consume. Your skin's health is determined by your diet. Reducing your intake of sweets, processed foods, and greasy foods will have a significant impact on your skin.
Drink at least eight to ten glasses of water each day. Your skin may appear dull and drier as a result of dehydration. It removes all toxins from your body and balances the oil and water content on your skin.
Replace your pillowcases and towels on a regular basis. We frequently miss minor details that are unrelated to our skin or habit. Because these are the items that come into direct contact with your face, washing your towels and pillowcases on a regular basis is essential for your skin. Consider how bacteria and pollutants will move to the surface of your skin if you use the same towel for two weeks after cleaning your face.
Taking steam can increase the absorption of your skincare product, helping it to do its work more effectively. It opens your pores and helps to absorb the maximum amount of nutrients. It's a good idea to use steam to open your pores fortnightly.
We know you're strong but don't take it all out on your skin! Excessively or roughly cleansing your skin is bad because it strips it of the natural oils it need, leaving it dry and flaky. Switch to a face wash instead of using bar soap to wash your face. It's vital to remember that you can't use your body wash as a face wash because our bodies have thicker skin and the substances in the wash would be too harsh for the face.
You should wash your face twice a day, first in the morning and again before going to bed. Most guys simply wash their faces in the morning and don't scrub their faces in the evening to remove the dirt and oil that collects on their faces throughout the day. To get glowing the next morning, consider cleansing your face before hitting the bed too. 
Don't overthink things. Sometimes all you need is a break. Hormonal spikes caused by high stress levels can encourage breakouts and aggravate skin issues. Take it easy on yourself, practise self love and see how your skin will love you too. 
Want to know more? Join us on Instagram, Facebook & Twitter for skincare tips, discussions and so much more.