Why You Must Add Avocado To Your Diet And Skincare Routine
Posted by TheBeautySailor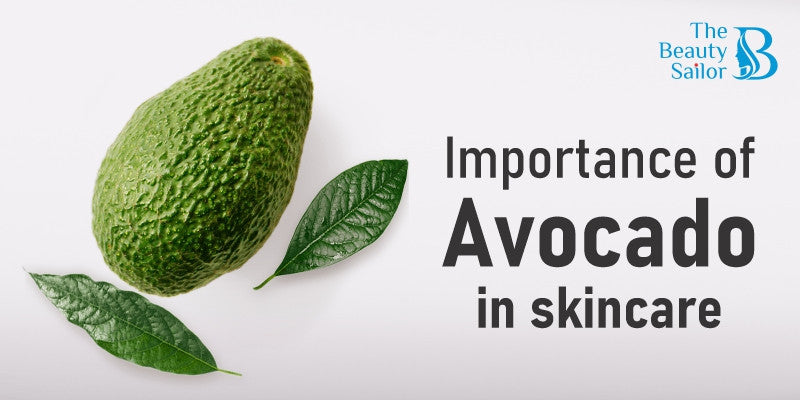 Avocados, which are delicious on toast or in guacamole, are high in nutrients that are good for the mind and body. This superfood is high in antioxidants and vitamins C, A, and E, making it especially good for individuals with dry or sensitive skin, whether eaten or used directly. For that reason, Avocado Oil is used in hydrating skincare products including creams, masks, and serums, because of its high fat content.
If you are still wondering why your next skincare purchase or fruit shopping must have avocados, we have compiled a list of things that this superfood can do for you.
It's Highly Moisturizing
Avocado oil is a great moisturizer for the skin since it has a high concentration of mono-saturated fat. Avocado oil has been shown in studies to penetrate the skin barrier better than other standard oils like olive and almond oil. Avocado oil is an emollient with occlusive characteristics, which means it softens the skin while functioning as a humectant, in addition to its hydrating advantages. An Avocado can be your best friend for these reasons.
Avocado Oil Protects Our Skin From Environmental Damage
Avocado oil maintains our skin health and keeps it safe from environmental stresses because of its antioxidant-rich characteristics. Avocado oil contains the antioxidants carotenoids and polyphenols, which can help protect our skin from free radicals generated by pollution, UV radiation, and even lack of sleep. When free radicals build up on the skin, they can harm the cells, causing premature fine lines and age spots. 
Calms Inflamed Skin
Avocado is high in vitamin E and has anti-inflammatory and calming qualities. Vitamin E's therapeutic capabilities are ideal for those who have sensitive skin or acne-prone, irritated skin.
Fights Acne 
Did you know that this superfood is particularly good for people who suffer from acne? Adding some mashed avocados to a face mask or simply putting a little avocado oil to your skin can help manage acne to a large extent due to its antibacterial characteristics. Avocados are also high in lauric acid, which has anti-inflammatory properties and can aid with acne. Avocado Face Wash can be an  exceptionally good choice due to these reasons. 
Hydrates Skin
Avocados are high in monounsaturated and polyunsaturated fatty acids, which aid in deeply moisturizing and conditioning your skin. Avocados will make your skin feel really smooth and supple if you eat them on a regular basis. This fruit, which is abundant in vitamins A, D, and E, is not only hydrating, but it also protects your skin from UV damage. All of these elements work together to keep your skin moisturized and healthy.
It Has Anti-Aging Properties


Avocados are incredibly nutritious, thanks to their high vitamin E content, which helps to fill up your skin and reduce the appearance of fine lines and wrinkles. Furthermore, the antioxidant effects of chlorophyll, the component that gives avocados their attractive green colour, assists to protect your skin from environmental aggressors that can harm your skin and promote premature aging. Finally, this fruit has the ability to increase collagen formation, which aids in the maintenance of supple and young skin and keeps you away from wrinkles and fine lines.
Strengthens Skin's Natural Barrier
Avocados have a lot of omega-3 and omega-6 fatty acids in them. These two components play a critical role in the formation of the skin's natural lipid layer. Excessive dryness, acne, and sun damage can all be symptoms of a lipid layer that is damaged. Avocados also promote skin regeneration and restoration due to the presence of linoleic and oleic acids. As a result, avocados assist in maintaining the health of your skin's barrier function so your skin can shine.


Nourishes Your Skin
There are a variety of reasons why your skin may be dry, lifeless, or damaged, but avocados are an excellent solution. This fruit is high in vitamins A, D, E, and B6, which assists in managing excessively dry, dull and chapped skin. That's not all, though. Avocados provide all-around protection for your skin owing to the proteins, amino acids, magnesium, folic acid, copper, and iron they contain.
Boosts Skin Cell Regeneration
Are you always looking for new techniques to make your skin stay young? Avocados could be the answer you're looking for. Because nutritional insufficiency is one of the leading causes of skin's slow turnover, avocados' rich nutritional content, which includes proteins, vitamins, and minerals, actually helps your skin retain its youth.
Prevents Infections
One of the most common reasons for skin infections is lack of moisture in your skin and body. Avocados, on the other hand, are a simple way to get rid of this unpleasant issue. Avocados' buttery soft texture makes for a fantastic moisturising mask (or even daily consumption) to maintain your skin's clean, healthy, and well-moisturised state. Avocados also aid in the reduction of skin irritation, the stimulation of dead skin cells, and the healing and rejuvenation of your skin. This is why avocados are so effective in preventing infections caused by dryness.
Rejuvenates Your Skin
Avocados may be able to help if your skin lacks glow, smoothness, and the texture that you desire. Avocados' fatty acids, proteins, minerals, and vitamins assist to repair, renew, and rejuvenate your skin, ensuring that it is lustrous and supple every day. Avocados' fatty acids also aid in sealing in moisture and enhancing collagen production, which helps to reflect light and improves your skin's glow.
There are so many more reasons why Avocados are great for your and your skincare product's diet. Still uncertain about it? Follow us on our Facebook, Instagram and Pinterest handles to join such conversations.