Glowing Skin Is Now A Reality With Skin Brightening Cream
Posted by TheBeautySailor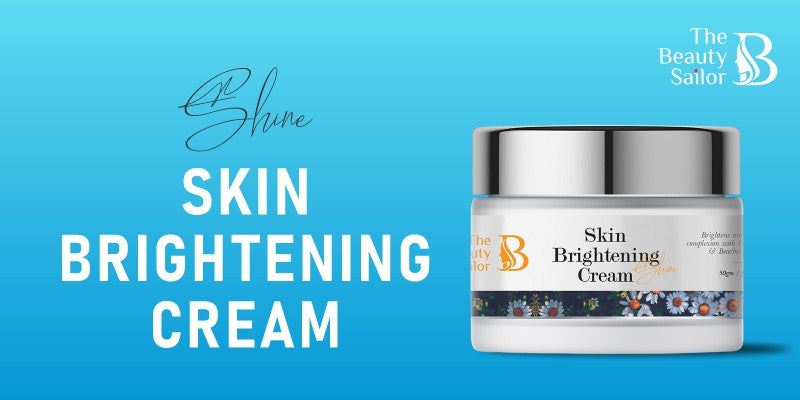 Skin Brightening Cream as the name itself tells is a skin-brightening or skin radiant cream. The cream makes sure to provide an unmatched and healthy glow to the facial skin. The creamy formula tends to lighten up and brighten up the skin tone. Alongside it helps in repairing dull and damaged skin cells. The cream is formulated with nature-derived key ingredients that are Chamomile Extract and Bearberry Extract.


The Beauty Sailor Skin Brightening Cream is a non-greasy formula that infuses a healthy and natural glow into the skin tone. This formula is powered by science; alongside it is a complete skin brightening therapy for dull, damaged and blemished skin cells. As we always say every skincare product is different because of the mix of ingredients; and because of the formulation recipe. Talking about the very first key ingredient in this skin brightening cream - Chamomile; chamomile not only does wonder when consumed but it has superb caliber when applied topically too. Walk with us through that trail of light -
Apigenin - Apigenin is an essential factorial in Chamomile because it is filled with ample of anti oxidants. It even has acne prone factor because apigenin is filled anti inflammatory, anti bacterial and antiviral components. So, yes this component is shooting ample of anti acne benefits into the skin. Addition to these pointers Apigenin is a protagonist when it comes to shielding the skin against sun. Anti oxidants keep skin moisturized and youthful.

Terpenoids - Terpenoid being an organic chemical obviously has the quality of herbal remedy, plus it has aromatic properties too. They give a unique fragrance and; are found to be anti inflammatory and detoxifying. As anti inflammatory in nature, terpenoids have the capability to control excessive sebum and natural face oils.



Flavonoids - Flavonoids are multi active components that protect the skin from a variety of sun damage; accompanying which Flavonoids also repair the damage caused by the sun on the skin. Flavonoids themselves are a good source of anti-oxidants; hence it soothes inflammation that is temporary in nature and other kinds of damage done by the Sun. Your skin will always be protected against harmful UV Rays and painful sunburns if you do a regular topical application of chocolate-based products.

Esters - Extremely beneficial emollients for skincare to infuse abundant hydration into the skin tone. On top of that, esters make sure to keep the skin soft, plump and smooth. So, you can enjoy plumped up and naturally healthy skin. As emollients are experts at improving the texture of the skin. Esters are basically for sensitive skin as they treat your skin with gentle love and care.

Chamazulene - This aromatic compound found in Chamomile manages to deal with alleviated redness, irritation and rashes. That means this skin care product is filled with skin-soothing properties so to calm your skin down from environmental stressors and other free radicals. It's anti-infective, anti-viral and it makes sure to keep your skin happy. All above which, the component has the capability to promote the regeneration of skin cells. It contributes in Chamomile's medicinal activity.

Matricin and Bisabolol - These two components in Chamomile - both have calming effects on the skin; encourage the chamomile to be anti-inflammatory and anti-acne. So, we can say that these components exhibit several pharmacological properties. That is why, it helps protect the skin from a variety of skin damage such as aging skin cells and protects from free radicals. 
The next ingredient in the line of key ingredients in The Beauty Sailor's Skin Brightening Cream is Bearberry. Bearberry is a shrub found in North America, Asia and Europe. Following are the reasons why we added bearberry in the formulation of this luxurious skin brightening cream -
Alpha Arbutin - Miracles of alpha arbutin are known to everyone. The fragment present in bearberry helps in the reduction of the appearance of sun spots, blemishes, dark circles, dark patches by controlling the production of melanin; helps in encouraging a vibrant and healthy-looking glow. This overall improves the complexion of the skin. The best thing is that alpha-arbutin is a safe option for all types of skin tones. So, be confident and say bye-bye to that uneven and discolored skin tone.



Hydroquinone - Hydroquinone is another element in bearberry that decreases the number of melanocytes. Melanocytes secrete melanin; melanin makes the skin dark, discolored and uneven. It even endorses the fading of all the aging and dark spots, pigmentation and a variety of skin darkening factors.

Phenolic Compounds - Phenolic compounds that are present in bearberry are Phenols, Tannins and Flavonoids. These are anti oxidants, anti-microbial and anti-aging. The top-notch parameter of Phenolic compounds is that they have the capability to permeate through the skin barrier. They even benefit the skin by protecting it from a variety of free radicals or say from a variety of environmental stressors.

Catechin - Catechin is an antioxidant and its most effective quality is - its being anti-inflammatory in nature. It protects the skin from a variety of damage - top amongst which is that Catechin shields the skin from harmful UV rays
These are the key ingredients in The Beauty Sailor's Skin Brightening Cream. Moving towards the reasons why anyone should only opt for this particular skin brightening cream and not just anyone else. Walking through the reasons -
Brightens the Skin - The first and foremost benefit of this cream is obviously brightening up of skin tone. The scientific formula of the cream helps in lightening the skin tone; manages to bring that vibrant and healthy glow. Additionally, the cream not only brightens the skin tone but it also works on discolored and uneven skin tones.

Repairs and Protects the Skin - Skin Brightening Cream tends to protect and repair the skin from a variety of skin damage and inflammation. Firstly, it restricts the excessive production of melanin; secondly, the cream has anti oxidants that mean it helps in fighting the free radicals and environmental stressors; finally, because of the infusion of Flavonoids, Catechin and Apigenin, the skin stays away from inflammation and similar problems.

Skin Therapy - We proudly call the cream therapy for skin because of its skin-soothing properties. It protects the skin from redness, inflammation, dryness and from many such variants. All because of its anti-inflammatory, anti-oxidant and anti-microbial properties.



Suitable for All - Best part the cream suits to all genders and to all skin types. Hence, no worries and put that smile on because The Beauty Sailor's skin brightening cream is literally for everyone.

Not Greasy and Easy to Use - Yes top among all the creams is not greasy and easy to use. It even let your skin breathe properly. It goes into the skin; it does not create any kind of harmful skin barrier. The skin also stays nourished and moisturized after every usage.

Mild Fragrance - The fragrance is mild, not at all hard or harsh on your nose or on your head. So here is another win for you.
These are the reasons why anyone should opt only for The Beauty Sailor's Skin Brightening Cream.
Restore your bright and healthy skin with The Beauty Sailor's Skin Brightening Cream.
BE YOUTHFUL.