Revive, Renew And Rejuvenate Your Skin With Green Tea Elixir
Posted by TheBeautySailor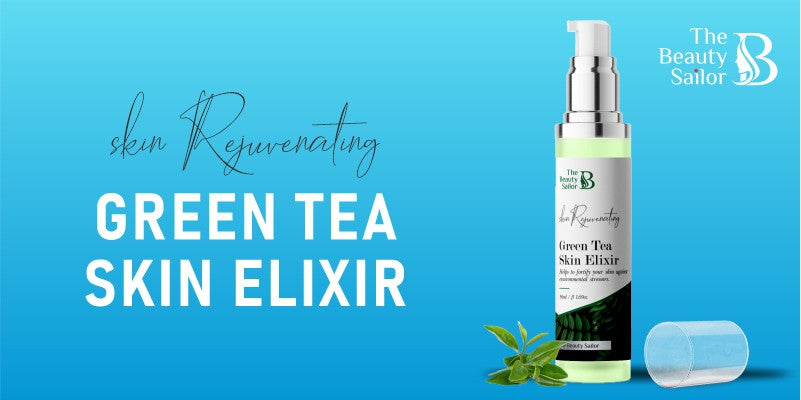 Green Tea Skin Elixir is a premium Green Tea face serum by The Beauty Sailor's basic luxury range. The serum helps to fortify skin against environmental stressors such as harmful UVA and UVB rays of sun, smoke, dirt, dust etc. Our thick green tea serum is here to rejuvenate, hydrate and energize your facial skin tone.

The serum is infused with the goodness of Green Tea, Argan Oil, Goji Berry, Ginger Extract, Lemon Extract, Orange Extract, Licorice Extract and Aloe Vera. The formulation of the recipe of this product has a number of key ingredients to soothe, rejuvenate and hydrate your skin. There are always reasons why any ingredient is used in the mix of formulation of skin care products because every ounce poured in that mix has ample of significance.

Let's walk you through the reasons why Green Tea is used as one of the key ingredients for this luxurious bottle of skincare -
Theanine - Theanine is anti-inflammatory in nature. That means, if there is any kind of redness, irritation or itchiness then it will be cured by the help of theanine component. Let's not forget dryness of skin is the reason why wrinkles and fine lines appear at early age. Theanine also have qualities of a hydrating agent, hence it keeps your skin well moisturized, and plump, soft and well smoothened.

Catechin - Catechin helps protect skin from a variety of damage; plus catechins are filled with abundant anti oxidants. Catechin accounts for more than 75% of Polyphenols present in Green Tea. They protect the skin against harmful UV rays of Sun; apart from being anti-microbial, anti-viral, anti-inflammatory and anti-allergenic. Best of all Catechin promotes cell activity and increases cells proliferation.



Vitamin C - Inclusive of being superb at anti-aging, vitamin C works efficiently in protecting the skin from environmental stressors such as harmful UV rays of sun, dirt and smoke. It also annihilates the production of excess melanin, which in turn keeps the skin radiant and vibrant than ever before.

Polyphenols - Polyphenols that Green tea contains are catechins, flavanols, flavonoids and phenolic acids. This compound helps skin fight off a variety of free radicals; plus prevents the skin from a number of disorders. Polyphenols do not let harmful UV rays penetrate into the skin.
Next in line is Argan Oil in Green Tea Skin Elixir, here are reasons why The Beauty Sailor included the oil in the recipe mix -
Oleic Acid - Oleic acids are basically monounsaturated fatty acids. This good fatty acid is known for making skin calm, nourishes and moisturized. Oleic acid being an excellent moisturizer keeps your skin hydrated and happy. It deals with dry up, irritation, sensitivity etc. It helps in fighting free radicals that accelerate the aging process; such damage provokes complexion change, breakage of blood vessels etc.

Linoleic Acid - Linoleic acid makes that barrier strong and more reliable. When the barrier is reliable then moisture stays intact and the nourishment being infused in the skin, helps make the skin youthful and healthy with each passing day. It helps in the reduction of acne and a variety of breakouts; plus helps in the lightening of dark spots.

Phenols - Argan oil is a plant-based oil, plant phenols are considered to be rich in antioxidants. They are known to be anti-bacterial, anti-inflammatory and antiseptic. Having all these skin-soothing and healing qualities phenols tend to repair and rejuvenate skin tone in a healthy way and obviously in an effective mode.

Vitamin E - Classic antioxidant Vitamin E is effective at reducing the UV damage in skin because when applied topically Vitamin E nourishes and protects the skin from a variety of free radicals such as dirt, dust, harmful UV rays, smoke etc. The even application of vitamin E whole night can help in curing the inflammation.

Carotenes - Carotene or carotenoids work wonders on skin as it helps stimulate epidermal regeneration of skin to make it smooth, soft and plump. These components help in working on hyperpigmentation, uneven skin tone and even discoloration because carotene helps in reducing the amount of melanin produced by the skin.
Goji Berry has been in medicinal use since 3rd century. There are multiple reasons why we used Goji Berry in the formulation of this night cream. Let's walk you through them -


Polysaccharides - Polysaccharides are the primary phytochemical present in Goji Berry. These phytochemicals are extremely stable which is why they are capable of forging a protective skin barrier on skin. This phytochemical is considered responsible for the skin's natural ability to hold and retain moisture within.

Zeaxanthin - These components work as a supportive antioxidant to the skin, while protecting the skin from sun damage in order to improve the tone of the skin. That is why Goji berry is boosted with skin radiance effect inclusive to which the berry holds the tendency to stand against aging factors.

Phenolic Compounds - Phenolic compounds that Goji berry holds are caffeic acid, caffeoylquinic acid, chlorogenic acid, coumaric acid and rutin. All Phenolic compounds are basically skin-protective compounds as they have anti-bacterial, anti-microbial, anti-inflammatory, anti-viral etc properties.

Beta-Carotene - Beta carotene aids to maintain that skin health and appearance. Means it helps in keeping the skin toned and healthy. Beta carotene in Goji berry is considered one of those essential components that manage the health of the skin. It also helps in enhancing the appearance of dry and damaged skin tone, so to keep the skin supple, healthy, hydrated and plump.

Amino Acids - The amino acids that Goji berry has in it are not at all irritating to the skin. In addition to which these amino acids provide the skin with improved hydration. Such moisturized skin has caliber to work against growing wrinkles and fine lines. This makes Goji berry a good source of anti-aging dose.

Evens skin tone - The historical medicinal berry helps in toning the skin by working on pigmentation, discoloration, age spots etc. The berry tends to regulate the production of melanin and tyrosinase - this means better and improved complexion.
The fourth key ingredient in the row is Licorice. This sweet, aromatic herb is found in Western Asia, North Africa and Southern Europe. Let's walk you through the benefits of Licorice on the skin -
Vitamins - Vitamin E and B; these classic vitamins help in fighting the skin from a variety of environmental stressors and skin damage. In addition to them, this ultimate combination of Vitamins promotes a healthy and vibrant skin tone.

Minerals - Manganese and Zinc have skincare benefits as they have healing capabilities. That means it for sure will be helping in cell healing and regeneration, especially Manganese. It even helps in the collagen synthesis of skin cells. Zinc, on other hand, is considered one of the best minerals for skin health because it helps in controlling sebum that is the foundation of most facial acne. Forget those clogged pores and unhealthy skin. All the excess sebum will be managed.

Phytochemical Constituents - Phytochemicals help in balancing water of the skin, which means when phytochemicals, are included in the skin regime - your skin will stay hydrated itself. The perfect moisturization leads to a healthy skin tone that is youthful and vibrant. Glabrene, Liquiritin, Glycyrrhizin, Flavonoids are the phytochemicals that Licorice is consists of.
The next key ingredient used in this Green Tea Skin Elixir is Aloe Vera. Why this ingredient is used in this thick serum lies under this line. Aloe Vera, which has more than plenty of potentially dynamic nutritional values -


Vitamins - Aloe Vera has Vitamin A, C, E and B12; these vitamins are anti-oxidative in nature. They help in the neutralization of free radicals, so that skin remains youthful and glowing over the years. They even help protect the skin from outside variants such as - harmful UV rays of the sun, pollution and oxidative stressors. When these vitamins work together they work magically to provide bright and healthy skin.

Enzymes - Enzymes helps in breaking the keratin layer of skin that keeps the dead skin cells stuck together. Enzymes basically do a gentle exfoliation of skin in order to tone it, make it look healthy and smooth. It also helps in the reduction of pigmentation and blemishes. It does manage to reduce excessive inflammation when applied topically on to the skin. The human body secretes enzymes too, but extra supplements make enzymes more active and skin healthier. The amalgamation of Enzymes with Vitamins A, C and E makes the skin more radiant and healthy.

Minerals - Minerals that exist in Aloe Vera are calcium, chromium, copper, selenium, magnesium, manganese, potassium, zinc and sodium. Firstly minerals are needed to make enzymes work better; secondly, they support immunity, slow down aging and help prevent skin from numerous of issues.

Glycoprotein and Laxatives - Aloe Vera has glycoprotein in it that fills this ingredient with two of its base properties; one is anti-allergic and second is anti-inflammatory. Laxatives or say Anthraquinones are infused with anti-bacterial and anti-viral properties. That is why Aloe Vera is used in home remedies, secondly, it is easy to grow and easy to bring in use. Moreover, the plant has essential amino acids well for human health that too possess anti-inflammatory and anti-bacterial properties.
Ginger Extract is the next ingredient in the row of major key ingredients poured in Green Tea Skin Elixir. Let's walk through the reasons why ginger was really added in the formulation of this thick green tea face serum -


Housed Antioxidants - Ginger has more than forty types of antioxidants that are enough to fight off numerous signs of aging such as fine lines, wrinkles, pigmentation etc. Such infusion of antioxidants not only keeps skin young but it also makes skin healthy and vibrant. That leads to a plump and smooth skin tone.

Antiseptic Properties - Ginger is basically a spice that has number of qualities to fight problems off the body and off the skin too. One of those is that ginger has antiseptic properties, which means fewer pimples, acne or any kind of bacterial breakout.

Evens skin tone - The ingredient evens skin tone by working on pigmentation; and also by making skin soft, plump and smooth. Ginger has the ability to work on dark patches, in addition to which ginger helps in reducing the appearance of scars as like from acne.

Gingerol - Gingerol is a constituent in ginger that has powerful anti-inflammatory effects along with powerful antioxidants that we just talked about in the first pointer. This helps in reducing oxidative stress and fights off free radicals.
Next in line is Classic lemon for skincare - the fruit is used for both culinary and non culinary usage. One of non-culinary usage is in skin care. In fact, lemon has a number of skin care properties and works well with all skin types. Here lie the reasons -
Minerals - Zinc, Magnesium, Manganese, and Potassium etc. are the minerals found in Lemon. Among these zinc is one of the basic minerals used for skincare. It is the most beneficial mineral in skincare. Zinc helps in maintaining good skin health because of anti oxidative quality. It also has skin-repairing properties.

Vitamins - Vitamin C and Vitamin B; these vitamins have riboflavin, niacin, pantothenic acid compounds in them for skincare. These vitamins make skin tone even and also manage to heal it; inclusive of which vitamins help in balancing natural skin oils so skin stays acne-free.

Citric Acid - The acid has potential protective antioxidants. Citric acid helps protect the skin from a variety of free radicals such as sun damage. The acid helps in exfoliating the upper layer of dead skin cells to help clean pores, to even skin tone; and make skin soft and smooth.

Malic Acid - Malic Acid gives the skin ability to brighten skin and smoothen the texture of the skin. The acid is safe when used in a moderate amount; it can do miracles on the skin. The ingredient has the prowess to manage itchiness, redness and irritation.
Last in the line of key ingredients for green tea skin elixir is orange extract. Let's bring out the reasons why we chose to use orange as the key ingredient in this luxurious thick serum -


Prevents Acne - Being rich in citric acid, oranges have a tendency to control acne and pimples. Citric acid gives amazing exfoliating properties to oranges - this gives a healthy glow and vibrant shine. So, you know now why oranges are used in the formulation of Green Tea Skin Elixir.

Vitamin C - The presence of vitamin C in orange makes the skin age slow because of its anti-oxidative property, this property even keeps the toxins away while fighting a variety of infectious skin issues.

Unclogs Pores - Orange is very helpful if you have clogged pores. Oranges' exfoliating property makes it unclog pores, so to clean your skin from impurities. Hence, your skin gets clean and its exfoliation is gentle, which means no harmfully opened pores but gently opened pores. It even helps in shrinking those widely opened up pores.

Boosts Collagen - This 10th-century fruit helps in fighting signs of aging by boosting the amount of collagen into the skin cells. This makes skin youthful, soft, smooth and plump. The natural glow and vibrant skin tone is visible after continued use.
Finally after the long list let's walk you through the reasons why The Beauty Sailor's Green Tea Skin Elixir is the best face serum to anyone else in comparison -
Rejuvenates - This thick face serum helps in keeping the skin young by the help of ingredients present in the mix. So, you know now which face serum will be keeping your skin youthful and vibrant. The presence of catechins promotes the regeneration of skin cells. That helps in forming youthful and vibrant skin cells by replacing the epidermal layer of dead skin cells.

Hydrates Skin - Obviously the skin can only be rejuvenated when it is well hydrated. Skin cells need ample of water and nutrition to repair and rejuvenate itself. That is why there is presence of antioxidants in Argan Oil; Goji Berry helps improve hydration in skin cells through this premium face elixir serum.



Anti oxidative - The bottle is loaded with anti oxidative properties through almost every key ingredient, as almost all skincare ingredients have some amount of anti oxidants that works in variety to heal and repair the skin. Some anti oxidants boosts collagen, some helps to infuse moisture into the skin and there are anti oxidants that helps combat free radicals.

Thick Serum - Green tea skin elixir is a thick serum when it comes to characterize its density. This thickness makes it easy to use the serum without any mess, which is why we say that it is easy to use the serum. Secondly, it comes in a pump bottle, which makes it another level compact to use.

Fortifies Skin - Serum has the caliber to protect the skin against a variety of free radicals such as smoke, harmful UVA and UVB rays, dirt and dust etc. This is why we are saying the serum has the capability to fortify skin. 

Cleanses Skin - The product cleanses the skin by treating the epidermal layer of skin. The ingredients help in exfoliating the dead skin cells layer off of the skin. Serums basically hydrate and moisturize the skin but here is the new formulation coming in from of you that has the capacity to clean too.

Radiant Skin - When all your skin is cleansed, exfoliated, nourished and protected against free radicals then only one thing stays and that is radiant skin tone. You will have your bright and healthy skin restored.
These are the reasons why you should use The Beauty Sailor's Green Tea Skin Elixir for the purposes of rejuvenating and hydrating your skin tone. We hope the blog to be compelling and we hope all your queries must be sorted. Even if not then feel free to contact us regarding any of our skincare products.
BE YOUTHFUL.