Rejuvenate Your Dull Skin With Rejuvenating Skin Cream
Posted by TheBeautySailor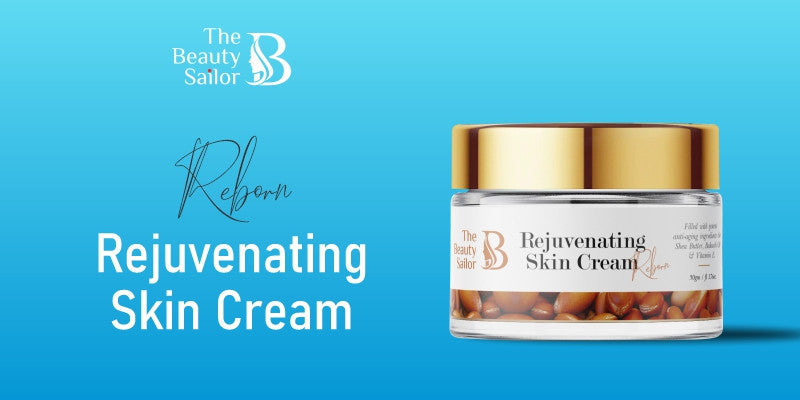 The Beauty Sailor's Rejuvenating Skin Cream is filled with effective anti-aging ingredients to Protect, Firm and Restructure your skin. The cream forms a delicate layer on the skin, which allows the skin to breathe while protecting it against free radicals, antioxidative stress and collagen synthesis is stimulated.


This Rejuvenating Skin Cream's key ingredients are - Shea Butter, Bakuchi Oil and Vitamin E. As we always mention the properties of every skincare product are made of the skincare benefits of its key ingredients. For healthy and youthful skin - make sure to include this Rejuvenating Skin Cream in daily usage; but questions why would you do that. So, let's satisfy your queries one by one. For a beginning walk through the skincare benefits of Shea Butter -
The five conventional good fatty acids that are present in Shea Butter are Oleic, Stearic, Linoleic, Palmitic and Arachidic -
Oleic Acid - Oleic acids are basically monounsaturated fatty acids. This good fatty acid is known for making skin calm, nourishes and moisturized. Oleic acid being an excellent moisturizer keeps your skin hydrated and happy. It deals with dry up, irritation, sensitivity etc. It helps in fighting free radicals that accelerate the aging process; such damage provokes complexion change, breakage of blood vessels etc.
Stearic Acid - This good fatty acid is an emollient that softens and smoothens the skin tone; in order to make it plump, bouncy, healthy and happy. It not only makes skin soft but it does shoot a good amount of hydration into the skin cells, and then keep that moisture intact too. It is one of the good fatty acid in Shea Butter that creates a barrier between skin and environmental stressors. When these free radicals and stressors stay away from the skin - skin tends to heal and rejuvenate itself.

Linoleic Acid - While stearic acid is creating the protection barrier linoleic acid makes that barrier strong and more reliable. When the barrier is reliable then moisture stays intact and the nourishment being infused in the skin, helps make the skin youthful and healthy. It helps in the reduction of acne and a variety of breakouts; plus helps in the lightening of dark spots.
Palmitic Acid - It is a fatty acid act as an emollient, it is an alkali salt and act as an emulsifier too. It helps in retaining moisture into the skin by forming an oily, water-blocking layer that helps in stopping the loss of water through the skin. That is why it helps in improving dull, dry and flaky skin. It is even used in products to give them clearer and an opaque texture; it does make the skin care products water-resistant. This in turn makes the skin look youthful and vibrant.

Arachidic Acid - Arachidic Acid is an essential fatty acid and literally works as an all-rounder for all skin types, and that is true skincare. The acid helps in the reduction of acne, pimples and a variety of breakouts. It is a natural exfoliator that does help in the reduction of stress. Less stress means more healthy and young-looking skin tone.
Other than these good fatty acids Shea Butter also benefits as -


Vitamin C - Shea Butter being enriched in Vitamin C, that is why it is filled with anti oxidants, boosts collagen, lightens the skin, softens and smoothens the skin tone. Hence, shea butter is amazing at fighting the free radicals and a variety of environmental stressors; while making skin healthy, youthful and happy.
Phenolic Compounds - Eight out of ten compounds present in Phenolic compounds are, Catechins enriched with anti-oxidative properties. Along with being antioxidative in nature, these compounds also possess properties such as - antimicrobial, anti-aging and anti-inflammatory. Phenolic compounds do create a layer that manages to hinder the passage of irritants into or onto the skin.

Works as Emollient - Emollients make the skin soft, plump and smooth; while treating rough, dry and flaky skin. Every ingredient that has emollient in it is a great moisturizer. So, not only your skin gets younger but it stays well moisturized too. That is why; The Beauty Sailor has used Shea Butter in the formulation of this Rejuvenating Skin Cream.
 Moving further to the Second key ingredient
Bakuchi Oil
; the oil is extracted from the Babchi Tree that has been used in Indian and Chinese medicinal practices. The oil is prepared by an Ayurvedic process called
Snehpaak
. How exactly Bakuchi Oil is helping to keep your skin healthy and young lays below -      
Enriched with Antioxidants - Bakuchi oil is enriched with Antioxidants, which means the oil is capable of dealing with oxidative damage and in fact, it protects the skin against oxidative damage, free radicals and environmental aggressors. When skin is capable of fighting against oxidative damage then there is less chances of cell damage and death.

Healing Factor - The oil has healing factors because it is anti-inflammatory, anti-fungal and anti bacterial in nature, which means it helps in healing the skin. Any type of redness, itchiness, irritation or discomfort on the skin can be dealt with by Bakuchi Oil. The oil creates a protective layer in order to heal the dull and damaged skin cells.

For all Skin types - Bakuchi oil is suitable for all skin types, which is why we consider this ingredient as a complete skincare remedy for all skin types. Even the regular normal application of this oil can do wonders but think when it is mixed scientifically with other exceptional ingredients - how many wonders it can do then. Just another reason to use Bakuchi oil in the formulation of this anti-aging cream.

Works on Hyper Pigmentation - This powerful oil derived from the herb Babchi works marvelously on treating skin discoloration, hyperpigmentation and leucoderma. Bakuchi oil naturally promotes the improvisation and evening of skin tone. So, yes the cream works to bring that vibrant glow.

Increases Elasticity - Bakuchi oil stimulates the growth rate of cell regeneration. The oil not only brightens the tone of skin but also improves the tone and texture. The thing has been proven clinically is that Bakuchi oil enhances the firmness and elasticity of the skin. This in turn improves the fine lines and wrinkles of the skin.

Additional Benefit - This medicinal oil has a mild and pleasant fragrance; it not only soothe your skin but also soothes your mood. The minute brown glands that emerge in the surface tissue of this plant, give it a distinctive and pleasant fragrance. That is why even the fragrance of our rejuvenating skin cream is amazing.    
Towards the last major ingredient is Vitamin E. Vitamin E is well known to everyone for its super skincare quality and skin radiant property -
Easy Absorbent - Being a good absorbent vitamin E is quickly absorbed by the skin; that is the ground reason to add Vitamin E into the formulation of Rejuvenating Skin Cream. As it too takes other benefits provided by the mask into the skin, in order for proper nourishment and deep hydration.

Photo-Protection - Vitamin E protects from any kind of skin damage in the topical application as it helps in forming a delicate layer on the skin, allowing it to breathe while the skin cells are being protected against photodamage. That is why; Vitamin E is being used in the formulation of this luxurious anti aging cream.

Anti Inflammation - Vitamin E is considered an anti-inflammatory agent to the skin because of its sun protection quality. It helps in the reduction of skin swelling, skin thickness and other varieties of skin inflammation.

Skin Tone Lightener - It helps in infusing nutrition into the skin cells because of its easy absorbent quality. That nutritious quality helps in healing stretch marks and lightens scar marks and brown spots.
These are the basic properties of the ingredients used in our premium Rejuvenating Skin Cream. Let's walk you through the reasons why anyone should only opt for Rejuvenating Skin Cream when you choose for anti-aging or pigmentation skin cream. Here are the reasons -

 
Wrinkle Lift - Being an anti-aging skin care product, the cream is capable of lifting wrinkles plus treating emerging fine lines. Anti-aging is the basic property of this skincare cream all thanks to the properties of those nature-derived key ingredients present in the cream; especially Shea Butter cause it not only makes the skin youthful but also moisturizes the skin.

Protects - The cream tends to protect the skin from environmental aggressors and free radicals. Plus Shea Butter and Bakuchi Oil have anti-inflammatory, anti-fungal and anti-bacterial properties. So, not only the cream is protecting the skin but it also helps in healing that redness, irritation and itchiness.

 

Firms and Restructures Skin - Third basic property of Rejuvenating Skin Cream is that it firms and restructures the skin tone by treating dull and damaged cells; also by helping in the promotion of cell regeneration. Hence, this anti-aging cream is a complete package of skincare.

Evens Skin Tone - Shea Butter and Bakuchi oil helps in treating discoloration and also evens the skin tone. Along with that Bakuchi oil manages to deal with hyperpigmentation, blemishes, acne and pimples.

Sun Protection - Because of the presence of Vitamin E the cream has a photoprotection factor. That is why when the cream is applied it also helps to fight against harmful UV rays of the sun and other kinds of free radicals such as smoke and dirt etc.

Anti-oxidative - The cream is boosted with antioxidative properties not only through Vitamin E but also by the oil derived from the herb Babchi. So, the ample nutrition that rejuvenating skin cream shoots into the skin is the exception that is why it is capable of treating dull and damages skin cells. Plus it helps in promoting the regeneration of skin cells.

Soothes Skin - The soothing property is obviously basically because of Bakuchi oil; as the oil has anti bacterial, anti-fungal and anti-bacterial properties packed tightly into it. So, your skin will be soothed against all that redness, irritation and itchiness.

Absorbs Easily - The cream absorbs easily into the skin and infuses its nourishment into the skin tone. Such easy absorption makes sure that the nutrition from the key ingredients gets easily into the skin. When nutrition is absorbed easily into the skin then obviously skin gets younger and healthier with The Beauty Sailor's Rejuvenating Skin Cream.

Non-Sticky and Mild Fragrance - Rejuvenating skin cream has a mild and soothing fragrance, which has the caliber to uplift your mood. In addition, to which, the cream is nonsticky so the application of the cream is easy and not at all messy.
These are the pointers why anyone should opt for The Beauty Sailor's Rejuvenating Skin Cream instead of any other skincare anti-aging or pigmentation removal skin cream. The infusion of these ingredients brought a revolutionary formula into making for that beautiful skin of yours.
We hope that all your questions and queries are sorted by reading this descriptive blog, even if you have any queries left - feel free to contact The Beauty Sailor.
Restore that bright and healthy skin with Rejuvenating Skin Cream.
BE YOUTHFUL.