7 Reasons To Bring Green Tea Face Serum In Your Skincare Routine
Posted by TheBeautySailor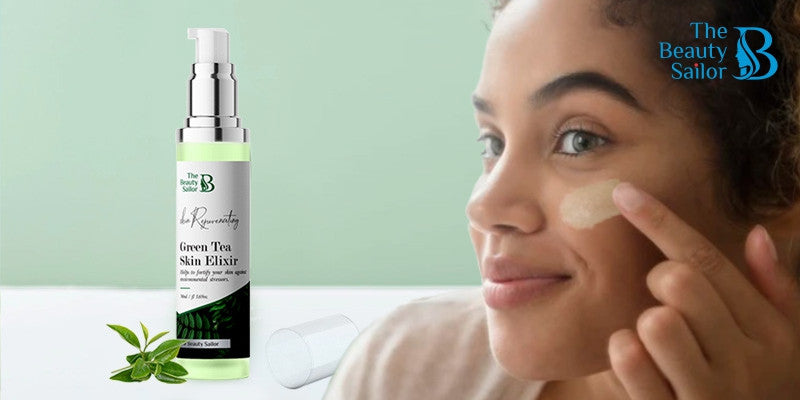 Struggling with dull skin? Meet green tea! Green tea is beneficial to your general health, but putting it on your face is even better. Do you have puffy eyes and dark circles? Place green tea bags over your eyes. Want to rapidly boost the health of your skin? Apply a green tea face serum on your face! Green tea, which is made from lightly steamed fresh leaves of the Camellia Sinensis plant, is high in antioxidants and minerals and is used for skin care in a variety of ways. Because of its numerous skincare advantages, it is one of the active elements used in many cosmetics and  face care products. Continue reading to learn more about the advantages of green tea, how it works, and why you should choose a green tea face serum in your daily routine.
But first, what is green tea!




Green tea is a botanical obtained from the tea plant Camellia sinensis's leaves and buds. The key ingredients in green tea include polyphenols (also known as catechins), which help the skin due to their antioxidant and anti-inflammatory effects. EGCG is the most extensively researched catechin and is utilized both orally and topically for its numerous possible health advantages.

Caffeine and tannins in green tea also serve to constrict blood vessels and reduce puffiness. Green tea is a bit of an overachiever in the sense that it is both preventative and corrective, and it is available in a variety of formulations including as cleansers, serums, moisturizers, and elixirs. It is important to note that like many topical antioxidants, it is difficult to manufacture green tea skin care, since it is very unstable and readily oxidized when exposed to ambient light, and EGCG is unstable at higher temperatures and basic pH values. But it is worth taking all the pain in making green tea face care products as they have so many skin benefits.
Drinking green tea vs applying green tea?
You may start your days with a warm cup of green tea or reach for a lunchtime matcha for a fast pick-me-up, but if you're not already using this green gem topically, it's high time to make some adjustments to your skincare regimen. Green tea is well-known for its anti-aging, calming, and antioxidant benefits, so it's no surprise that it's appearing in an increasing number of green tea serums.

Green tea is safe to use in skincare products and to ingest on a regular basis. However, it is not recommended to have it alongside quinolone antibiotics, some birth control pills, anticoagulants, some antidepressants, phenylpropanolamine, amphetamines, and any medicine that might cause liver damage. In such cases, a doctor's consultation is suggested.
While we are all now convinced that green tea is super amazing for your skin's health and using it topically is better for the skin than to include it in your diet, let's look at the real benefits of doing so.
Reasons to add green tea in your skincare routine
Hydrates the skin
Green tea contains vitamin E, which is well known for nourishing and hydrating the skin. It not only moisturizes, but also brightens and heals the skin. It further helps to repair sun damage and removes black spots, pimple marks, and other environmental skin irritations. Green tea is a fantastic natural moisturizer. It can help keep the skin moisturized and healthy-looking. Using green tea in the formulation of an elixir or moisturizer can help your skin more effectively.
Reduces skin inflammation
Green tea includes a high concentration of polyphenols known as catechins. These catechins can decrease irritation, redness, swelling, and itching caused by Psoriasis, Dermatitis, Rosacea, and other medical conditions. Using green tea products on your skin can also help relieve small wounds, sunburn, and other skin irritations. Green tea is also anti-inflammatory, which might be beneficial for acne-prone skin. Polyphenols, which are plant chemicals with anti-inflammatory and antioxidant characteristics, are found in green tea. This implies they can help decrease inflammation and protect the skin from external aggressors.
Treats acne
Do you know how acne is caused? Acne is caused when your skin secretes excess sebum that blocks pores and encourages bacterial growth.
Green tea's antioxidant, anti-inflammatory, and antibacterial qualities make it a good acne treatment. Green tea polyphenols can combat infection by destroying bacterial membranes, which aids in acne treatment. When applied to the skin, a green tea elixir decreases blackheads and whiteheads while also promoting calm and smooth skin.


Green tea is a storehouse of EGCG that has anti-androgenic properties and decreases cholesterol levels. As a result, it is helpful at reducing sebum secretion in the skin which further prevents acne.
Note => Sebum is an oily substance secreted by the sebaceous glands to nourish your skin and hair. Excessive amounts of it, however, can be troublesome for the skin.
Clears clogged pores
Like you, your skin also breathes, through pores. Clogged pores are caused by dead skin cells that become stuck in your skin. Pores are little openings in the skin that allow undesirable oil and perspiration to escape. Blackheads and whiteheads are the direct outcome of clogged pores as the impurities that are stuck inside your skin find a way to get out while their natural outlet (the skin pores) are clogged. Green tea is a safe and efficient remedy for clearing your pores and getting rid of acne, blackheads, and outbreaks.
Exfoliates gently
Exfoliation aids in the removal of dead skin cells, which can cause the skin to seem dull and lifeless. An all-in-one green tea elixir gently exfoliates the skin while also stimulating the development of new skin cells for a radiant look. Exfoliation helps to remove excess oil and grime on the skin to keep skin issues at bay.
Fights premature aging
Signs of aging are a result of dryness, lack of hydration, clogged pores which can happen due to bad diet, schedule or lifestyle. Wrinkles appear when skin hydration is lost and there's nothing to fill in the space between different skin tissues. These gaps show up as wrinkles.


Green tea's active compounds are excellent warriors in the fight against premature ageing. One of the primary causes of premature ageing is free radical damage, and green tea includes chemicals that remove free radicals. A green tea serum for face rejuvenates dying skin cells and keeps the skin supple. It is one of the greatest substances for firming skin, wrinkle prevention, and intensive nutrition and hydration. It is also a natural exfoliator for the skin which unclogs pores and lets the skin breathe. Green tea contains caffeine, which helps encourage the skin to shed dead cells, improving complexion.
Controls oil
People with oily skin create an overabundance of sebum, which causes breakouts. Green tea contains amino acid molecules that control sebum production, removing excess oil from the skin's surface while also limiting oil synthesis in skin cells. A green tea skin elixir may also be used as a natural skin toner. It can assist to enhance skin tone and tighten pores.

You must be eager to put green tea skin care in your carts now that you are aware of all of its fantastic advantages! Green tea may be included into your skincare routine in a variety of ways. Green tea-infused elixirs, scrubs, and serums are gaining popularity day by day in skincare products market. Though the fastest way to treat the majority of your skin issues and reap the full advantages of green tea will always be a green tea face serum as it packs the highest concentration of this gem.