10 Healthy Resolutions For 2021
Posted by TheBeautySailor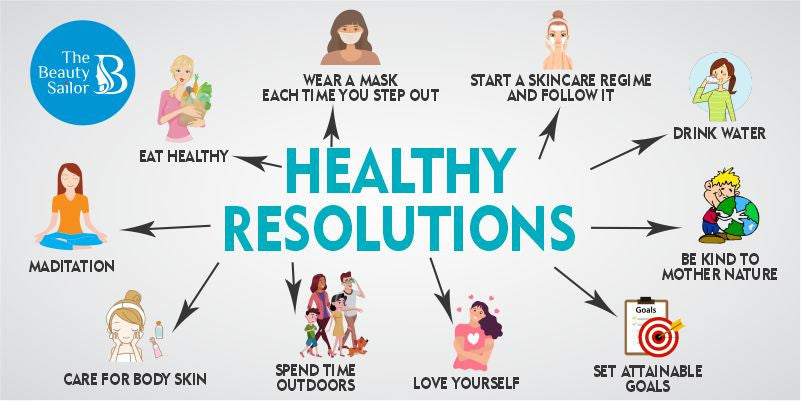 Happy New Year, Everyone..!!
Congratulations, we survived 2020. 
If one thing that the previous year has taught us, it would be, no matter how much we earn and what we do, Independence and health are two wheels that give our life sanity. We have to be ready for any challenge that comes our way. The new year brings new hopes, new goals, and new chances that we have to be willing to grasp.
But as they say, A healthy mind resides in a healthy body. Let us learn from last year's incidents and take the following resolutions for a happy, healthy, and wonderful life. 
Wear a mask each time you step out - Just a reminder; the year has ended, not the pandemic, so we are still obliged to wear a mask every time we step out. No matter how short the run is, wearing a mask has to be your foremost priority. Going out with a mask on has already become so typical these days; let us keep the trend going.
Drink Water! - It would be wrong to say that this is the first time we add "Drink Water" to our resolutions list. We add it every year but seldom achieve it. Balancing the body fluids on the one hand and improving the skin's quality on the other, water is the elixir that our body deserves and needs. This new year commits to drinking water as much as you can.
Start a SkinCare regime and follow it-   Skin is the most exposed part of the body that comes in direct contact with all the outer elements. It is high time to embark on the journey of protecting, nourishing, and healing our skin from these external elements. No matter how much money you spend on cosmetics, it is not worth it if your skin is not healthy. When you follow a regime religiously, you are treating your skin with utmost love and care.
Meditation-

Meditation is the exercise of the mind. Constantly busy lives have made us anxious and stressed. To eliminate this anxiety, what else would be better than the inexpensive and effective medicine that meditation is. Meditation improves the overall wellness of our mental and emotional health. It will soothe, bring peace, and help you carry yourself through the entire day, calmly. 
Eat Healthy- Eating healthy determines the quality of your life. Many serious diseases are directly linked to unhealthy eating. With the help of good food, you can improve almost all the aspects of your life. It helps in physical strength and the proper functioning of the brain. With optimized nutrition, our skin glows with radiance from within. Eating healthy is as important as following the right skincare regime for the outside of the skin.
Be kind to mother nature- Well, the last year has taught us more than enough about what nature can do to us. While the pandemic's outbreak was not in our hands, the other various environment-related outbreaks can be. Let's be kind to nature that has given us the life we live because we are nothing without it. If nature started treating us the way we do, it would be dangerous.
Care for body skin- When it comes to skincare, all we can think of is the face. But there is more to skin care. Just like our face, our body's skin also needs to be treated with affection. Beginning with shower, body skincare covers exfoliation, shaving, moisturizing, etc. Exfoliate the skin at least once a week to have that ever-shining glow. Take out time for feeding and treating your body skin just like you do for your face.  
Spend time outdoors- One of the best and fastest ways to improve your health and happiness is spending time outdoors. Studies suggest that being in green spaces lowers stress levels, blood pressure hence giving a sense of serenity. One does not have to keep sitting outside the entire day; 20-30 minutes a day is enough.
Set attainable goals- We often set goals for ourselves that are too far fetched. Even if we begin with a head start, we tend to get distracted on the way to reaching goals. It happens because sometimes we set goals that are practically impossible for us to attain, sometimes because of the time constraints, and sometimes because of lack of motivation. Rather than setting higher goals and not working on them, one should set the bar a little lower and work thoroughly on it.
Love Yourself - All that matters at the end of the day is when you go back to sleep at night, you are satisfied. Acceptance is the key to loving oneself. Don't let others select the way you look at yourself. Strive for more, accept yourself and just know that "you are beautiful just the way you are". You are unique, one in a kind, and deserving to be at the place you are.
Wishing all the lovely readers a Happy New Year once again. 
May you be committed to following these resolutions or others that you have set for yourself. 
May 2021 be an extraordinary year for you, where you achieve the goals you have set for yourself. 
May you be healthy and happy, this year on to forever.