Acne Causes And Treatments
Posted by TheBeautySailor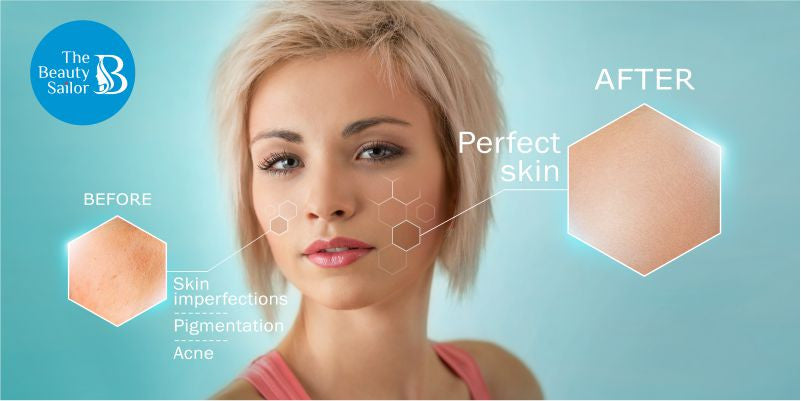 Hello everyone
Today, let us talk about an unwanted guest, the partner that shows up somehow before every major event that we are supposed to go to and escorts us;
ACNE
. Affecting at least 85% of young adults, Acne is the world's most common skin condition. This inflammatory skin condition causes pimples, whiteheads, blackheads, spots, etc., on various body parts. Commonly occurring in puberty, acne is not a very serious skin condition, but it can irritate the skin and leave scars behind.
The Causes of Acne
Acne befalls when the follicles get blocked. Our skin has pores and oil glands. Follicles connect them both. The function of oil glands is to produce an oil called sebum that carries the dead skin cells through follicles from within to the skin's surface. When the follicles get blocked, this oil starts building up inside the skin. The hair, oil, and dead skin cells form a plug that starts getting infected with the bacteria. P. Acnes bacteria targets it and contributes to the infection, causing acne. Some common type of acne that is likely to happen is whiteheads, blackheads, and pimples. 
Various other reasons can lead to the formation of acne.
The one reason that is considered to be the most prominent is the rise in androgen levels. Androgen is a hormone that is produced when adolescence begins. In females, it gets converted into estrogen. The production of these hormones increases the size of oil glands, and hence sebum is produced in larger amounts. Excess sebum breaks down cellular walls in the pores, and bacteria grows.
Using the makeup which is greasy and oil-based. 
The issues the human body faces are largely determined by the diet consumed. Carbohydrate-rich food like bread, chips, etc., can trigger acne.
Taking medications that include corticosteroids, testosterone, or lithium.
Few other reasons are emotional stress and menstruation.
Acne at mild stages can be treated effectively on our own, without having to visit the dermatologists. Let us see how!
ACNE TREATMENT 
Mild acne can be treated by OTC(over-the-counter) medications or mainly known as non-prescription medicines. These OTC medications include gels, soaps, pads, lotions, and creams, etc. Those who have
oily skin
should use alcohol-based gels to dry out the skin, and for sensitive skin, lotions and creams are recommended. 
When you are buying these products, look for the following ingredients:
Salicylic Acid- The acid prevents the pores from getting plugged. It reduces swelling and inflammation and helps in breaking down blackheads and whiteheads. It is available in the market from 0.5 to 5% concentration. Salicylic acid can have little side effects like irritation and mild stinging.
Benzoyl Peroxide- Benzoyl Peroxide is effective in killing the bacteria that helps in acne formation. The sebum production is retarded, and the skin replacement is accelerated with Benzoyl Peroxide. You are likely to experience redness, dry skin, stinging, etc. if you have sensitive skin; use it carefully.
Sulfur- Sulfur unclogs the clogged pores by washing away the dead skin cells and reducing sebum production. It is used in combination with Benzoyl Peroxide mostly and has an unpleasant odor sometimes.
Glycolic and Lactic Acids- These alpha-hydroxy acids are synthetic versions of the acids present in sugar-containing fruits. They reduce inflammation and remove dead skin cells. AHA's are also helpful in stimulating the growth of new skin cells and also in fading the appearance of acne scars. 
When beginning to use these products, always start with lower concentrations or do a patch test. If you have severe acne conditions, do not rely on OTC medications, but have it treated by a dermatologist instead. 
ACNE TREATMENT AT HOME
There are a few tips and tricks that you can try at home to get rid of acne for those looking for natural, chemical-free, and safer alternatives. 
1. Green Tea-
 High in antioxidants, drinking or applying topically, green tea covers various benefits. The polyphenols present in green tea fights infection-causing bacteria and lessen inflammation. It reduces sebum production. Here is how you can use
green tea
for acne.
Boil green tea.
Allow it to cool.
When the tea is cool, dip a cotton ball and apply it on the skin, you can also pour it into a spray bottle and spray it directly on your face. 
Let it dry, and then wash it off. 
Using green tea infused products is equally beneficial for the treatment. You can try "Green Tea Skin Elixir" or, for night repair, use "Green Tea Night Gel." 
2. Aloe Vera- Aloe vera is the king of skincare. A tropical plant that produces gel, aloe vera treats an array of skin infections, including burns and wounds. It contains Salicylic acids and sulfur, about the whose contribution to treating acne, you already know. Aloe vera alone or with a combination of tea tree oil and other ingredients can help the skin get rid of acne.   
However, the most effective way would be to apply it directly after scraping out the plant's gel. Use it as a moisturizer 1-2 times a day or as you need. 
3. Supplements- The body needs some essential nutrients and elements that have to be supplied internally. Two of those special supplements that our skin needs are zinc and omega -3 fatty acids. Scientists found that the people who had a higher amount of zinc in their blood were had lesser acne and vice versa. Applying zinc won't be effective since the skin can't absorb it. Omega 3 fatty acids can be found in fish oil. These fatty acids calm the skin against inflammation, therefore reducing the risk of acne. The other ways you can consume these fatty acids is through salmons, flax seeds, walnuts, etc. 
4. Exfoliation- The foremost and basic step, exfoliation is necessary if you want to prevent yourself from the attack of acne. Exfoliation removes the dead skin cells, dirt, and other impurities which are to become acne further. There is a wide range of scrubs available in the market. You can also make your own DIY Scrubs(link blog) at home, which are free from chemicals and effective. 
We hope this would make your journey of getting rid of acne a little easier. 
May you have healthy, radiant, and acne-free skin. SIGNING OFF