How to Stop Excessive Hair Fall Due To Monsoon?
Posted by TheBeautySailor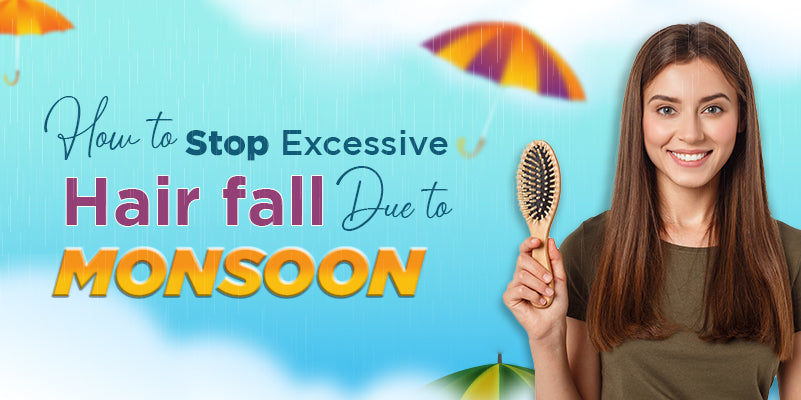 With monsoon, comes- Hope, Happiness, and Heavenly delicious food. Contrary to that rainy days also welcome many uninvited and unwholesome diseases, accompanied by numerous hair and skin issues. Unhygienic surroundings and excessive humidity in the air is the root cause behind immoderate falling of hair in this season. Unfortunately, many people easily give up in front of monsoon hair fall. Not knowing, that it is possible to get rid of it just by taking few very effortless measures.
Reasons behind falling of hair in monsoon
Excessive Humidity: Excessive humidity during the monsoon season can make your hair become weak and fragile, leading to hair loss. The moisture in the air weakens hair strands, making them more prone to damage and breakage. To prevent this, it is very important to keep your scalp clean all the time.
Direct Contact with Dirt and Pollution: In the life full of hustle, there is no off whether its brisk cold or downpour of rain. Therefore, try to avoid your scalp and hair from having direct exposure to the dirt, and polluted air. And apply Hair Serums for an extra layer of protection to your hair and scalp. It also ensures hair growth and reduces hair thinning (Cover your precious hair with scarf of any other breathable piece of cloth when you are out in sun, rain or pollution.)
Careless Hair-care Routine: Not giving your scalp a much needed Hair Oil massage. Not washing the head regularly. Not using Hair Masks to nourish and strengthen your hair – Is what a careless hair-care routine looks like. Making sure to provide nourishing nutrients to your hair is very important. Using All In One Wonder Liquid – Coconut oil has been one of the best nutrient provider for healthy hair over the years.
Unhygienic Habits: Your beautiful hair are very delicate and need to be taken care with some love and attention. Your reckless actions such as caressing your hair with unwashed or dirty hands, or itching your scalp vigorously. And not washing your head when it is filled with filthy dandruff. All these activities can trigger the well-being of your hair. So it is advised to be more mindful towards how you treat your hair.
Poor Diet or Eating Processed Food: "You are what you eat." And, your hair is too, what you eat. Your poor diet and excess intake of junk, oily and processed food leads to the bad health of your hair. Taking balanced diet, with good amount of Protein, Vitamins, Zinc and Omega 3 in your diet, ameliorates the welfare of your hair's health and growth as well.
Ways to avoid falling of hair due to monsoon
Stay Hydrated: One cannot stress more! But keeping yourself hydrated is key to half of your health problems, including hair fall. Drinking ample amount of water improves the overall health of your scalp and prevents dryness and other scalp conditions like dandruff, flakiness, weak hair etcetera.
Don't Be Harsh While Drying Out Your Wet Hair: Do not give your hair a raw deal by shaking them like a leaf while you are drying them up. Gently squeezing out the excess water and then letting it be for some time can help your hair to dry naturally, without having to face any hard spanks given by your towel.
Use Lightweight Microfiber Towel: Other regular towels or electric appliances, either of what you use to dry your hair is harsh and cruel on your hair. Therefore, using a soft microfiber towel helps absorbing the moisture without roughing your hair cuticles. (You can also use any soft cotton t-shirt of yours. Do not rub or twist, rather gently squeeze out the excess water).
Use Wide-toothed Comb: Wide-toothed hair combs detangles your hair without causing any breakage. And helps in evenly spreading other hair products like hair oil, and hair serum on your hair length. (Wooden wide-toothed hair combs are best for your hair)
Use Mild Shampoo: Usage of harsh and chemical-filled shampoos prevent nutrients from reaching your hair follicles, which restricts the hair growth, and support hair fall. Whereas, mild shampoo gently cleans the scalp without disturbing the function of hair follicles. (Do not rub/massage shampoo on the hair length)
Say No To
Combing Wet Hair: Wet hair is delicate and there is risk of causing breakage even with the slightest touch. Moreover, combing wet hair causes split ends. Therefore, avoid combing your wet hair, and wait for them to properly dry up first.
Excessive/Harsh Combing: Excessive or harsh combing of hair, poorly damages the outermost layer of hair shaft known as Hair cuticles. Resulting into weakening and thinning of hair. It is best advised to be extra kind and tender while brushing your hair.
Tying Wet Hair: Your Hair cuticles and Hair follicles are weaker and loosened while the hair is wet. Furthermore, tying your wet hair tightly can cause harm to your hair follicles, which leads to hair loss over time.
Not Using Hair Serum: Hair Serums are believed to be a fancy addition to the Hair-care industry. Not knowing the fact that people in ancient times, used numerous oils and made various potions with natural ingredients and herbs to condition and nourish their hair. Hence, Hair Care is the modern day nurturer of your hair, which adds layer of protection and shine to your beautiful hair length, preparing it to withstand harms from the monsoon or any other damaging environmental elements.
Using Heating Appliances: Usage of hair dryers and hair straighteners has become a common practice in today's helter-skelter lifestyle. It sure is the easy and quick way. However, this shortcut method endamages the health of your hair in the long run.
Conclusion
Now with a safe and healthy Hair Care routine you can save yourself from the bothersome hair fall caused due to rainy season, by taking few very easy and simple measures. However, too much money is frequently seen to be spent on face care and makeup. Whereas, looking decent goes beyond having just a tidy face. Your gorgeous, healthy, and shining hair also contributes to making an organized, smart and intelligent first impression. Giving you hair the same amount of care and attention as you do for your face, skin, outfits etcetera, should be a top priority. Lustrous and healthy hair makes you feel confident and unbothered by the outer world.