What Is The 10-In-1 Formula To Prevent Hair Fall?
Posted by TheBeautySailor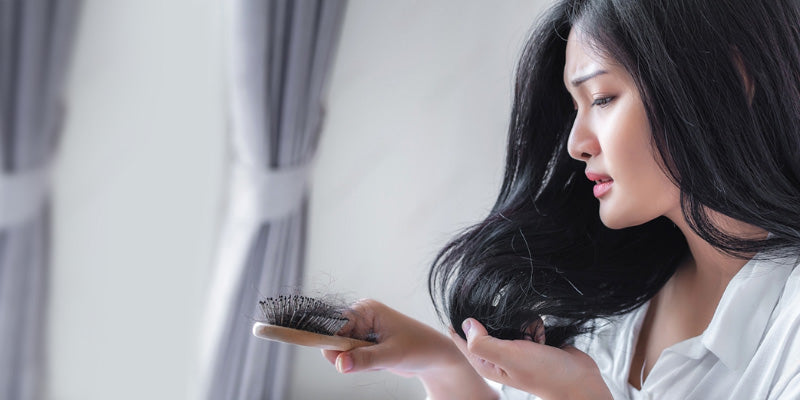 First, you should know the reason behind hair fall. What are the main causes of hair fall? What is making your hair thin and weak in the first place? Our hair is not like an organ. It is a protein filament.
It grows out of a little organ called a follicle residing in the dermis, the second layer of your skin. It has simply three parts. The first is the root, the second is the hair shaft and the third is the hair itself. And little glands around in our skin are feeding whatever it needs to grow. Suppose the flow of those needed nutrients stops and outer damage hurts the hair shaft, where it came out of the skin, then you will face hair fall.
Our hair needs these few nutrients to stay strong and shiny: and blood and glands feed it through vessels or capillaries.These are a handful of the crucial nutrients our hair needs:

Vitamins A, C, D, and E,

 Zinc,

 B vitamins,

 Iron, 

 Biotin, 

 Protein,

 and essential fatty acids, 
The lack of these nutrients makes your hair weak and at last fall. What are the main sources of these nutrients?: Here are a few-
Black seed oil, 

rosemary oil, 

onion oil,

curry leaf oil,

arnica oil, 

sunflower oil,

sweet almond oil, 

argan oil,

bergamot oil, 

lavender
It has been hard to put all the nutrients in one place and put them to work to cure your hair. And the 10 in 1 hair oil is something that you can consider as an answer to the riddle. All the necessary ingredients containing these essential nutrients are in one bottle. It is called the 10-in-one formula.
How does the 10-in-1 formula solve hair problems?
Curing the weakened hair shaft
It is often a genetic outcome, obtained from a parent, or it can be caused by hormonal imbalances such as menopause or childbirth, birth prevention pills or other treatments, disease or illness, poor eating habits, high-stress levels, or fungal infection.
All these above-listed things cause deficiencies of vitamins and minerals, which your hair needs. Ingredients like black seed oil are full of vital nutrients which your hair needs. Black seed oil is usually included in haircare products. A few studies show that it could promote hair growth and reduce hair loss.  A weakened hair shaft is always an outcome of a deficiency of the necessary vitamins.
It has all that your hair needs
These ten ingredients mentioned above are full of those vital nutrients your hair needs. Black seed oil is best known to repair your hair follicles and in the end, prevent hair fall. This ingredient alone has 100 different nutrients your body and hair need.
Split ends and dandruff control, rosemary oil is there for that. It is medically proven that rosemary oil does help with it. Split ends are a cause and outcome of weak hair. 
Boasting nutrients like Vitamin B9 and Vitamin C, onions are there. These vitamins are best known to support hair growth. And if your hair loses its natural color, we have curry leaf oil in it, it will help you restore not only natural color but reduce hair fall. Arnica oil is best known for its powers to keep bacteria off of your scalp, thus preventing dandruff and split ends in cases.
Vitamin E is in abundance in our next superhero Argan oil. And everyone knows how much your hair needs vitamin E, in the hair care world, it is the star element. It will make your hair strong. Bergamot oil is viral among beauty companies for treating dull and dry hair. We have Bergamot oil in this hair fall prevention formula.  "From heaven" like fragrance, Lavender oil is known for that and it is like an elixir for hair. It prevents itchy and irritated scalp and reduces dandruff. And lavender is famous for its sun damage protection powers.
Not allowed are just chemicals
Chemicals cause your hair to lose its natural oils and protection methods against harsh conditions like direct sun exposure. Your immune system becomes weaker for hair safety purposes because your scalp has become addicted to chemicals. It is 100% natural. You will regain the natural powers your body or scalp had. Thus! In the long run, you will end up having strong shiny, soft, and supple hair.
 It is the best natural formula for your overall hair health. Zero chemicals with ingredients containing an abundance of nutrients your hair needs.