Skincare Benefits Of Avocado: How To Use It?
Posted by TheBeautySailor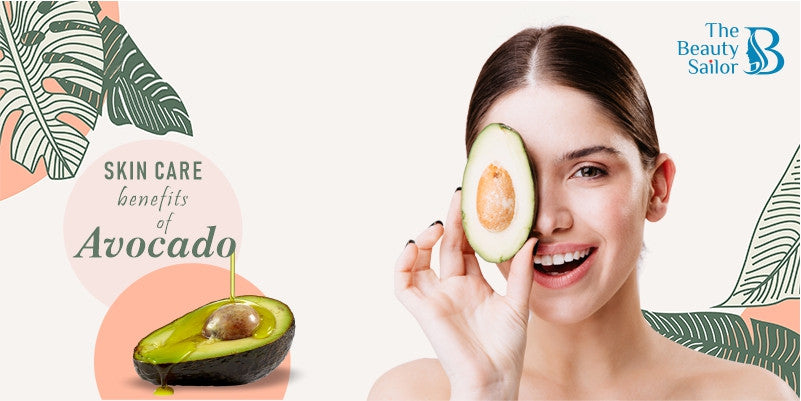 Who doesn't love a good avocado toast for breakfast? Surely we all do! Wonder if people were aware of the benefits it has for the skin. Thinking of which, let's share some amazing benefits of
avocado oil
for the skin, and why it shouldn't only be part of your dining table but your skincare table as well.
How Avocado Is Useful For Your Skin?
One of the many reasons why this popular and creamy fruit (it's a fruit, most people might not know ) has become a household favorite is because it's rich in Vitamin A, D, and E, omega3 fatty acids, and anti-oxidants making it a versatile fruit and healthier choice for the body and skin.  
Benefits of Avocado We Bet You Didn't Know-
The natural oils in avocados can deeply penetrate into the skin to moisturize, smoothes and hydrate, and helps to overcomes dry and flaky skin.
The hydrating properties present in avocado reduces wrinkles and fine lines and boost skin's immunity against stress and other external factors. Especially, antioxidants such as vitamins E and C help protect cells from free radical damage.
Avocados also contain lutein, a carotenoid that promotes skin elasticity, while oleic acid and chlorophyll help to reduce redness and inflammation.
Avocado's anti-inflammatory properties help to reduce redness and acne. The vitamins E and D helps to calm the skin and heals sunburn.
If you need a boost of moisture, avocado oil can help fight dullness and dryness. The minerals, (vitamins (aka A, D, and E), and fatty acids work to hydrate dry and flaky skin.
How to use it?
Here's are few ways how you can introduce avocado in your
regular skincare routine
-
A lot of people use Avocado Oil  for cooking but it can be used for just more than cooking, as it contains fatty acids, several vitamins that are beneficial for the skin especially vitamin D and E.
How to use-  An avocado oil can be applied onto the skin at night before sleep and let it rest throughout the night on the skin, it will repair and reduce fine lines.


Avocado natural oils and fatty acids allow the skin to feel nourished. If you're someone with dry and flaky skin, using an Avocado Face Wash will help your skin recover from dryness and leaving it moisturized and soft. 
How to use- Wash your face twice a day with an avocado face wash and then go in with your other skincare steps.


We use Body Lotion to provide nourishment to the skin, what better than use a body lotion infused with avocado as it acts like magic for moisturizing. The Beauty Sailor Avocado body lotion is many people's favorite.
How to use-  Apply a body lotion on your entire body once you come out of a shower.


Another way to introduce avocado into your skincare is by using Avocado Face Mask.
How to use- To make a homemade mask you can mix half an avocado with one tsp of honey, 2 tbsp curd, and half a lemon. Give it all a nice blend. Your homemade face mask is ready. Apply it onto your face, let it dry, and then wash it off with lukewarm water.
Conclusion
-
Looking at so many versatilities and benefits of Avocado, it can clearly be declared the star fruit for skin and health. It has tons of healthy ingredients like fatty acids, vitamins providing skin and body numerous benefits. Don't forget to add an avocado to your
skincare
for extremely nourished and hydrated skin. You can follow the tips mentioned above and visit our website The Beauty Sailor to get your hands on some avocado goodness.