Monsoon Skincare Tips | Skin Care Tips 2023
Posted by TheBeautySailor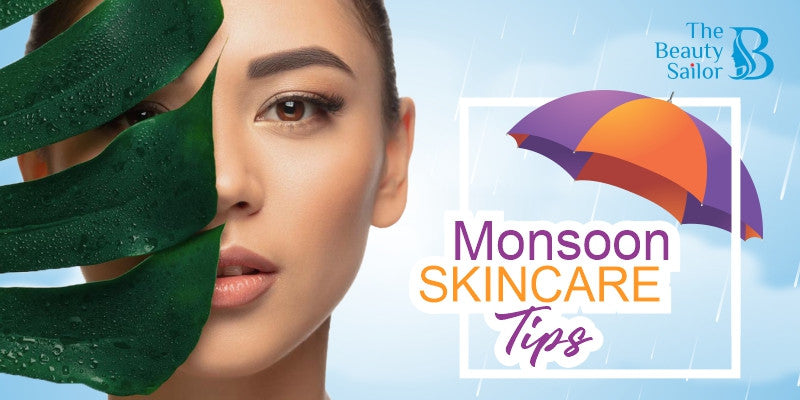 The rainy season is almost approaching. Everyone is waiting for the rain to fall so they can smell the damp earth, verdant trees, blossoming flowers, cool wind, and hot meals. Furthermore, it provides respite from the severe heat of summer, which causes sunburns, tans, sweaty, and smelly days. In addition, the rainy season attracts humidity and dampness, which may not go along with your skin care plans. So, to make the best out of your monsoon skin care routine, here is a guide on all the things you need to do to ensure you look as lovely as the weather i.e; Monsoon Skincare Tips.
Cleanse! Cleanse! Cleanse your way!


Cleanse your skin twice a day in any case to remove all harmful pollutants that might enter through filthy rain water. Inadequate washing results in bacterial infection, which then causes breakouts. An anti acne face wash is the best monsoon face wash as it has antibacterial bacterial properties. 
Balance the water outside and inside
It is raining a lot and you might get sick of so much water, but it is not a valid enough excuse to skip hydrating your body. Humidity might cause you to sweat more, and dry skin can seem pale and drab. Drinking at least eight glasses of water throughout the day is an excellent way to stay hydrated. To amp up your hydration game during the monsoon, add a vitamin c face serum into your skin care routine and shine on.


Exfoliate like there is no tomorrow
Exfoliation is one of the most effective monsoon skin care tips for eliminating dead skin cells. Scrubbing your skin two or three times each week will help. It will enhance blood circulation while also flushing  out pollutants. It also helps your face care products to dive in and give the maximum results. To maintain your skin bright and healthy, you can also use skin treatments such as chemical peeling.


Use sunscreen always!
Clouds are not the greatest UV-ray filters. During storms, over 80% of UV radiation reaches the Earth's surface. As a result, you should use sunscreen every month of the year. Look for a sunscreen with at least 30 SPF (to protect against UV rays) and at least PA 3 (to avoid tanning/skin maturing).
Pay extra care to sensitive spots
Under your eyes and around your lips can use some special care. These are sensitive areas of your face with thinner skin. They demand special care, so include a great lip scrub and oil, as well as an under eye cream, in your night-time skin care. This will aid in the treatment of dryness, dark circles, and swollen eyes.
Mask away dullness
A clay face mask is essential for keeping oiliness at bay, whether it's summery or rainy. The cause for this is an increase in humidity. To handle excess oil, use a clay mask or a Multani Mitti mask at least once a week in addition to your usual monsoon skin care routine. They are believed to absorb excess oil from the skin and aid in acne prevention. Masks with green tea or pink clay are the best bets if your fight is against acne and your only armour is an acne-prone skin. This is without a doubt one of the most crucial healthy skin suggestions for the face for the monsoon season.
Excuse the drinking when it rains


During the monsoon season, avoid excessive smoking and drinking. Alcohol intake causes dehydration in the body. More dehydration results in dull skin and promotes acne, rashes, and skin irritation. As a result, try to avoid smoking and drinking during the rainy season.
Use a toner
A spike in humidity might cause your skin to get oily. As a result, using a decent toner is the best approach to deal with it. During the monsoon season, use an alcohol-free toner with active ingredients like green tea or glycolic acid to maintain optimum pH levels. A glycolic acid serum can also moisturize your skin while also tightening pores and controlling pimples and acne.
Eat less spicy food
Reducing your intake of excessively hot foods can protect your overall health. As spicy food is extremely difficult for your body to break down and digest, it causes your body to struggle, resulting in health issues such as indigestion, piles, heart disease, and excessive body heat. When you consume a lot of spicy food, pimples and rashes appear.
Moisturize your skin well
One of the best monsoon skin care tips is to keep the skin moisturized. Moisturizers hydrate your skin and allow it to produce the appropriate quantity of oil for skin health. It keeps skin from drying out and chapping. Skin that is moisturized on a regular basis will have fewer skin issues and will remain young and healthy. For optimum results, choose a product that is non-greasy and has natural components like hyaluronic acid and aloe vera.


Those who have excessively oily skin during the monsoon season should select a water-based moisturizer since it has a fantastic quality of removing oil from your skin while also keeping it moisturized. 
Check the temperature
Make sure that you take either cold or Luke-warm showers during the rainy season. A relaxing hot shower might be tempting and soothing, but it is not good for the skin. A hot shower will open your pores, leaving them more vulnerable to acne. Even if you take a hot bath, make sure to conclude it with a spray of cold water to close your pores. 
If taking care of your skin has been difficult over the summer and you feel glad when the monsoon arrives, we warn you, our dear friend. The monsoon season brings its own set of skin problems. Increasing humidity can cause a variety of skin concerns. A solid monsoon skincare regimen is vital for keeping your skin beautiful, healthy, and infection-free. We hope these monsoon skincare tips will help you look as lovely as the weather.