Can Face Serum be used as Moisturizer?
Posted by TheBeautySailor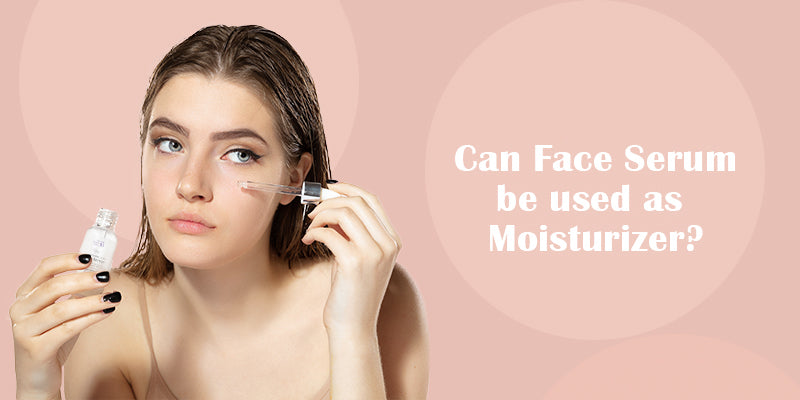 Skincare is the practice of maintaining your skin's health and appearance. This can include washing your face, applying sunscreen, and moisturizing. Moisturizing is essential to skin care since it keeps your skin nourished and protected.
Face serums and moisturizers are both crucial components of a skincare regimen, but they have different functions. Serums provide concentrated substances to the skin for daily use, whereas moisturizers hydrate and nourish the skin. Since certain serums can provide moisturizing benefits, the question arises: Can it be used as moisturizers? Let's start with the basics of face serum and its key constituents.
Face Serum and its key ingredients
A Face Serum is a liquid or gel-based solution with a significant amount of active components. Though serums are made to treat particular skin issues like ageing and acne, people also use them for glowing skin. They are often used before emollient and administered after cleaning.
Essential ingredients:
Hyaluronic acid: A natural compound that aids in maintaining skin hydration.
Vitamin C: As an antioxidant, vitamin C aids in defending skin against oxidative stress.
Retinol: Retinol is a vitamin A form with anti-ageing benefits. Face serum for blemishes usually contains Retinol in them.
AHAs: Exfoliating acids known as AHAs can assist in removing dead skin cells
BHAs: BHAs are a common ingredient in serums for acne scars. These are a type of exfoliating acid that can assist in removing blocked pores and acne.
Serum Vs Moisturizer
The following table summarizes the key distinctions between the two:
| Characteristic | Serum | Moisturizer |
| --- | --- | --- |
| Texture | Thin, watery or fluid like | Thicker, creamier, lotion like |
| Ingredients | High concentration of active elements | Lower concentration of active compounds, and emollients and humectants |
| Purpose | Target particular skin issues including acne, wrinkling, or discoloration | Skin hydration and environmental damage defense. |
| Application | After cleansing and before applying emollient | Alone, or after cleansing |
| Cost | Relatively more expensive | less costly |
Which skin types may benefit from using a serum as a moisturizer?
Oily skin: Because serums are lightweight and non-comedogenic, which means they won't clog pores, they are a wonderful choice for oily skin. They can aid in regulating oil production and minimizing the look of big pores.
Sensitive skin: They are an excellent choice for sensitive skin because they are often made with mild components that are less likely to irritate the skin.
Acne-prone skin: Face serum can help treat acne prone skin by decreasing inflammation and destroying acne-causing bacteria.
Using Serum as a moisturizer
When using a serum as a moisturizer, take into account the following:
Skin type: As serums are made to target particular skin issues, it's crucial to pick the proper one for your complexion. For instance, face serum for dry skin should have components like hyaluronic acid or glycerin.
Ingredients: Serums can contain a wide range of substances, it's vital to carefully read the label and select one that is devoid of any substances to which you are known to be allergic.
Price: Because serum costs might vary, it's critical to pick one that meets your budget.
Availability: Serums are occasionally hard to get in pharmacies, you might have to acquire them online or from a specialized retailer.
Once you've found the best serum and moisturizer for your skin type, you can incorporate them into your daily skincare routine. Following are some pointers for applying them:
First, wash your face to get rid of any makeup, oil, or dirt that can prevent the serum and moisturizer from working properly.
The active elements in the serum will permeate the skin more efficiently if you apply it first.
After using the serum, use the moisturizer to help keep the moisture in.
Applying both products will help keep your skin moisturized and protected all day. Use them both morning and night.
Conclusion
Market has an abundant of face serum for men and women both. The choice to utilize a face serum as a moisturizer or not is ultimately a matter of personal preference. A serum might be an excellent choice for you if you wish to target particular skin issues. However, you might need to apply a lotion in addition to a serum if you have extremely dry skin.
If you want to improve the appearance and health of your skin, you should incorporate both serums and moisturizers into your skincare routine. While emollients can help to hydrate and protect the skin, serums can be used to treat particular skin issues. You can get a healthier, more vibrant complexion by utilizing both products.