We take pride in our commitment to safety, and it blooms in every aspect of our product development and manufacturing process. Our dedication to championing safety is reflected in the highest quality and safety standards of our products - a promise we take seriously.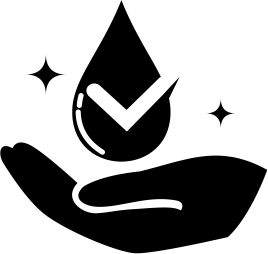 Dermatologically Approved
Our products undergo rigorous dermatological testing to ensure they are gentle and safe for your skin, giving you confidence in every use.

Natural Skincare
Embrace the goodness of nature with our natural skincare line, thoughtfully formulated to enhance your beauty while respecting your skin's well-being.

Paraben Free
We care about your health. Our paraben-free products provide effective beauty care without harmful additives, keeping your skin and body safe.

Sulphate Free
Gentle yet effective, our sulphate-free formulations cleanse and nourish, prioritizing your hair and skin's health with every use.

Cruelty Free
We cherish life. Our cruelty-free products are created without any animal testing, reflecting our commitment to ethical beauty and your well-being.

Nasties Free
Say no to nasties! Our formulations are crafted without harmful ingredients, letting your skin and hair radiate their natural beauty.

Silicon Free
Experience true beauty, free from heavy silicones. Our products let your natural vitality shine, promoting healthier hair and skin.

LLP Free
Your safety is our concern. Our LLP-free products ensure your beauty routine is worry-free, as we prioritize ingredients that care for your well-being.

PEG Free
We're devoted to your skin's health. Our PEG-free products guarantee the absence of certain chemicals, letting your beauty flourish naturally.

Tea Free
Enjoy products free from Tea (Triethanolamine). Your skin deserves the best care, without compromise.

Dea Free
Our DEA-free products offer a safer choice, enhancing your beauty routine while eliminating harmful chemicals. Your skin deserves the best.

DMDM Free
Experience beauty without compromise. Our DMDM-free line ensures your skin stays clear of unwanted additives, promoting a healthier you.

Powered by Science
Benefit from beauty that's backed by research and science. Our products combine scientific innovation with effective ingredients, giving you visible results.

FDA Approved
Trust in our products' quality and safety. With FDA approval, we prioritize rigorous standards to ensure your well-being comes first.
Made in India
Embrace the excellence of Indian craftsmanship. Our products are proudly made in India, reflecting the richness of our heritage and your beauty.