Eco-Friendly Diwali: Embracing Sustainability in Corporate Gifts
Posted by TheBeautySailor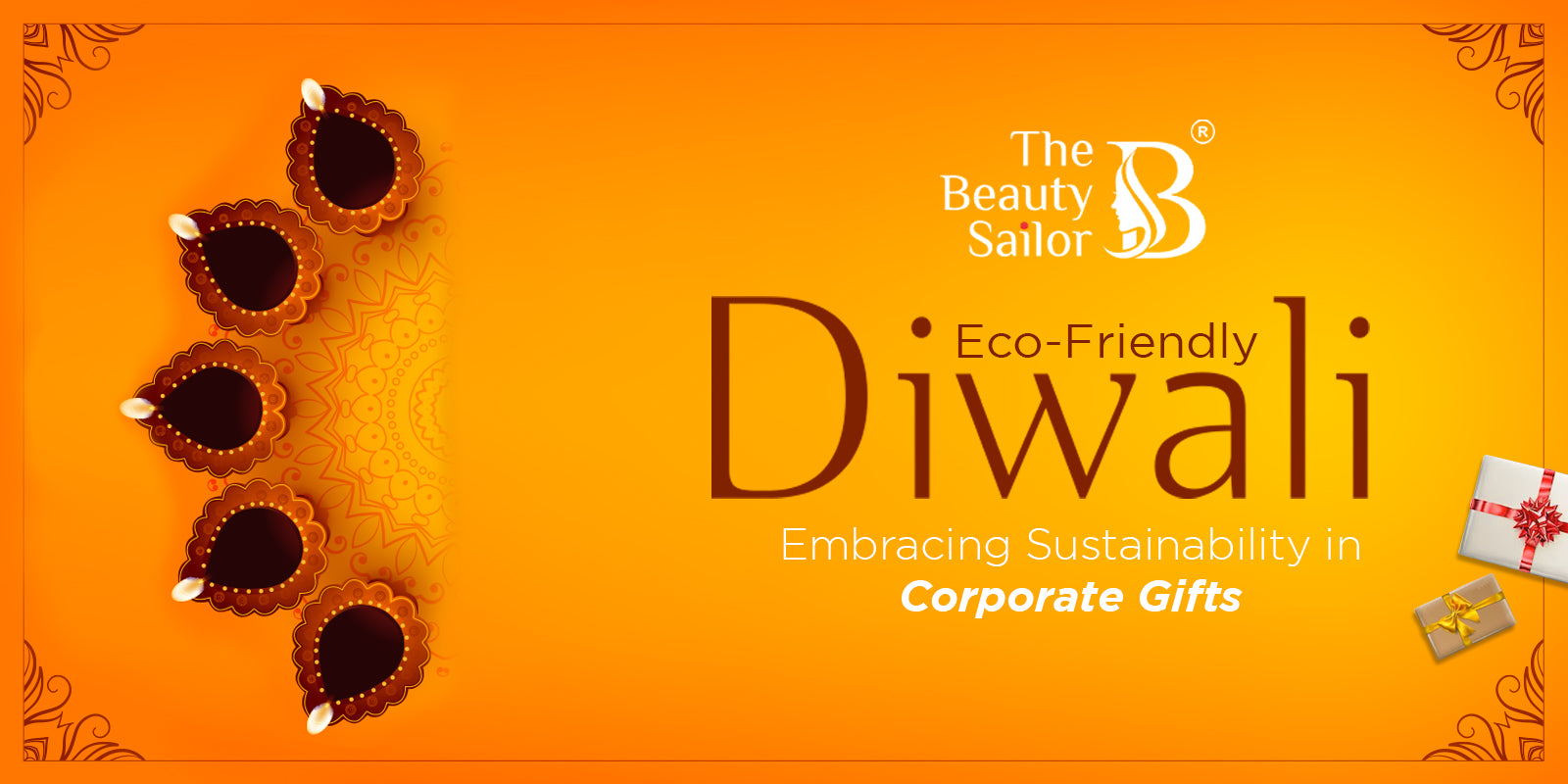 In the fast-paced world of corporate gifting, where trends evolve almost as swiftly as the seasons change, one theme has been gaining considerable traction in recent years - eco-friendliness. As businesses across the globe make conscientious efforts to reduce their environmental footprint, this ethos is now extending to the realm of corporate Diwali gifts.
This shift towards sustainability is not merely a passing trend; it's a reflection of a deeper commitment to the planet and a desire to make a positive impact on the environment. In this blog post, we will explore the significance of eco-friendly Diwali gifts and highlight some of the best corporate Diwali gifts available in the cosmetics industry, courtesy of The Beauty Sailor.
Corporate Gifting and Sustainability: A Perfect Blend
Corporate gifting has long been a cornerstone of building and maintaining relationships with employees, clients, and partners. It's a gesture that goes beyond mere tokenism; it's an expression of appreciation and a way to foster a sense of belonging. In today's world, where environmental consciousness is on the rise, choosing eco-friendly corporate Diwali gifts is not only a responsible choice, but it also sends a powerful message about your company's values.
The Impact of Conventional Gifts
Traditional corporate gifts, often made from materials like plastic, non-recyclable paper, or other non-biodegradable substances, can contribute significantly to environmental degradation. From the production phase to disposal, these items leave a trail of waste and pollution. In contrast, eco-friendly gifts are crafted from sustainable materials, or they are designed to be reusable, recyclable, or biodegradable, minimizing their impact on the environment.
Corporate Diwali Gifts: A Sustainable Twist
When it comes to Diwali, a festival celebrated with great fervor and joy across India, the exchange of gifts is a cherished tradition. However, the environmental implications of this practice cannot be overlooked. By choosing eco-friendly corporate Diwali gifts, businesses can play a pivotal role in promoting sustainable practices while still partaking in the festive spirit.
Best Corporate Diwali Gifts with a Sustainable Touch from The Beauty Sailor
Organic Skincare Hampers: Pamper your employees, clients, and partners with luxurious organic skin care, hair care and body care products sourced from sustainable ingredients, courtesy of The Beauty Sailor Corporate Gifting. These hampers not only promote self-care but also underscore your commitment to eco-conscious choices for corporate gifting.
Vegan and Cruelty-Free Cosmetics: Opt for cosmetics that are certified as vegan and cruelty-free. These products are not only ethically produced but also align with the values of many environmentally-conscious consumers. They make for some of the best corporate Diwali gifts for clients who prioritize sustainable and ethical choices.
Diwali Gifts for Staff: Show appreciation for your hardworking staff with eco-friendly cosmetic products. These gifts not only promote self-care but also reflect your company's commitment to sustainability. By choosing eco-friendly options, you're not only brightening their Diwali but also contributing to a greener future.
Diwali Gifts for Friends and Family: Extend the spirit of Diwali to your personal circle by gifting them eco-friendly cosmetics. It's a thoughtful gesture that showcases your dedication to both personal relationships and the environment. The Beauty Sailor offers a range of options that cater to different tastes and preferences, ensuring a meaningful and sustainable celebration.
The Convenience of Corporate Diwali Gifts Online
In today's digital age, the ease of online shopping has become an essential part of our lives. When it comes to corporate gifting, this convenience is extended to businesses seeking the perfect gifts for their employees, clients, friends, and family. The Beauty Sailor offers a seamless online platform, where you can browse through a curated selection of eco-friendly Diwali gifts, ensuring a hassle-free and sustainable gifting experience.
Tailored for Employees and Clients
Understanding the diverse preferences of employees and clients is crucial in selecting the best corporate Diwali gifts. Whether it's a skincare hamper, a selection of cruelty-free cosmetics, or other eco-friendly options, The Beauty Sailor offers a range of choices to suit different tastes and needs, including specialized options for corporate Diwali gifts for employees and clients.
Wrapping Up
Embracing sustainability in corporate Diwali gifts is a testament to your commitment to both your recipients and the environment. By opting for eco-friendly options in the cosmetics industry, courtesy of The Beauty Sailor, you not only offer high-quality products but also contribute to a greener, more sustainable future.
This Diwali, let your corporate gifting resonate with a message of conscious consumption and environmental stewardship. Together, with The Beauty Sailor, we can make a difference, one eco-friendly gift at a time.