8 DIY Scrubs That You Can Try At Home
Posted by TheBeautySailor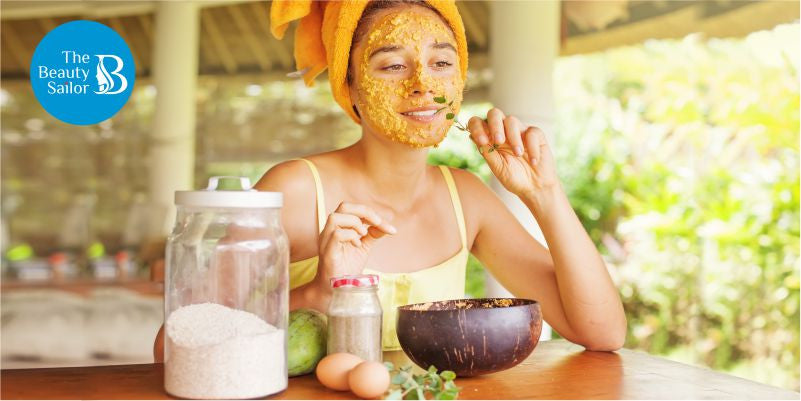 With the shifting weather outside, your skin's exfoliation needs are changing and increasing. All the cleaners that we use for cleansing the face remove the superficial layer of dust and other impurities from the skin. Even after washing the face, some impurities like dead skin cells remain on our skin, which reduces the effectiveness of the skincare we do. To get the maximum results of the
skincare product
we use, it is necessary to make sure that they penetrate deeply into the skin. And the exfoliation enables it. The exfoliation unclogs the pores for effective penetration of moisturizers and other products you use and combat the dry patches accompanied by cold winds outside and heat inside. You don't always have to use some hi-fi products to attain perfectly exfoliated skin; it can also be done sitting in your home with ingredients as basic as sugar or wheat flour. 

All the DIY newbies out there, here are some potent and simple face scrubs that you can make very quickly make at home.
1. Brightening Lemon Scrub- The alpha-hydroxy acids in lemon make it a perfect ingredient to even out and brighten the skin tone. It's a mixture with a natural exfoliator that sugar is, helps in tan removal leading to clean and glowing skin.
Squeeze one lemon in 1 tablespoon of sugar.
Mix them.
Apply on the entire face and massage gently(don't rub it too hard)
Wash away scrubbing.
2. Coffee and Coconut Scrub-
Coffee with antioxidants, when applied on the skin, helps the aging skin. It also treats the skin against sun damage. Coconut Oil keeps the skin moisturized.
Mix 1/4th of a cup of coffee into 2 tablespoons of coconut oil.
For storing put it in a jar .
Take one tablespoon of the mixture out when you need to scrub.
Massage gently, and then let it stay on the skin for 5 minutes.
Wash it off. 
3. Hyperpigmentation Treatment Scrub- To make this scrub that treats hyperpigmentation and related problems like dark spots, you will need Brown Sugar, Wheat Flour, Baking Soda, Aloe vera Gel, Almond oil. Along with treating hyperpigmentation, this scrub is beneficial in removing white and blackheads. 
Mix 2 tablespoons of wheat flour with 1/4th cup of brown sugar. 
To this powdery-solid mixture, add 1 teaspoon of baking soda(make sure it doesn't have lumps in it)
Mix them properly and store them in a container.
Take one tablespoon of the mixture in a bowl when you want to use it.
Add 1 tablespoon of almond oil or aloe vera gel , or any oil that suits your skin.
Rub it gently on your face.
Rinse with water.
4. Egg white and rice scrub- Rice powder is an excellent cleanser for lightening the skin. Egg white and rice combined remove the dead skin cells from the skin.
Grind 2 tablespoons of brown rice in a grinder until it converts into a powder.
Mix this powder with egg white and whip so that a paste is made.
Massage this paste in upward circular motions on your face. 
Rinse it off with warm water.
5. Oatmeal Scrub for winters-
This is a handy scrub for dry and
acne-prone skin
in winters. Oatmeal is anti-inflammatory in nature. It calms the skin and relieves it from itching. Honey, in addition, moisturizes and hydrates the skin. Let us see how we can make this scrub.
Mix 2 tablespoons of oatmeal with 1 tablespoon honey.
Rub it gently on your face.
Wash off to remove. 
6. Cleansing fruit scrub- There are various enzymes present in fruits that contribute to their cleansing action. They can cleanse the pores deeply. The proteins and nutrients present in fruits nourish the skin and hydrate it on a good level. 
Take the fruits papaya, banana, and orange.
Mash them together. 
Scrub this mash gently on the skin.
Leave for a while and then wash off.
7. Yogurt and Tomato tan removal scrub- As you know, tomato is acknowledged for its tan removal features, along with yogurt, which is a natural bleaching ingredient, it does wonders to your skin. The combination of both is functional for removing the layer of tan from your skin.
You will need tomato, yogurt, and lemon juice. 
Make tomato pulp and put 2 teaspoons of the same in a bowl.
Mix it with the same amount of yogurt.
Add 1 teaspoon lemon juice to this mixture.
Let it dry after massaging gently for some time.
Wash it away.
(you might feel a little irritation because of the tomato, but when it dries, the irritation will go away)
8. Chocolate scrub for soft skin-
Rich in antioxidants, chocolate helps in anti-aging and makes skin softer and better. It boosts collagen production and
hydrates
the skin.
Take chocolate, coconut oil, and ground coffee.
Melt the dark chocolate.
Take 3 tablespoons of it and add one cup of granulated sugar.
Add 2 tablespoons of ground coffee.
Then add 1/2 cup of coconut oil.
Mix well.
Store the mixture in an airtight container.
Scoop out the mixture according to your need, heat in the microwave for 5-7 seconds.
Massage gently and wash away.
See just a little mix and match in the kitchen, and YIPPEE, it's done.!! 
Scrubbing your way to radiant, healthy, and rejuvenated skin has never been easier.