Kickstart Your Game with the Ultimate Sports Skincare Kit
Posted by TheBeautySailor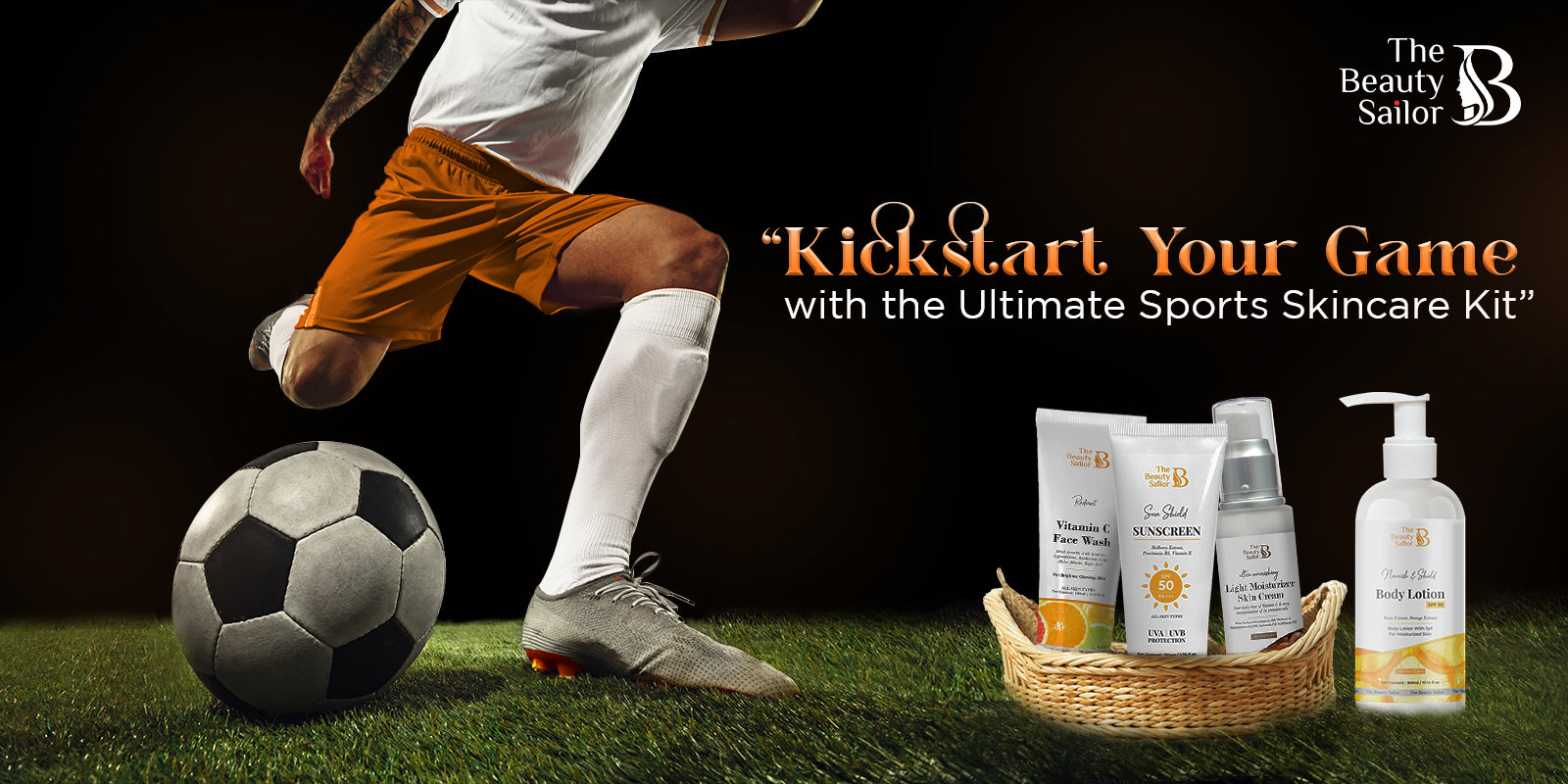 When it comes to sports, we often focus on the right gear, training, and nutrition, but there's one crucial aspect that can often be overlooked: skincare. The right skincare routine not only protects your skin from the rigors of physical activity but can also enhance your performance and boost your confidence. Enter "The Beauty Sailor," your partner in achieving peak athletic prowess with the ultimate sports skincare kit that can make a significant difference in your athletic journey.
The Ignored Game-Changer: Skincare in Sports
The significance of a well-crafted skincare routine for athletes cannot be overstated. While the focus often remains on workouts, diets, and strategies, the condition of your skin can play a pivotal role in your overall performance. Not only does a proper skincare routine protect your skin from the potential damage caused by rigorous physical activities, but it can also boost your self-confidence, allowing you to focus on the game without any distractions.
The Power of a Well-Crafted Skincare Routine
Whether you're a dedicated athlete or an occasional sports enthusiast, your skin deserves the same level of attention as your training regimen. A dedicated sports skincare routine can help you prevent breakouts, sun damage, and discomfort, all of which can hinder your performance. The Beauty Sailor understands the unique needs of active individuals and has meticulously curated a range of products that cater to those needs.
Unveiling the Best Sports Skincare Kit
The Beauty Sailor offers the best sports skincare kit, a collection of products designed to tackle the challenges posed by sports and outdoor activities. Our kits are formulated to suit various skin types and concerns, ensuring that every athlete can achieve their skin goals. Let's take a closer look at what our ultimate sports skincare kit includes:
Natural Sports Skincare Products: We believe that nature holds the key to effective skincare. Our products are infused with natural ingredients that provide the nourishment and protection your skin craves. From soothing aloe vera to rejuvenating antioxidants, our formulations harness the power of nature to enhance your skin's health.
Sports Skincare Routine for Optimal Results: We understand that athletes need a skincare routine that is not only effective but also time-efficient. Our ultimate sports skincare kit comes with a step-by-step routine that takes care of your skin before, during, and after your activity. This ensures that your skin remains fresh and revitalized, no matter how intense your training session gets.
Specially Curated for Sensitive Skin: Sensitivity shouldn't hold you back from excelling in sports. Our sports skincare kit for sensitive skin addresses redness, irritation, and inflammation, allowing you to focus on your game without worrying about potential skin reactions
Tailored for Outdoor Activities: Outdoor sports come with their own set of challenges, especially sun exposure. Our products are armed with SPF protection and antioxidants that shield your skin from harmful UV rays and environmental pollutants, allowing you to conquer the great outdoors without compromising on skincare.
Men's Sports Skincare Kit: Men's skin requires specific attention, and our men's sports skincare kit is designed to address their unique needs. From beard-friendly formulations to oil-control solutions, we have every athlete covered.
Sports-Specific Skincare: We understand that different sports demand different skincare approaches. Our products are tailored for specific sports, considering factors like sweat, friction, and exposure. From swimming to running, our sports-specific skin care ensures that you're ready to take on any challenge.
Elevate Your Game with The Beauty Sailor
When you choose "The Beauty Sailor," you're not just selecting skincare products – you're investing in your athletic journey, comfort, and self-assurance. Our ultimate sports skincare kit has the potential to redefine how you approach both your sport and your skincare. Say goodbye to discomfort, breakouts, and sun damage, and say hello to an elevated level of athletic confidence.
Conclusion
As athletes, we push our bodies to the limit in pursuit of excellence. It's time we extend the same level of care to our skin, the body's largest organ. The Beauty Sailor's ultimate sports skincare kit empowers you to achieve optimal results while safeguarding your skin's health. Say goodbye to breakouts, discomfort, and sun damage, and say hello to a new level of athletic confidence. Kickstart your game today with the ultimate sports skincare kit from The Beauty Sailor. Your skin deserves nothing less than the best, just like your performance on the field, let your skin emerge victorious in every sense.
Frequently Asked Questions
Why do sports people need skincare products?

Sports can expose your skin to harsh conditions like UV radiation and sweat. Skincare products help protect and maintain skin health during and after physical activities.
What are the essential skincare products for athletes?

Essential products include sunscreen, moisturizers, cleansers, and specialized products like anti-chafing creams and lip balms designed for active individuals.
How does sunscreen help athletes during outdoor activities?

Sunscreen protects athletes from harmful UV rays, preventing sunburn and reducing the risk of skin cancer. It's vital for outdoor sports enthusiasts.
Are there specific skincare products for different sports or activities?

Yes, some products are tailored to specific sports, such as swimming or running, to address unique skincare challenges associated with each activity.
Can skincare products improve athletic performance?

While skincare products don't directly boost performance, they can enhance comfort, prevent distractions, and maintain skin health, indirectly contributing to better performance.
Do sports skincare products have any long-term benefits for my skin?

Yes, consistent use of sports skincare products can help maintain healthy skin, delay signs of aging, and protect against long-term damage caused by sun exposure and environmental factors.
Can we buy individual products from the kit separately?

Yes, you can purchase individual products from our Sports Skincare range as needed.
Can we use the Sports Skincare Kit for indoor sports as well?

Absolutely! The Sports Skincare Kit is versatile and beneficial for all types of physical activities, whether indoors or outdoors.